"Mommy, Can I have a SLEEPOVER Party?"
For some of us, this elicits an immediate smile – Wow, my baby is ready for sleepovers!
For others, panic sets in: I can barely handle those that I have! How will I handle more for a WHOLE night?  Wait! How MANY more?  Do I have to invite the WHOLE class?  What will I FEED them????   AAAAARRRRGH!!!  
Today's segment on Breakfast Television Montreal deals with the basics for a successful sleepover.
WHAT TO EXPECT:
(1) Do NOT expect to be the 1st ever sleepover party host(ess) to get the kids to actually get a decent night's sleep.  FORGET ABOUT IT.
(2) Do NOT expect them to sleep in since they fell asleep at some point after 2AM when you fell asleep…Some will be up at the crack of dawn.
(3) DO expect that conflicts might arise, especially if it's a girls' sleepover party.  Be ready to mediate – not resolve conflict and be clear that if the conflict cannot be resolved, you will have to call parents to pick up kids- the party is intended to be a fun get together and it's not fair if two sparring attendees take over the evening.
(4) DO expect someone to have forgotten their toothbrush, or PJ's, or pillow…etc. etc.  Be prepared 🙂
(5) DO expect a night of laughter- not only theirs but your own as well, while overhearing the conversations 🙂
WHO TO INVITE:
While this is a very subjective decision, many people feel that they cannot handle all of the girls or boys in their child's class,  I caution you to know exactly how many kids you are leaving out.  If you've invited 7/10 classmates, you can only imagine how the 3 that have been left out will feel – especially if they are in elementary school.  As hard as you may think it will be to take on another guest, think about how hard it is to be the kids who is left out. I've had 20 kids sleep over and have lived to tell the tale – I'm sure you can do it, too!
In case you're thinking about it…IMHO, Co-ed sleepovers are not a great idea. I recommend keeping it to all girls or all boys, as the case may be.
WHAT THEY SHOULD BRING:
Your invitation should remind them to bring a toothbrush, toothpaste, sleeping bag, pillow, PJ's & a change of clothing.
WHAT TO PREPARE:
Snacks: An assortment of healthy & 'junky' is always good.  Kids today love fruit as well as veggies and dip, but popcorn, chips, cookies and even some candy are always welcome treats at a party!  Most importantly, Chez Toledano, we always make sure to have ice crew,- lots of it!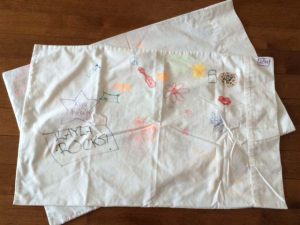 An activity: This can range from anything as simple as a movie, to a food-related activity such as "Make your own sundaes (or pizzas, or ice cream sandwiches, or salad-bar-salad)" or it can be a fun craft. One of the biggest hits for an activity at one of the sleepovers that we made for one of our daughters was 'Decorate your own pillowcase'
We got solid white or light coloured pillowcases as well as fabric markers and the girls went to town decorating and signing their own & each others' pillows.  Best part?  They all slept on their new pillowcases that night. (Note that if you use Fabric PAINT as opposed to Fabric Markers, the pillowcases will not have time to dry for same-night use).
Another fun idea for a sleepover is a spa night – depending on the kids' ages and what parents are ok with, you can do mani-pedis, funny hairdos, etc. for a fun & funny spa night. If you want to get really serious, there are actually service that will come hold a mobile spa party at your home as well!
A movie: Whether they watch it or decided to span the night chatting away will be up to them, but always be prepared with a great movie.  Remember to choose something age-appropriate and that not all parents have the same level of tolerance as to what is or os not age-appropriate.  Choose something that will work for all kids involved AND for their parents.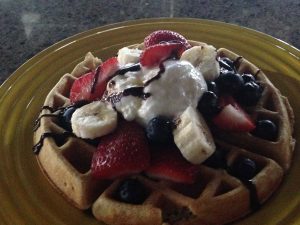 Breakfast: This can often be the most fun part of the entire sleepover.  Plan something fun- Traditional favourites such as pancakes, waffles or bagels & cream cheese will be loved by all.  You can also ease up on yourself a little and serve assorted cereals & milk or muffins & cheeses…It's up to you.  At our home we make a big deal about sleepover breakfasts & love to serve Belgian waffles with ice cream & fruit as well as hot chocolate sauce….YUM. Here are some links for yummy recipes that have worked for us:
Whole wheat waffles (kids are shocked they're whole wheat…IF I remember to tell them!)
Whole Wheat Blueberry Pancakes
Whole Wheat Chocolate Chip Pancakes
IMPORTANT THINGS TO REMEMBER:
Find out if anyone has any allergies.
Make sure you have a contact number where you can reach parents – just in case it's needed.  We live in an age where we communicate so often by email that we don't always have the phone numbers of our kids' parents.
In addition, as kids get older and so many of them have phones of their own (especially in high school), we often don't know the parent's cell #s or their hoe phone numbers, simply because the kids call each other on their own phones (all of which would be in the same house as the sleepover on the night of the party).  It's good to have a contact number.
Make sure you have plenty of coffee in the house- you may want some at night trying to stay up with them (you won't stay up longer…don't bother trying!).  More importantly,however, is that you WILL require a good culpa joe first thing in the AM when catering to your crowd 😉
Today's segment is already available online at http://www.btmontreal.ca/videos/3601193221001/, or simply click on the picture of Wilder & I on set below 🙂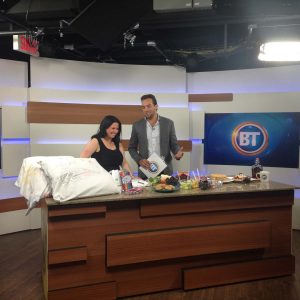 Have a super day!
Tanya