Have you ever owned a pair of shoes or boots that you just LOVED…for years? A pair that never seemed to become outdated- at least not for you- a pair that always made you feel put-together and as though you could conquer the world?
I have.
What happened to that pair?
Did the soles start to fall off? Did they lose a few rhinestones? Did you walk through a puddle and destroy that beautiful leather? Did the leather get so worn and faded that they just looked old?
Did you scold yourself for not having cared for them better?
Did you keep them, unworn for months (possibly years) in the hopes that somehow you might revive or repair them?
If you have experienced any of this, then you will know what it feels like to want to care for and protect a new pair of shoes (or boots) 🙂
When it comes to caring for our footwear, an ounce of prevention, is definitely worth a pound of cure.
Our family routinely "waterproofs" our winter boots prior to the start of the season, whether they are from last year or brand-new. I get all the boots in the garage (yes, even the waterproof ones- Kamiks, Sorels, you name it!) and I spray them all and leave them to dry. Note that I don't spray the rubber portion, but the fabric/canvas/leather/suede portions) and I make sure to get the seams – even those that join the rubber bottoms (if any).
Many people do not know that you can (and should!) protect your boots that are already considered 'waterproof', but if you ask most shoe experts, they will advise you that you should.
That's why when I was asked if I wanted to let my readers know about Tana's fabulous shoe care product line, I was thrilled to share!
They sent me a bunch of products to try – some of which I have already used and love 🙂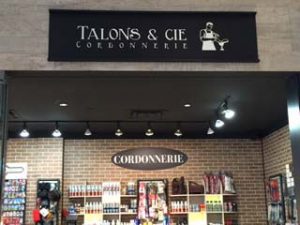 I also got to go for a VIP Shopping experience at Talons & Cie at Fairview Shopping Centre where the lovely Flora explained so much to me about the Tana Product line & also introduced me to a line of winter boots I was unfamiliar with: "Olang". The bottoms have grips with studs to gain better traction on the ice! I can use a key (on my key ring) to bring out the studs or put them away as necessary.
As someone who is terrified of slipping on ice, I bought a pair – Which, of course, I will be protecting prior to the start of the season with Tana Universal Protector – probably Style 16)
Protecting your shoes & boots is not just about winter, either, it's about keeping them looking new and keeping you feeling fabulous when you wear them.
Here's a quick crash-course in some of the Tana must-haves:
1) The Tana Shine Sponge belongs in your vestibule…and, if you are always in a rush like I am, it's a good idea to keep a spare in your car! I use mine to shine-up my leather boots so that they look like new right before leaving my car & going into a meeting.  The sponge has saved me on days when my boots were looking a little less-than lustrous 🙂
2) Choose a universal protector to keep in your home. Use it to protect more or less anything from the water
and from stains-Remember to follow the instructions and that it is still a good idea to spray your already 'waterproof' boots! Re-apply as recommended based on how frequently you wear that particular pair.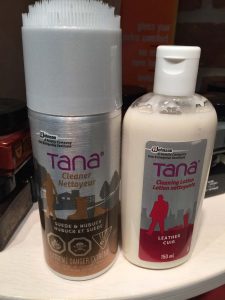 3) CLEAN your footwear using the right product, or as recommended by an expert. Tana has products to clean leather, suede, nubuck and other materials.  Some have built in brushes and others require using a brush that you can buy separately.  For Nubuck, there is even a special cleaning block!
4) CONDITION your leather to keep it in tip-top shape.  There are a variety of products to choose from. This one, for example you apply and smooth in with a cloth. Think about your leather as a second skin- it needs to be conditioned and moisturized, just like out own skin!
Tana also offers plethora of products addressing everyday footwear issues that we all have just learned to live with – but don't have to! These include sandal cleaners as well as deodorizers and removable washable insoles for stinky footwear ( does anyone have kids who play sorts????). They also have various colour sprays where you can refresh your footwear's current colour or give it an overhaul by switching up the colour!
There is so much more…you can discover all of their products at tana.com where they also have great expert advice on shoe care – click here to see answers to many of your footwear care FAQ
FYI – For all of you who are fans of SHEARLING BOOTS…you know,  the hard-to clean suede ones…you should become familiar with the Tana Products that will help you keep them looking their best, longer 🙂
So about those CONTESTS…Here are a whole bunch of ways you shoe lovers can win great prizes:)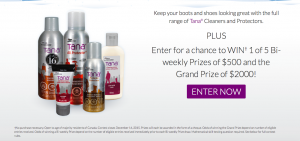 FAN PHOTO SHARING CONTEST: Post a picture to social media on what "SHOE LOVE" looks like to you. It can be about caring for your shoes but can also be love-at-first-sight shoes – it's whatever SHOE LOVE looks like to you! When posting, use #TanaLovesShoes for a chance to win weekly prizes of Tana Shoe Product!  You should know that you can gain additional entries by including a Tana Shoe Product in your photo 😉
Enter the ONLINE TANA CONTEST for a chance to win great visa cards that you can use to buy…shoes…or gifts for the holidays…whatever your want! There are 5 bi-weekly prizes of $500 VISA gift cards and one GRAND PRIZE of a $2000 VISA gift card Grand Prize!! You can enter by visiting tanacontest.com and following the instructions there!
JOIN THE #TanaLovesShoes TWITTER PARTY!!!!  You know how much I love a Twitter Party!  Click here to RSVP! Note: Prizes will be 6 VISA gift cards of $50 each plus one VISA gift card of $500!!!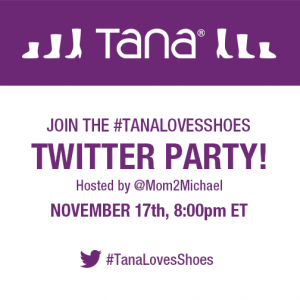 So – go on now!  Post, Enter & Mark your calendars for the Twitter party…and go protect those boots before the snow gets here!!!
Wishing you a day where you get to feel some SHOE LOVE 😉
Tanya
As with all sponsored posts, I will only ever share with you products and/or services that I believe in. All opinions contained within are my own and cannot be bought