The fabulous Julia Chiarella Genoni a.k.a. @AskMamaMoe is back for a 4th consecutive year with her incredible annual charity extravaganza Shopping From The Heart (#SFTH14)
Last year's event was beyond fantastic.  I left with prizes, gifts (even some teacher's gifts for the end of the year!) and a smile plastered on my face for having shared a super-fun evening out with some incredible women. 🙂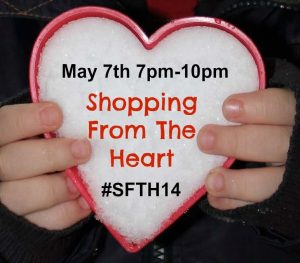 This event is about SO much more than just shopping…Here's what you can expect:
SHOPPING: a boutique-night type of event where various vendors will showcase their wares. Many of these vendors are Mompreneurs and we love to support our fellow Moms!!!
PRIZES & SILENT AUCTION MANIA: Some examples?
A brand spanking new Galaxy S5 smart phone from TELUS
Two tickets to the sold out Montreal Jazz Festical performance of Michael Buble
A spa package from Samuel Augustin & West Spa
Two ultimate toy packages from Jouets Choo-Choo
A B-Bip balance bike by Mama Cangura
A Laugh Package from the Comedy Nest
…& so much more!
PAMPERING:
Prana Massotherapie is coming with two massage chairs and one massage table to give FREE massages!
Jennifer Harris of JHMakeup will be on hand to do touch-ups to your gorgeous faces before you get your picture taken
FOOD: An incredible sweet table hosted by Gourmet Berries , Gateaux Michaud  & Creations Sakura ! Mini cupcakes, cake pops, cookies, chocolate covered strawberries, macaroons…all calling your name!
KNOWING YOU 'DID GOOD': Raffle & Silent Auction proceeds will be going to : The Montreal Children's Hospital Foundation, The Lakeshore General Hospital Foundation Maternity Ward,  The Royal Victoria Hospital Foundation NICU
As always, Julia times Shopping From The Heart (#SFTH14) just in time for Mother's Day shopping 🙂
DATE: May 7th, 2012
TIME: 7 PM-10 PM LOCATION: Holiday Inn Pointe Claire (6700 Trans Canada, H9R 1C2)
You can get more information about Shopping from the Heart by clicking here.
Please help to spread the word and share with your friends on Facebook & Twitter (#SFTH14)
Most importantly…treat yourself to a wonderful night out!
Looking forward to seeing you at #SFTH14!
Tanya