'Tis the season 😉
Our gifting lists include, family, friends, teachers, clients, suppliers, doctors and more….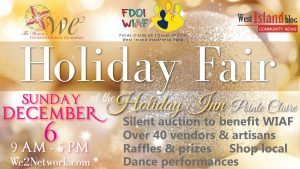 We are so busy with the budgeting, the planning, the shopping, the wrapping…
Imagine if you could get through a significant portion of your list, without fighting the crowds at the mall and while supporting LOCAL entrepreneurs…
You can do just that at this weekend's We2 Holiday Fair!
This year's fair will be held at the Holiday Inn Pointe Claire on Sunday December 6th from 9AM to 4PM.

It promises to be more than your average Holiday Fair, with 92.5 The Beat on the scene as well as dance performances by the FABULOUS 8-Count (My daughter does Hip Hop there – LOVE IT!)
I have been to this event in prior years and although it was held in a smaller venue, I have always come away with some original gifts that were LOVED by the recipients with reactions such as:
"I have never seen anything like this!"
-or-
"What a brilliant idea"
-or-
"This was made by a local artist? I LOVE THAT! I will call them when I have to buy gifts as well! "
Here's what you need to know about the Fair:
Over 40 local exhibitors, vendors and artisans who will showcase their goods and services, so you can find the right gift for anybody on your list 🙂
Exhibitors are small, LOCAL businesses, mostly women in business. This is a great way to support women making a difference, supporting their families, supporting each other 🙂
There will be a silent auction with proceeds going towards the West Island Assistance Fund who have donated over 1 million dollars in food, clothing and furniture to families in need in the West Island. Among other items up for bid will be:

A jersey and cap signed by of the Montreal Canadiens
A night's stay with brinch at the Willow's Inn
A night at the Holiday Inn
A Keurig machine with a supply of fresh coffee
Loads of raffles and giveaways & SO MANY chances to win!

Every half hour

is a new draw, where you can win prizes from participating vendors, local restaurants and businesses. There are different ways to earn raffle tickets, you'll get some just by showing up 🙂
What can you find?  Here is just an idea:
stained glass
fair trade gifts from around the world
knits & scarves
modern accessories
local jewellers
artisanal soaps,
makeup and skincare
home gifts
gourmet olive oils
cookies
flowers
books
photography services
and if you are seriously considering giving a cat a new home, then you may want to chat with Lily and Mica's cat rescue and adoptions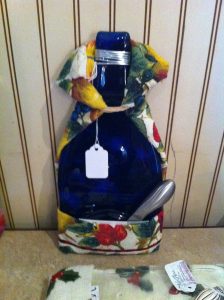 I can personally recommend that you visit the table of Anne Whelan of Vidriana is a glass artiste extra-ordinaire 🙂 From Stained Glass to her awesome cheese platters and spoon rests that are made from 'upcycled' wine & beer bottles, Anne has original gifts that are sure to delight!  I have given these as gifts many times and people were always THRILLED with them!
I have been toying around with the idea of trying out Reflexology for the first time. Andrea Mühlebach, Reflexology Therapist with Reflex Oasis will be there so I may just have to pay her a visit!
I will also have to stop by Bhaskar Goswami's table for Global daana.  Have you heard about the concept? daana is the practice of cultivating generosity. A non-profit organization creating global 'by donation' well-being classes. Your class is free. Your contribution is for the benefit of future students – Pay It Forward. Check it out at globaldaana.org !
I already mentioned that 8 Count will be performing there. It's my daughter's 1st year in their program and she's just loving it!  The staff are great with the kids and she looks forward to it each week 🙂 You can check out their upcoming programs!
My good friend & blogger buddy Julia from AskMamaMOE.com will also be attending and writing about the event- Check out her post to see which of the vendors she's featuring on her site 🙂
Needless to say, the We2 Holiday Fair is one that is worth attending – I hope to see you there!
Here are the details:
Time: 9 am – 5pm
Location: Holiday Inn 6700 Trans Canada, Pointe-Claire, Qc., H9R 1C2
Room: Champagne
Wishing you a wonderful evening of list-making 😉
Tanya