When I was asked if I would be interested in reviewing Sanissimo Salmas, which are oven-baked corn crackers, I was definitely interested in trying a healthy snacking option, but at the same time was slightly sceptical about whether I would like a cracker enough to actually share it on montrealmom.com.
I decided it was worth giving them a try. My sample of Salmas arrived just before we left for Disney and my first time trying them was on the trip…and I LOVED them!
Not only that, I offered them to my hubby and to the kids…and they loved them, too. For the duration of the trip, whenever I opened a package the kids would flock around asking if they could have some, too.
My hubby would ask me shyly…"Can I have a pack"? He was worried that since I was reviewing them, I would have to be the one eating them, LOL! I assured him that his input as well as the kids' had already been helpful in making me realize that this was a cracker that I could actually talk about!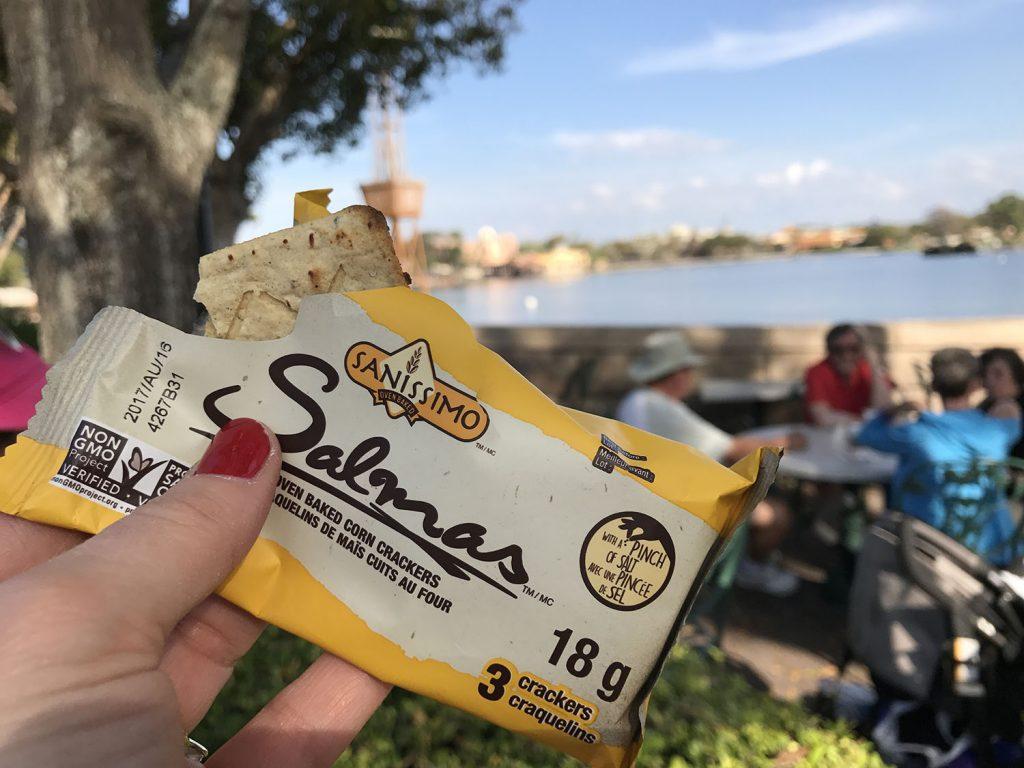 So what is it exactly that makes me love Salmas so much?
The Taste: If you like tortilla chips, you will likely love Salmas- they taste like a tortilla chip, only with (in my opinion) better flavour. I say that because it tastes like you are eating a real corn tortilla chip and not some kind of 'artificial' food.
The Crispy Texture: Salmas delivers on that crispy texture that I crave. I am a chip lover, and part of the reason for that is that I love the crispy texture of chips…Salmas satisfies my craving for 'crisp'!
Made with only 4 ingredients: whole grain corn flour, salt, hydrated lime & tocopherols ( I know- that last ingredient doesn't sound too good, but it's basically plant-sourced ingredients to maintain crispiness)

Note: While hydrated lime is listed, don't expect Salmas to be lime-flavoured, they're not. That said- when I crumbled my Salmas over a vegetarian chili (see below) there was a slight, yet perfect, note of lime that magically presented itself

…and I loved it!

No artificial colours or flavours: They don't need them!
Satisfying: 1 package of Salmas includes 3 crackers, and I can actually be satisfied after eating just one package.  I won't lie to you and say I don't crave another- of course I do!  They are crispy and yummy!  That said, I usually eat one package for a snack. I may indulge in a  second if I am really hungry or want to cave to the crave 😉  They really do satisfy!
They are 2 Weight Watchers Smartpoints per pack! For those of you following the program, you know that 2 points for a packaged snack, especially one that helps with that crispy-carb craving, is GREAT!  Here are the Nutrition Facts: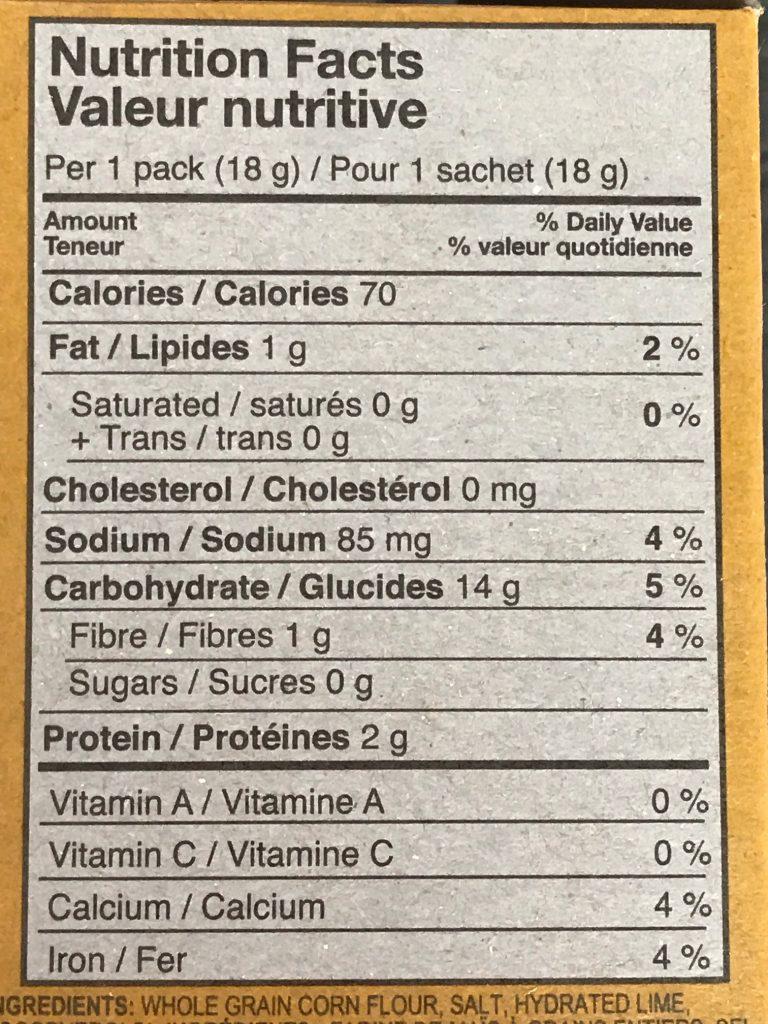 Great crumbled up as a topper for salads or chili!  This past weekend I made a vegetarian chili and topped it with Salmas…Awesome!
They're easy to Grab & Go! – I often grab 1 or two for my purse.  Note: While they are great to grab & go-note that they are also delicate so they may break broken up 'on the go'.  Sometimes they are fine & sometimes they break, but it doesn't bother me.  If it bothers you, save your broken Salmas for chili or salad toppers!
More good reasons to love Salmas:
Vegan: ( in case you were wondering)
Gluten-Free:  While I don't need my snacks to be gluten-free, I love that a snack that I love, (especially a cracker) can be enjoyed by those who are following a gluten-free regime 🙂
For all of these reasons, I keep telling people about them and everyone who tries them loves them!
So…I know you all want to know: WHERE can you get Sanissimo Salmas?
They are available nationally in the dips and spreads section at mass market retailers. You should be able to find them at Walmart, Metro and IGA.  I found mine at Walmart Point Claire adjacent to the bread section.  They are also available as an add-on item at Amazon.ca! Just
click here
and you will be directed to the page!
When I found them, they were in a display that looked like this:

Here's a close-up of the box you're looking for: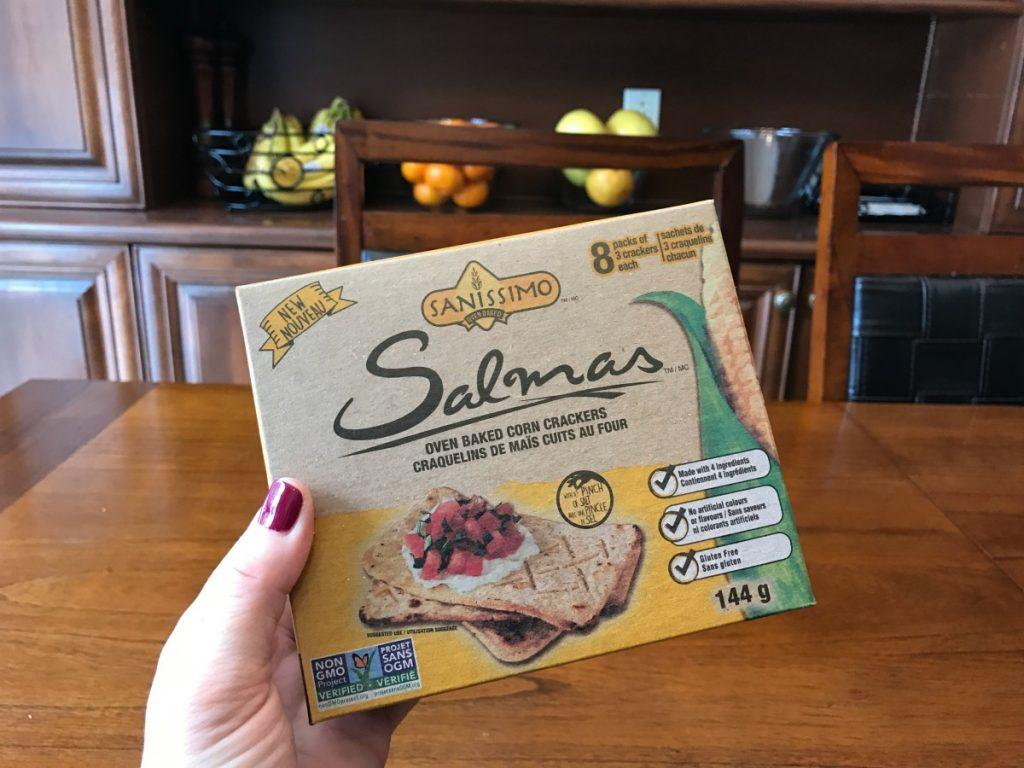 I'd love to hear what you think of them- so far all to whom I have recommended Salmas have been impressed 🙂
Happy Snacking!
Tanya
Disclosure: As with all sponsored posts, I will only ever share with you products and/or services I believe in. All opinions contained within are my own and cannot be bought