Something  I have chosen to do this year was to carve out a little bit of 'me' time here & there and one of the ways I have done this was to join a book club.  We recently read the book Room by Emma Donoghue and I thought that I would share my thoughts and maybe get some feedback from those of you who have read it as well.
Without telling the entire tale, Room is the story of a 5-year old boy (Jack) & his Ma.  They live in "Room".  Jack has never seen the world outside of Room and in fact, he does not even know it exists.  The reason for this is that Jack was born in captivity- his mother had been kidnapped, which Jack of course does not realize.  The story is told entirely through Jack's eyes.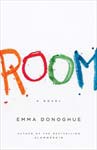 Your first reaction may be that it is too depressing and too heavy, but in fact the story is inspirational.  I won't say that it doesn't get heavy at times, it does.  Some in the book club felt it was 'too much'.  Many of us, however, myself included, found it amazing how Jack's Ma goes about making a life for her precious little boy inside this 11'x 11′ space where they eat, sleep, bathe & play.  It shows us how children live what they know.  It makes us think about what our own kids really need to make them happy.
I will caution you that the book is written entirely through the eyes of a 5 year old boy.  Emma Donoghue has written this to perfection, including writing in the vocabulary & speaking/thinking style of a 5-year old.  At first this can be difficult to follow, but you will catch on.
Finally, you may be wondering if this is a true story.  Room is a novel inspired by true events but NOT based on them.  For me, this was the heavy part as I read: the knowledge that similar stories have actually happened- in real life.
All-in-all, I would recommend that you put Room on your to-read list.
And now dear readers, I'd love to hear from YOU: Have you read 'Room'? What are your thoughts? What other books have you recently read and what did you think?  Are there any books that you can recommend?  Please share!
Tanya