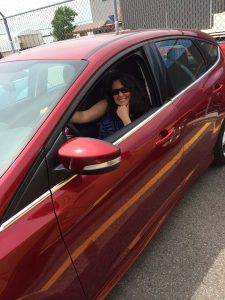 I was recently offered the opportunity to test-drive a Ford Focus Titanium for a special #FordRoadTrip to St- Sauveur.
I decided to use it as a chance to have a little romantic retreat with my hubby. Do I need to tell you that with 4 kids we don't get too much alone time?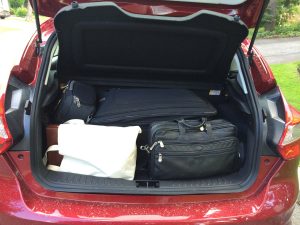 We left on Tuesday at about lunch time.  We loaded up the trunk, which held our massive suitcase plus our laptop bags & camera bag just perfectly, without any need to put down the back seats.
You may be wondering why we needed a massive suitcase for 2 nights – We had no time to figure out what to pack so we just shoved a whole lot of stuff into a very big bag!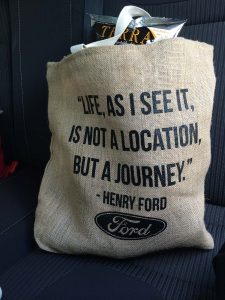 Ford generously provided us with a whole bunch of treats – in a bag with an inspirational message, no less! – These went into the back seat for easy access 🙂
With my iPhone & iPod paired with the car's Bluetooth, we were ready to go – First song that came on? "Come Sail Away" by Styx – How apropos 🙂
It was a stunning day for a drive & we just enjoyed being on the road. In fact we talked about how much it reminded us of our pre-kid, pre-minivan road trips.
I had wondered if I would feel awkward driving in a smaller car since I am so used to my minivan.  I honestly didn't.  In addition, the climate control was excellent – we were both extremely comfortable for the drive.
Part way through the drive I realized that I hadn't programmed the GPS – so my hubby attempted to do so from the passenger seat. He couldn't do it as we were in motion & this is a safety mechanism to ensure that the driver is programming & driving at the same time.  While I would have liked the convenience of my passenger being able to program for me, I have to say that as a Mom, I loved this safety feature.
I had to take one call on the way up & I really liked the bluetooth pairing of my phone for hands-free calling.  My minivan is not Bluetooth-enabled so I'm always using speakerphone if people call – this was so much better.
I liked being able to tell the car via voice command who I wanted it to call, and this worked fairly well.  I'll be completely forthcoming and say that when it came to voice-activated navigation, I experienced somewhat of the same frustration that I do with asking Siri to do anything for me – something gets lost in translation between "123 Appletree Road" and whatever address is finally recognized.  So I prefer to program navigation manually.
One of the features I was unable to try out – or shall I say, 'lacked the guts' to try out  was the parallel parking assist.
On a completely non-techno level, I did LOVE the fact that parking was a non-issue.  Finding space to park a minivan can  be slightly more challenging that finding parking for a Ford Focus….and I felt it!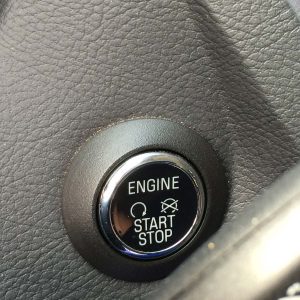 I actually loved the push-button start!  I notoriously 'lose' my keys in my purse and hunt them down when I get to the car, parcels in hand…Well it didn't matter one bit because as long as they were in my purse somewhere – the car unlocked & I pushed to start 🙂
Now this part may sound funny, considering our trip was in July – but on our last night out, it was CHILLY & the seat warmers were a welcome feature!!!
As for the getaway in St-Sauveur, you can check out the little Storify that I put together at the end of this post (because a picture tells a thousand words, I can avoid you reading a few thousand this way!)
I can say this much, we heeded the inspiration on the treat bag and we chose to #EnjoyTheJourney every step of the way.  We walked and talked and enjoyed delicious food.  We had some uninterrupted time to recharge for the journey that is parenthood.
That said, I have to say this: I had the opportunity to drive all 4 kids in the Focus on the day we picked it up (Hubby was not on board as it's 5 passengers max).  We were all comfortable and I must share the following line by my 11 year old son: "Mommy, it rides so smooth- Does it have some special shocks or something???"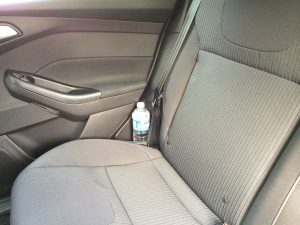 I'd also like to give honourable mention to 'the little things' like the smartly tucked away cup holders & 12V connection for the kids in the back as well as storage for my sunglasses and the USB charger – because I notoriously run out of charge, particularly when I am instagramming an entire trip, LOL!
You should also know that I drove to Focus for 2 days in addition to the road trip – back & forth to work as well as to do my usual errands, and I have to say that it was a pleasure to drive.  There was an ease about driving a smaller car that appealed to me tremendously.  And I was not unaware of the gas savings…. Back & forth to Sauveur PLUS all of my usual errands in LESS THAN a 1/2 TANK OF GAS!!! $34.97 for all of that driving. Nice 🙂
While I personally need a 6+ passenger vehicle, for those of you who need a car for 5 passengers or less may find the Focus to be a good choice.  Let me tell you that if there were a seven-seat version…I'd consider it!
Thank you @FordCanada for the opportunity to get a real sense of the Focus on a romantic retreat with my hubby.
Wishing you all a wonderful weekend where you can just #EnjoyTheJourney and Focus on what really matters 🙂
…and now for my little Storify 😉