As we approach the holidays and the winter break, many families will be hitting the road for day trips, weekend getaways and even heading on long distance vacations down south. Road tripping it with kids can be a daunting prospect so I've put together some 'survival tips' that I shared on my Breakfast Television segment this AM. You can click here or on the image below to watch:
Kids ages 5 & under:
Choose various forms of entertainment:

Portable DVD or tablet for movies / easier than ever now that you can download Netflix to tablets- less clutter in the car, too.
For DVD's / tablets make sure to choose movies that do NOT include annoying music! We have always been fans of Disney & Barbie movies because the music is pleasant to listen to…and when you're listening OVER & OVER again, that can be important!

Note

– If downloading Netflix for younger kids- Beat Bugs has great music!
Car-friendly tray(s) to eat on and colour on, some washable crayons or markers and colouring book or pad of paper.
Word games and Q& A games you can play with them in the car.–

Lots of snacks but choose wisely-dry snacks that make crumbs that can be easily vacuumed out beats sticky stuff. Keep this in mind for drinks as well- you'd rather sippy cups leaking water than juice.
Take frequent breaks to use the facilities and to get everyone's legs stretched, and you may want to take longer mealtime breaks. For when the next rest area is 30 km away coupled with emergency potty needs – consider bringing a portable potty that uses plastic bags with you…
Pre-teens:
Unless you have an art-lover in the family, they don't really want to be colouring in the car. At this age, what they usually want to do is

Get there already
Screen time- either as movies, shows or games,
Listen to music
Sleep
Get there already 😉

Have your kids agree as to what they will watch in the car BEFORE you leave. Not 5 minutes before you leave…Have them make a list and select the DVDs or shows/movies to download at least a few days PRIOR to the trip so that there is less aruguing in the car. You can even use the Netflix guide below for inspiration 🙂
Get a headphone splitter so that two or more kids can listen with headphones…and so that you don't have to!
Mark headphone volume (if possible) with a silver Sharpie to indicate where the volume should not surpass. If using tablets, show your kids how many 'bars' they can go up to before they risk damaging their ears.
Make breaks less frequent and more strategic around bathroom breaks and treats for awesome behaviour in the car…Live by the motto : "Let's get there already."
Pack snacks but also consider packing food for your meals- less stopping means you get there faster. Have a basket of snacks accessible to each row of seats so it's easy. Make sure each row has a garbag bag to dispose of packaging.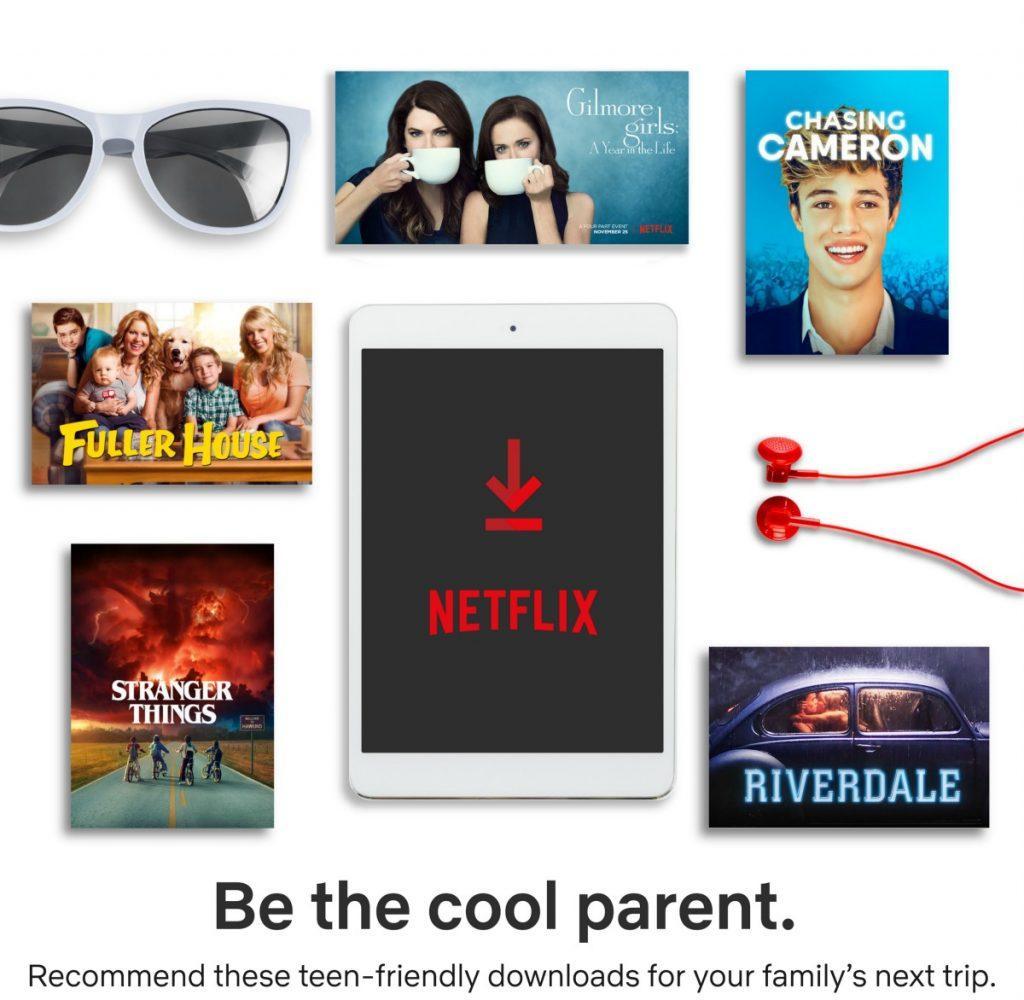 Teens:
The only thing more daunting than a road trip with kids is a road trip with teens…and their hormones and oftentimes, as luck will have it, as teens are having their hormonal issues – so are moms…so this can be a very scary situation LOL. The key to getting through this trip is aim to SURVIVE!
It's ok on a trip with teens to let the usual rules of screen time limits etc fall by the wayside. If it's screentime they want, let them have it! Also, whereas our best parenting practices teach us that we should teach our children to share…reality is that you will have as many strong opinions about what should be watched as you have strong-willed teens in the car. Do yourselves a favour and let them each bring their own device WITH headphones – let them download their Netflix favourites to their heart's content and enjoy a cup of coffee ( and maybe even a conversation !) with your co-pilot up front while they zone out and binge to their heart's content. You may actually experience a moment of "Wow…we're actualy on vacation here!" 😉 Confession: We bought our kids inexpensive tablets for the holidays so that they will be happy and we will be happier on our road trip 🙂 We also bought AWESOME headrest holders to keep this tablets safe & protected when everyone is getting in & out of the car at bathroom breaks!
Important Note: Our kids have been explained in advance that these are to be used only as TRAVEL TABLETS – once we arrive at our destination or at home- they go back to Mom & Dad for safekeeping.  We don't want to encourage them spending their whole vacation glued to a screen either…( So I guess we didn't throw ALL of our parenting principles out of the window LOL!) 
As for food, snacks & stopping: same guidelines as travelling with pre-teens. Yes you'll want to stretch out from time to time, but do it at strategic bathroom or treat breaks. Pack as much food as you possibly can into the car because the last thing you want is a bunch of hangry teens on your hands!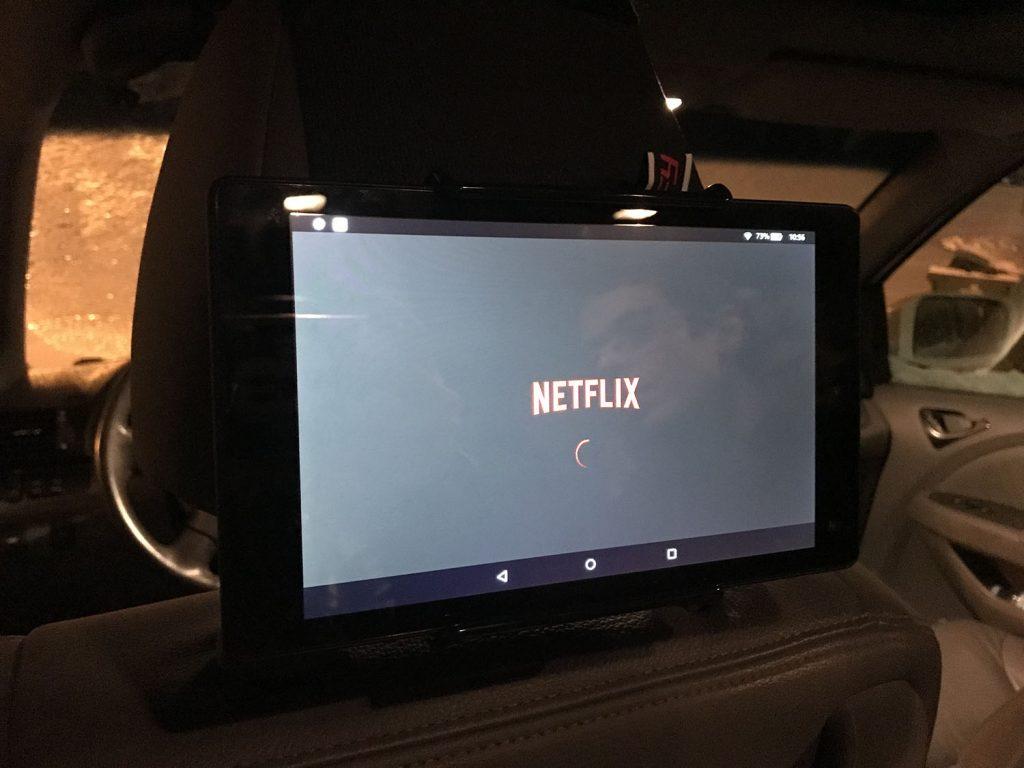 Shopping Guide:
Tablets:
We chose the Amazon Fire 8 HD (16GB) for $99.99, but you can also get the Amazon Fire 7″ for only $59.99!  We chose the 8″ not only due to the slightly larger screen size but because of the 12-hour battery life and the 16 GB memory (which is also expandable, by the way)
We also got cases for each of the kids – there are many to choose from. You just need to make sure you buy the right model for the tablet you choose. ( Click on either image if you are interested in purchasing)
Finally- the purchase all 6 of us fell in love with is the AWESOME HEADREST!!!
This is the one we bought for the Amazon Fire 8:
…and this is the one we bought for our daughter's iPad Mini:
but truthfully- what showed up was the same product for both – and both devices fit.
If you are interested in a portable potty – We had a version of this that saved us when our kids were little.  While you cannot see it in the photo, you can also use plastic bags for 'on the go' use – so that you're not cleaning the bowl in rest areas.
For the potty toppers there are many to choose from, click here to find them on amazon.ca
Wishing you safe and survivable travels!
Tanya
Disclosure: I receive free Netflix streaming as part of the Netflix #StreamTeam. As always, all opinions contained within my posts are my own. 🙂
Disclosure: I am a participant in the Amazon Associates Program, an affiliate advertising program designed to provide a means for me to earn fees by linking to Amazon and affiliated sites.  
As always- I only recommend products or service that I believe in and all opinions contained within my posts are my own 🙂