Like so many people, I try to remember my reusable shopping bags all the time.  When I forget I end up with a bunch of plastic that I end up reusing somehow (at least those that make it home without developing holes in them)
The bags I have a hard time putting to good use are the produce bags: those smaller, thin clear bags that we use to gather our apples, pears, peppers & more.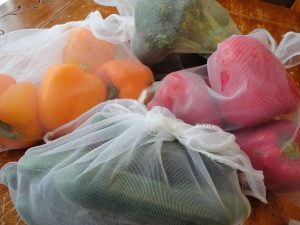 I was thrilled when I found these great bags at Loblaws.  I've been using for 2-3 weeks now & I approve.
They're made of a very fine mesh so they won't add any real weight to the scale when your produce is weighed,
This is what the package looks like.  You can find it in an independent aisle display near the food wrap.
They come in a package of 4 bags/ $1.94.  The bags are packaged in a small reusable pouch that are perfect for smaller items like garlic, ginger or jalapenos.
Affordable & eco-friendly.  My kind of purchase 🙂
Until next time,
Tanya