A recent favourite in my home, I just have to share this recipe. If peanut butter is an issue, you can substitute with mini caramel cups instead (available at Walmart & elsewhere)
It's actually the method that makes these treats so special.  Special thanks to Sam & Jill Wise for letting me know about this method that they learned from our mutual friend, Reesa Kadaner.
I will provide my oatmeal-chocolate-chip cookie dough recipe, but you can actually use any kind of chocolate chip cookie dough that you's like for these babies, just make it without the chocolate chips.
Ingredients: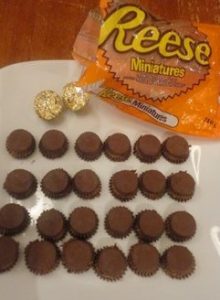 1 c canola oil
1 c. brown sugar, packed
2 eggs
2 tsp vanilla
1 3/4 c. whole wheat flour
1 tsp baking soda
1/2 tsp salt
2 1/2 c. oats
2 bags (approx 230g each) mini peanut butter cups (or caramel cups, if preferred), wrapping & paper completely removed
Spray mini muffin tins with non-stick spray, set aside
Preheat oven to 375 degrees
Mix together: oil, sugar, eggs & vanilla
In separate bowl mix flour, baking soda & salt.
Combine the ingredients from both bowls.  Mix until moistened.
Stir in oats
Fill a mini-muffin tins a little more than 3/4 full but not quite to the top
Bake for 6 minutes
Remove tray from oven
Carefully press a mini-peanut butter cup into the center of each cookie

Place back in the oven and bake another 2-3 minutes until cookie cup edge is golden-brown
Allow to cool slightly before removing to a cooling rack
Repeat for the second batch (Yield: approx. 48 cookie cups)
Enjoy warm or cool
I'd love to hear how these go over with the Fam!  Please let me know…
Wishing you a sweet day,
Tanya