Last year I made suggested resolving to Indulge in Something Bingeworthy, and this year I actually filled out a list of what I would continue to indulge in, with as well as without the kids.  You can read my list below 🙂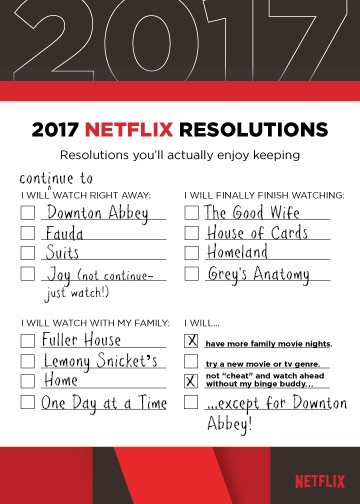 So many people I know raved about Downton Abbey, but I had a hard time getting into it…at first. Then, over the winter I watched a few episodes before getting sick and then I really got into it! I got ahead of the family members that were watching with me because I got sick and watching Downton was my distraction. ( That's why you will see that I did not agree to wait for my fellow bingers on this one, LOL!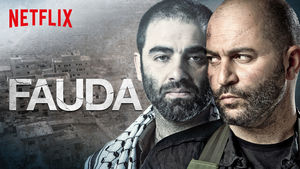 My hubby & I also started Fauda, and we are liking it so much that we plan to continue. Only on Netflix, it is a political thriller depicting two sides of the Palestinian-Israeli conflict. It is filmed in Hebrew & Arabic with English subtitles. It is obviously not 'light' to watch but we find it extremely well-done and there are little bouts of jokes and humour that 'lighten' it up a little.
We continue to love Suits which is what we usually watch right before bed.  We find it fun and light yet offering enough drama to maintain our interest.
I have been meaning to see Joy ever since it was in theatres, so I plan to see it SOON…as in maybe this weekend!
My hubby & I have binged on The Good Wife, Homeland and House of Cards as well as PVR'd versions of Grey's Anatomy ( up to a point).  We are hoping to catch up & finish all of these in 2017!
As for family-viewing:
We love Fuller House and will continue to enjoy it together 🙂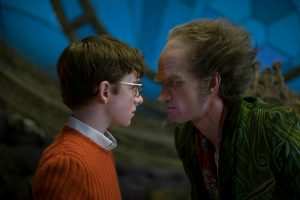 We watched an advanced screened for the ALL-NEW Lemony Snicket's: A Series of Unfortunate Events.  While I truthfully have a hard time with the concept, it seemed to keep the kids attention and no one complained that it was 'too baby'…those types of shows are hard to come by, so I think we're going to continue watching! Also, the end of the 1st episode added some mystery which left us wanting to see another!  FYI- It will be released tomorrow ( Friday, January 13th).
As for HOME, the kids have seen it and liked it…but I have not. Therefore, although they don't know it yet, we will be having a HOME Family movie night (or afternoon) sometime soon 😉
Finding a show that is not 'too baby' and not inappropriate is not always easy ( Fuller House fits the bill perfectly).  I was reading up on Once Upon a Time and I think it will be ok for us.  Seems there is some language and innuendo, but I think overall it will be suitable for our family. If once we try it we find the language (or innuendo) to be too much, we'll move on .
What will your Netflix Resolutions be for 2017?
Feel free to print out the sheet below & decide with your peeps!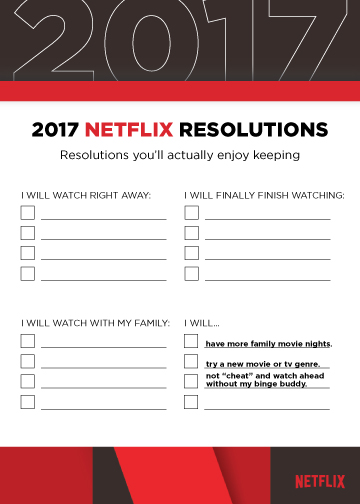 Happy Streaming!
Tanya
Disclosure: I receive free Netflix streaming as part of the Netflix #StreamTeam. As always, all opinions contained within my posts are my own. 🙂