Today marks exactly 1 year since the Friday last year that I first set foot into a Weight Watchers meeting. (Actually, it was February 3rd…but it was this same Friday last year).
Today also marks the date that I FINALLY reached my 'goal weight' on the program, and I am THRILLED about it!
To be honest, I didn't even really know what my goal weight was until this past summer. I was just on the program to lose weight in order to feel better and healthier.  One day I finally decided to ask, sheepishly, after one of the meetings :
"Everyone keeps discussing their 'goal weight'- how do I even know what mine is?'
A leader explained to me that it is based on Health Canada guidelines and helped me to figure mine out.
Back in October I was less than 1 pound away from goal… but life brought on some stressful events that I will not get into right now and I wasn't putting myself first. The impact of that was that sometimes forgot to track my Smartpoints and because I wasn't prioritizing myself, I wasn't planning my meals and snacks as well as I had been since February, which resulted in grabbing what was readily available. My weight loss progress slowed down, but I won't say that it halted.  I would go up by a pound or two (or a fraction thereof) then down by a pound or two (or a fraction thereof) , which resulted in a bit of a 'plateau'.  It was nothing to be concerned about – I was sort of 'stabilizing' … just not at my 'goal weight'. I was still getting so many compliments about my appearance, but I just wasn't making my goal.
It was bothering me to an extent, but I wasn't obsessing over it because I had other things on my mind.  That said, I continued to go to my meetings, save a very few times where I really couldn't make it, and I was still paying attention to what I was eating, making sure to eat points-friendly foods and tracking at least some of the time, and even when I would not track, I tried to keep track in my mind.  ( This by the way is a dangerous road to embark upon and I don't recommend it- it is extremely easy to become complacent and slip- When I don't track, I can easily LOSE TRACK.)
For the last two weeks I have been determined to get to goal by my 1-year mark so I made it a point to  track daily.  The result?
I. MADE. GOAL!!!!!!
They gave me this fun charm for my WW charm 'ring' 🙂 I LOVE IT.
The trick now will be to not gain more than 2 lbs above my goal and to not drop 2 lbs below, either.  I need to maintain my weight for 6 weeks…and then , if I can do that, I become a LIFETIME MEMBER!  I don't think this part will be easy…so I'm asking you all for your positive vibes!!!
Of course I took a pic to commemorate the occasion;)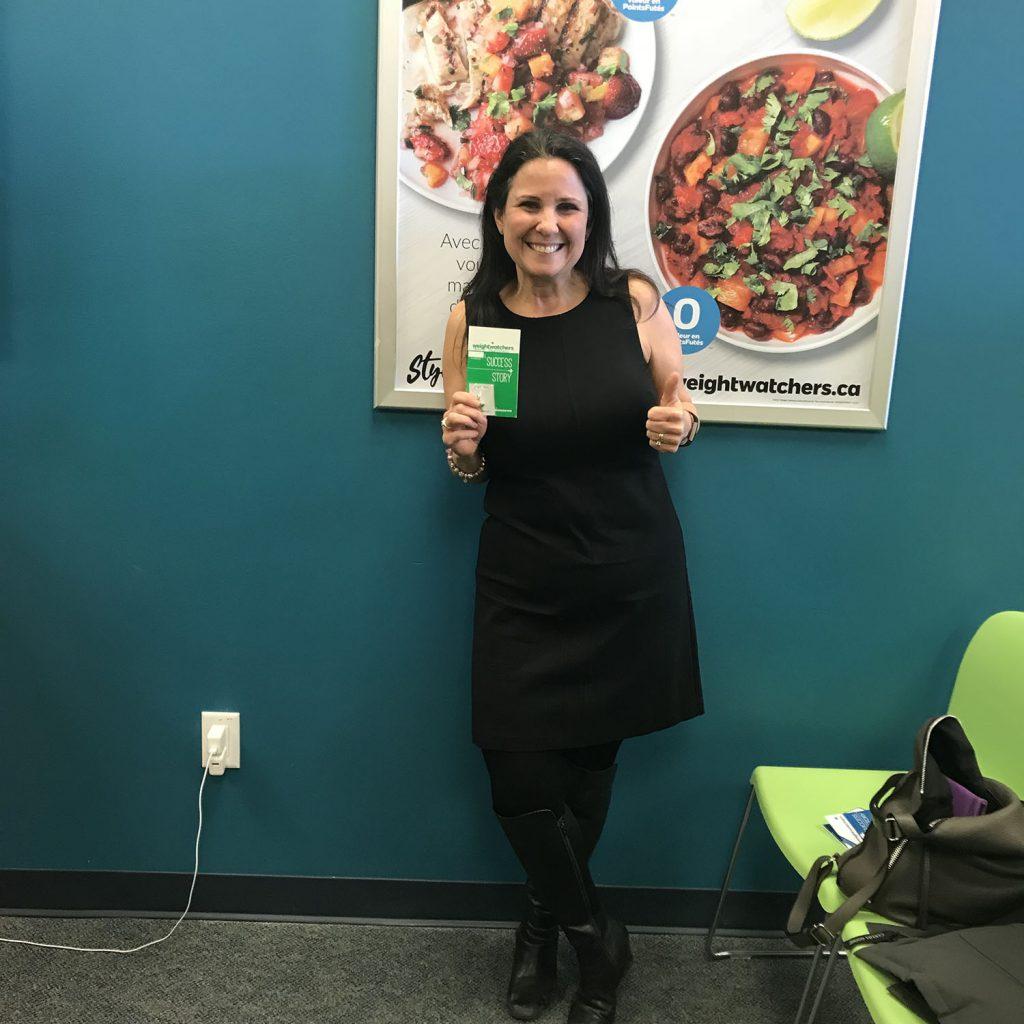 I will definitely be blogging more about my journey with WW, but in the meantime if you have questions, I will be happy to answer as best as I can…but in the meantime, I need to get back to work and get ready for this weekend…and figure out how I am going to CELEBRATE!!!!!!
Wishing you all a day when you reach a special goal 🙂
Tanya
PS- For those of you who want to read more about my journey with Weight Watchers, you can some of my posts by clicking here 🙂