Given that many families are going away, it seemed like a good time to share pre-trip tips for my latest segment on BT Montreal.
I am also providing you with this link to the Pre-Trip Checklist that I posted a few years ago- still relevant today 🙂
I also want to add a tip that we did not have a chance to get to on the segment:
Check with your home insurance how many days your house can be left empty under the policy.  Make sure to have someone come into your home to check often enough to be in keeping with your policy. Sometimes when I have given this advice, the response would be "how would they know?" My response is that, besides the fact that it's best to be truthful, remember that your alarm system logs in whenever the door to your home is opened…. It's a good idea to check with your insurance company.
Here's the segment on BT with more TIPS. Hope it's helpful!
http://www.btmontreal.ca/videos/4760412801001/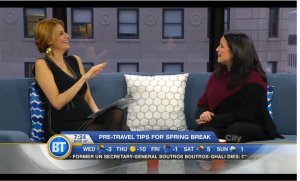 Wishing you a fabulous day & a great Spring Break- whether at home or away and whenever yours happens to be!
Tanya