When I first heard about Becel's Plant-based Anything-Goes Cookie dough, I obviously had to try it before giving it my 'seal of approval'.  They developed this versatile dough recipe to be used as a base to accept any type of add-ins to customize your cookies to whatever tastes like 'home' to you. In the beautiful multicultural country that we live in, there are SO many wonderful flavours to which we have been introduced- these flavours can be incorporated into this cookie dough to create the most delicious cookies!
I was inspired to try cardamom-spiced cookies but with no ground cardamom on hand, I went for some Garam Masala – an Indian spice blend which includes cardamom, cinnamon and nutmeg as well as some other spices.  I missed in some chopped walnuts and my cookies were outstanding!  My husband, who is really not a cookie-lover LOVED them and just wanted to have them with his coffee.
I also made a version inspired by a delicious cookie that I had eaten in Greece- this one included cinnamon and sesame seeds- also DELISH!
My daughter went for M & M cookies and developed her own s'mores cookies using mini marshmallows and chocolate chunks!
ALL the cookies were excellent.  Although the look crunchy once you bite into them you get a soft and chewy texture.
I have to add that baking really does bring the family together.  My rare-to-be-seen teens kept gravitating towards the kitchen to 'try the next flavour' 😉
This morning, I had fun making the recipe on Breakfast Television with the fabulous Catherine Verdon Diamond 🙂 You can watch the segment by clicking here or by clicking on the image below.
You can also find the link to the official recipe on Becel's website by clicking here.
Note: While this is a plant-based cookie dough, Becel does contain buttermilk powder so for those of you who are vegan or require a dairy-free option, you can opt for Becel Vegan – I tested the recipe using this as well and it works great.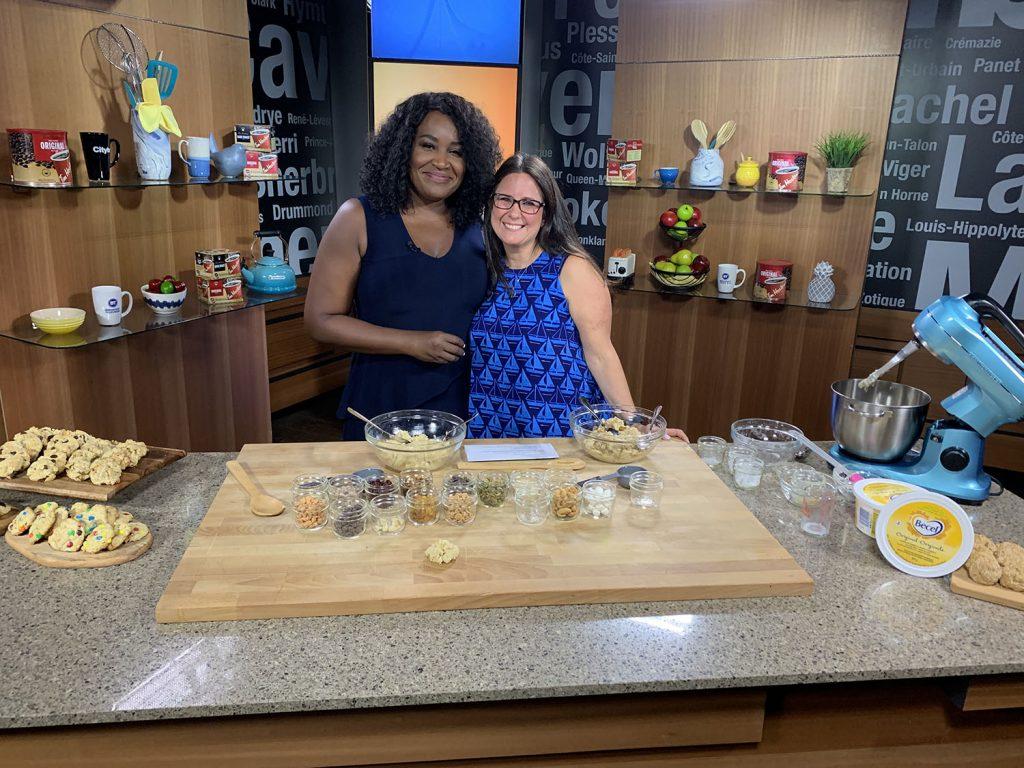 What add-in ingredients are you inspired to use?  Try out this recipe and let me know how you enjoyed it! I'd love to see your pics, you can tag me on social @montreal_mom 🙂
Happy baking!
Tanya
Disclosure: I am proud to represent Becel in sharing their plant-based 'Anything-Goes' cookie dough recipe. I will only ever share with you products and/or services I believe in. All opinions contained within are my own and cannot be bought 🙂