In case you are scrambling for a last minute Mother's Day gift…or in case you need to drop hints because you know that there are people scrambling to find a suitable Mother's Day gift for you (LOL!), I thought it would be a good time to share my experience with both the Echo Show and the Echo Dot from Amazon.
We have been using older versions of these two devices for about a year and a half now, and I have to say, I am pleasantly surprised by how much it helps me to have my own 'personal assistant' on standby.
I should also share that in all honesty, I was EXTREMELY hesitant to get an Echo Dot a.k.a. an 'Alexa'. My husband and I have always felt that these devices were 'listening to our every move'. If I am not mistaken, our first such device was a gift and remained unopened in our home for a VERY long time.  One day, we realized that since we were also of the belief that our phones and iPads are 'listening' all the time (which they totally are…), it was silly not to give the Echo a shot.
In addition to the Echo Dot, I agreed to review an Echo Show 8 early last year… but then COVID hit and my blogging became much more about making it through the pandemic than reviewing fun products. But in the meantime, we continued to use both devices and I will now fully admit that having Alexa in my kitchen has been fantastic (though not without the occasional frustration) and has also added a dose of humour to our lives!
Last week, I received the All-New Echo Show 10 as well as the new Echo Dot (4th Generation) from Amazon for the purpose of reviewing them, and while I have not had enough time to fully road-test these babies, I wanted to share whatever I know with you in case you are in that last-minute crunch for gifts.
I have had the Echo Show 8 at the cottage since last year and I absolutely love it. My husband and I start off the day listening to smooth Jazz while preparing our breakfast. When I am busy cooking, it shows me the weather at a glance and actually alerts me to weather warnings. This has proven especially useful at the cottage when we are often blissfully unaware of  an impending storm, and then notice the red bar with the wether warning. This has actually helped us to make the decision to adjust the time that we plan to return home and avoid the inclement weather.
Sometimes, when I am cooking I will ask Alexa to play 80's music or specific songs that I just feel like hearing… I've gone from 'Rio by Duran Duran' to 'Private Eyes by Hall & Oates' to 'Songs by Corey Hart'. If you are used to using your iPhone to have Siri play you music, it's similar but with WAAAAAY better sound. It is worth mentioning that the All-New Echo Show 10 has a great-looking speaker with excellent sound. Even my teens approve!
More recently, Alexa has started displaying photos of the most appetizing-looking, colourful recipes onscreen, and while I haven't made any of them yet, I often save them…which you can do by simply saying 'Alexa, save the recipe on my screen' 🙂
Alexa also lets me know if a delivery has arrived either at the cottage or in my city home.
The only thing I did not love until now was navigating the web- I found it a little cumbersome, but this has improved with the new model (Echo Show 10).
We also have an older version of the Dot in our kitchen in our city home, and it gets plenty of use as well. My daughters also have them in their rooms and love them. They use them as alarms, for playing music, for reminders and to get information. I often learn great ideas for using the Echo from my kids! For example, while cooking I often find myself asking someone to make a calculation for me (to convert kg into lbs, for example). 'Can you grab my phone and use the calculator to….?" One day, my daughter just said 'Alexa, what is _ divided by _?' Brilliant!  Why did I not think of that??? Instead of going to my phone to check the weather I ask Alexa! When I was pretty sure that Jennifer Garner was the daughter of James Garner but my hubby was not sure he agreed. I started to search it up on my phone…my daughter was smarter than I was and got the answer more quickly…she asked Alexa!
In the kitchen, I set timers for EVERYTHING.  You can have as many timers going as you want, each with its own name- so I will often have an 'almond timer' a 'muffin timer' and an 'egg timer' all going simultaneously. The most creative use of the timer function was when my eldest had her wisdom teeth out. She needed to have ice packs on for 15 minutes then off for 15 minutes…for 3 days straight. Alexa kept us on track every 15 minutes , which was a good thing because we were pretty 'caught up' binge watching episodes of who-knows-what and needed to be reminded!
In addition to all of the ways that the Echo has proven useful, we've also had some 'blooper' moments such as Alexa starting to talk to me randomly in the middle of my teaching a LIVE cooking class.  Another time, while watching a ZOOM funeral from our kitchen, the granddaughter 'Alexa' was mentioned by the speaker…well, don't you think our 'Alexa' piped up saying something along the lines of 'I don't know how to do that yet' ? LOL! Thank goodness we were on mute! That said, my husband and I had to restrain ourselves from giggling onscreen in the middle of the funeral…
There is still so much functionality in both devices that I have yet to seriously tap into…
You can actually watch Netflix, Amazon Prime or Youtube on the Echo Show 10. You simply ask Alexa to play *name of show* on Netflix and voilà! I have done this, but not often. The screen can rotate to follow you if you are moving around the kitchen so that you can see it at all times. This feature can also be useful for video calls, although I have not had the chance to try it out yet. If you're thinking that it may be annoying (and slightly creepy) for the screen to keep following you everywhere, don't let that stop you as you can either 'Disable motion' with a simple voice command when you don't need the feature and 'Enable motion' when you want it back. You also have the option to use the sliding camera cover which will disable the camera and motion entirely, until you slide it back open. You can also set the range of motion as you wish (which we have done) as we don't need it to rotate 360 degrees, and prefer it not to knock into whatever sits behind it.
The Echo Dot is smaller than the Show and does not have a screen. It is now spherical in shape (it used to literally be a 'dot'). It is actually sleek and as my daughter would say, 'a 'shmexy' little device'.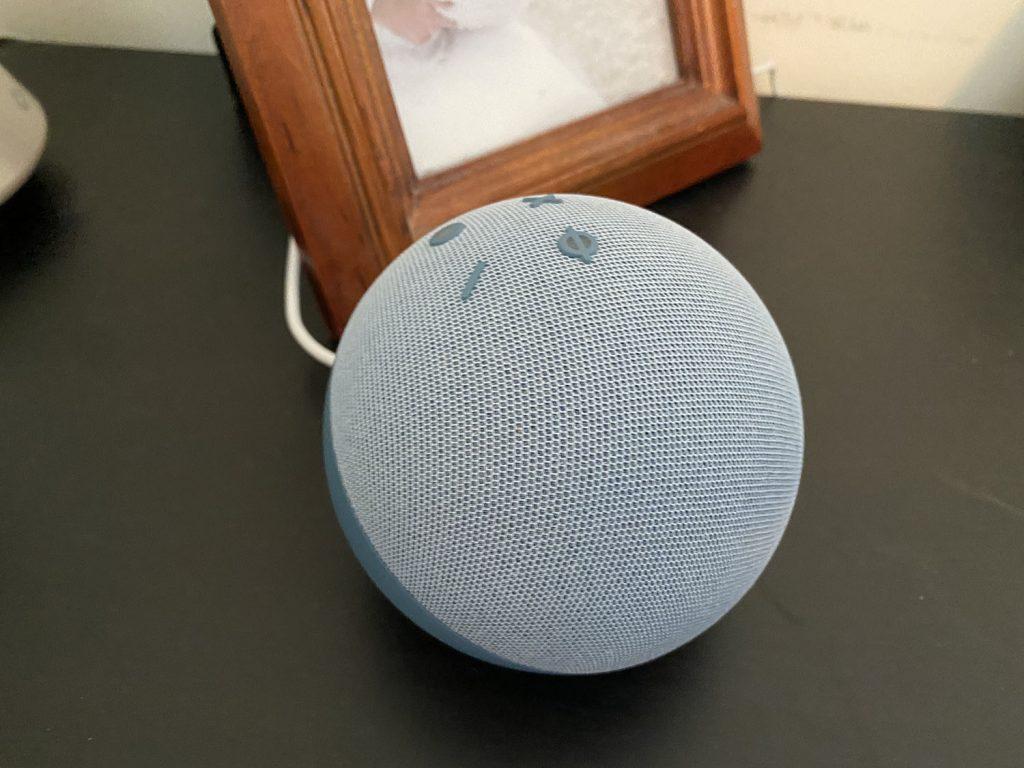 I have installed mine (I got it in Twilight Blue…LOVE!) on my nightstand and I am loving it! First and foremost, it is now my wake-up alarm…which means I no longer need to use my phone as my alarm, which means I can actually shut my phone down at night should I decide to. In addition, I have programmed a morning 'routine' which, once I have acknowledged my alarm with an 'Alexa, Dismiss', Alexa shares the current weather as well as the day's forecast and then plays 80's music for me. I could have added, had I wanted to, for her to share the day's news or jazz, or no music at all. My version does not have a digital clock display although this is available and I think would be a great feature. Should I wish to have any kind of music playing at any time, I just have to ask, although I usually use this feature in the kitchen where I spend much more time.
I could keep going, but I think you get the point- I actually rely on Alexa more than I ever thought I would, and she makes my life easier. She has become my personal assistant in the kitchen and while she can't chop up the onions for me, she can tell me what causes my eyes to tear up should I wish to ask her 'in the moment'.
Either of these devices would make a fabulous Mother's Day gift.
The Echo Show 10 is available in Charcoal Grey or Glacier White. While it carries a heftier price tag ($329.99) than the Dot, keep in mind that that Mom can use it stream her favourite shows or video chat while she is prepping or cleaning in the kitchen as well as use it to access her favourite recipes on the web while dancing it out to her favourite tunes 😉
If the Show is outside of your budget or a little 'overkill' for the Mom in your life, the Echo Dot 4th generation is a great little companion (and speaker!) who will be so very much appreciated when Mom starts to harness the power of how much Alexa can really help her and a good value at $69.99 (Tip-they also go on sale from time to time – and sometimes different colours can be priced differently as well;)). You may also want to splurge the extra $10 for the version with a clock display. The Dot is available in Charcoal Grey, Glacier White and Twilight Blue.
Hope this has been helpful and one more thing…whether or not you get one of these devices for Mom, you may wish to get one for yourself before next year…and set a reminder with Alexa for early April to get Mom her gift so that you're not stuck last minute again;)
Wishing you a great weekend and a Happy Mother's Day, if it applies!
Tanya
Disclosure: I was offered the Echo Show and Echo Dot for the purpose of reviewing them. I am a participant in the Amazon Associates Program, an affiliate advertising program designed to provide a means for me to earn fees by linking to Amazon and affiliated sites. As always- I only recommend products or services that I believe in and all opinions contained within my posts are my own and can never be bought 🙂