I am often asked what to pack for a trip to Disney, and while I can (and likely will) share a suggesting packing list on the blog, the packing of pennies & quarters deserves a post all of its own.
It sounds like such an odd thing to suggest, I realize, but here's the reason:
I'm sure you have all seen a pressed coin machine at some point or another. It's not something that is so unique. Well, at Disney, this was something that my kids LOVED, especially my boys.
Starting and keeping up a collection is something that many kids like to do. And the 'thrill of the chase' to get the next thing in your collection can be a fun and rewarding experience.
The pressed coin machines can be found all over the parks and each one offers a different stamp. Some of the stamps are characters and you can also get pressed coins with a special imprint from the park that you are in. Many of the machines are for pressing pennies, but you can also find some to press quarters.
The kids are always on the lookout for a machine, and truthfully when they find one, they are so excited to use it and the process takes only a few minutes, which by the way, can offer a welcome change of pace, if only for a moment from the ride-to-ride routine 🙂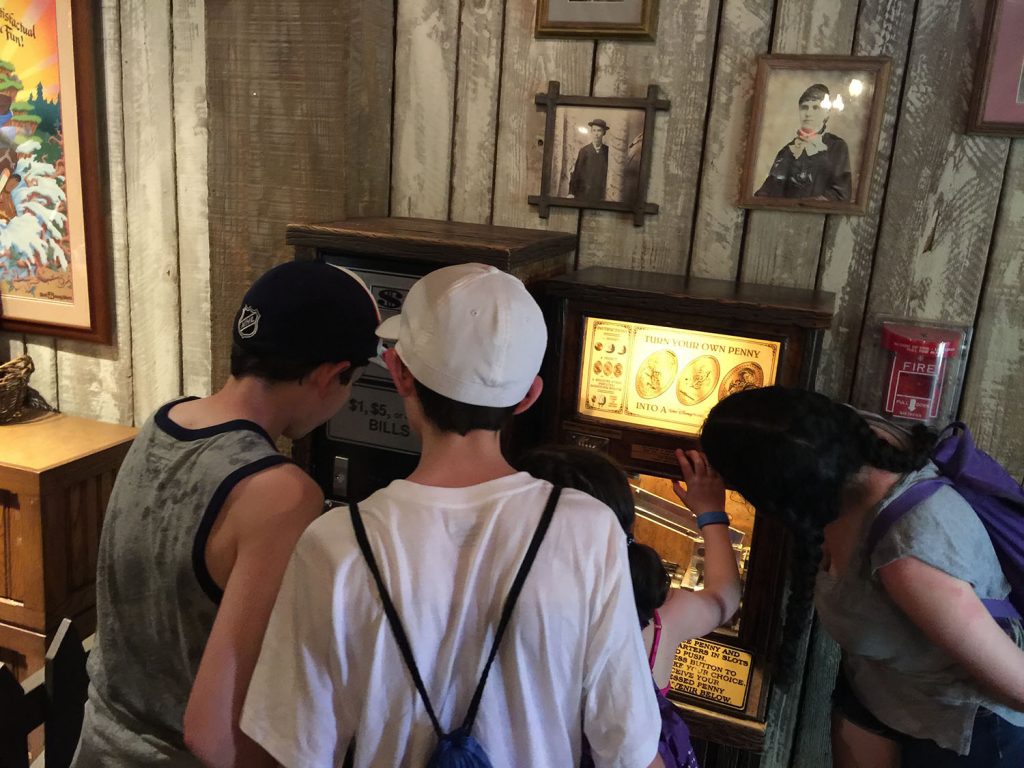 When I was first introduced to pressed coin machines, I actually thought them to be quite ridiculous…who spends $0.50 to destroy $0.01? It was ludicrous to me.  Then on our trip to Disney last year, I saw it differently: The kids were having a blast collecting, and they were accumulation a bunch of $0.51 souvenirs…at Disney!
If you want to talk about doing Disney on a budget…these are the CHEAPEST possible souvenirs you will find..and they are AWESOME!  That's why I say that your pennies and quarters can save you dollars…because each $0.51 gets you an exciting experience for your child as well as a souvenir!
BONUS: These souvenirs weigh next to nothing and don't take up a whole lot of space in your suitcase or your home.  They are the type of souvenir that gets passed down to the next generation…do I need to keep going?
OK…I will…
TIP #1: If your kids are really into this and you are running into behavioural issues…treating them to the next coin can be a great 'incentive' 🙂 
TIP #2: If you want to teach your kids about budgeting, give them a certain amount of coins at the start of your trip, then help them understand how many pressed pennies (or quarters) that can translate into.  Explain to them how they can decide to get every pressed coin they come across until they run out of coins, or that they can save for special ones that they really want…Explain the impact of one pressed quarter costing $1.25 ( $1.00 to press plus the actual quarter being pressed) while you can get 2 pressed pennies for $1.02, or 3 pressed pennies for $1.53).
I am by no means suggesting that it's not worth picking up a Disney souvenir in one of the many awesome shops in the parks or at WORLD OF DISNEY – the ultimate in shopping when it comes to Disney-branded-everything 🙂 The thing is though, with multiple kids, it can definitely get expensive, so it's good to know ways of experiencing Disney that can get you away paying less for just as much ( if not more) magic. Sometimes it's the little things that make the biggest impact…and there is no need to break the bank for the kids to have magical memories 🙂
I do recommend getting the pressed coin collection book if you can.  It should be available in most of the souvenir shops in the parks or even at the shop in your Disney Resort if you are staying on site. I can't remember how much we paid, but if memory serves it was about $10 or $13. Note that there are pouches for both pressed pennies and pressed quarters.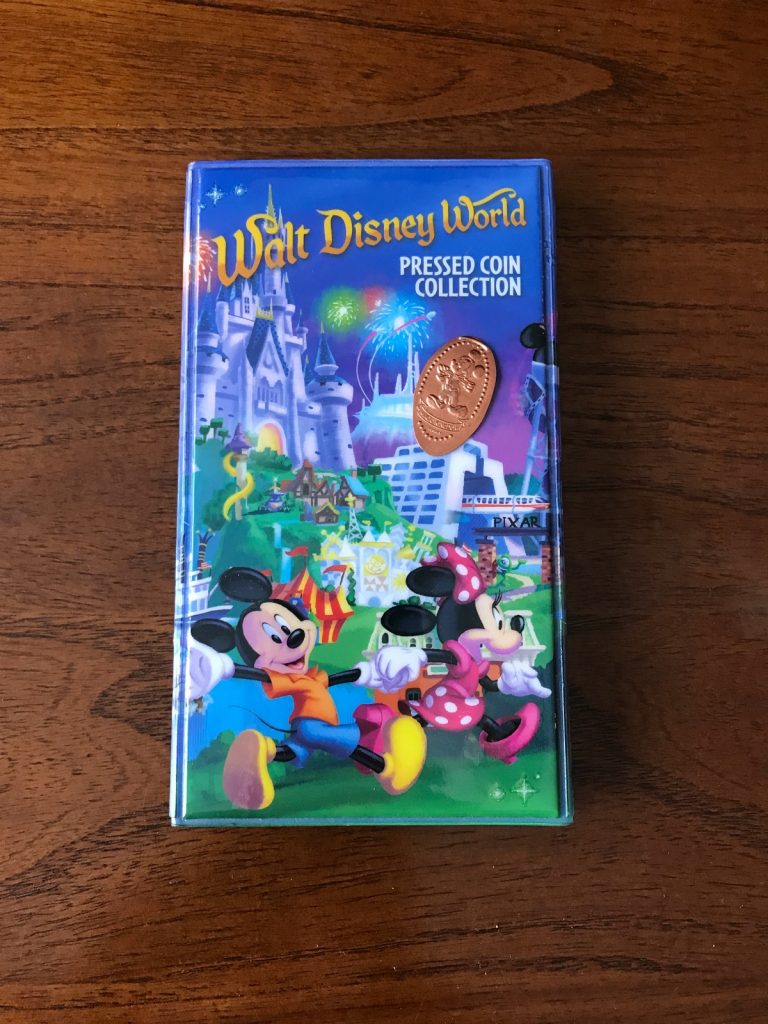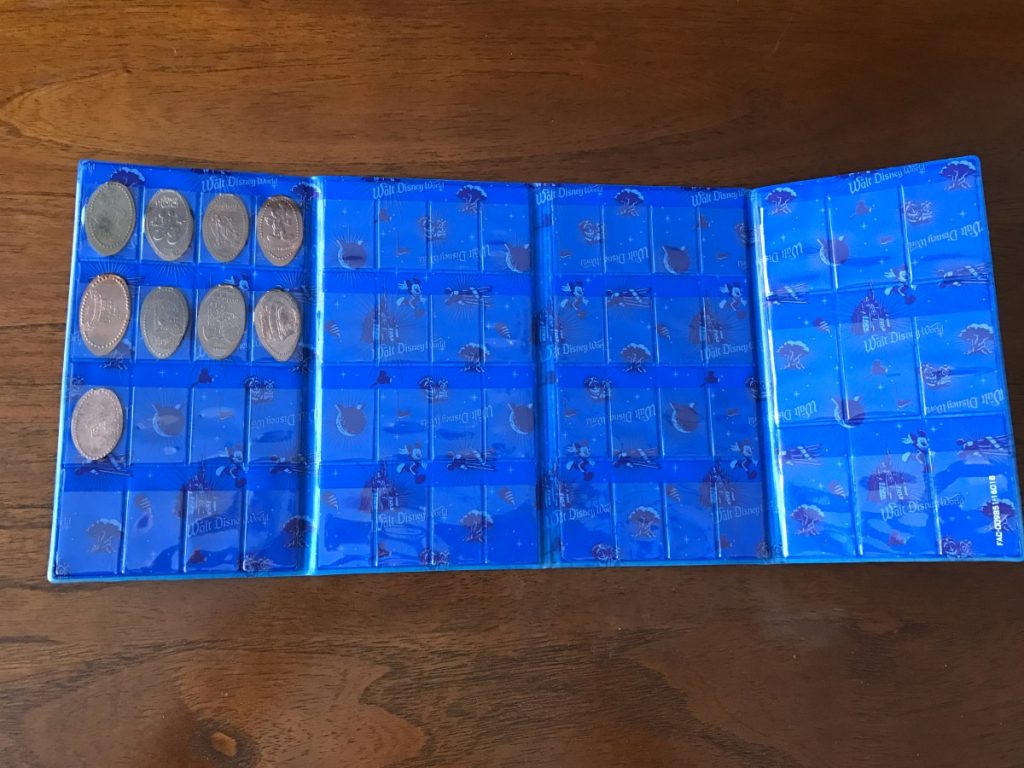 Beginning now & throughout my journey to Disney and in my posts thereafter, I will give tips for doing #DisneyOnABudget.     This is one of them. But even if you're not on a tight budget…it's a good thing 🙂
Bottom line: When you're headed to the Disney parks, remember to bring your pennies & quarters…it just makes sense 😉
Wishing you a magical day!
Tanya