In the world of iPod, iPad, PS3, XBox and Wii, do you ever think about how, as kids, we used to just get outside, play & have fun?  I know I'm not alone in feeling that our kids could use some more down-home, good-for-you, outdoor playtime.  That's why I was so excited to learn about KOOB- The Viking Game.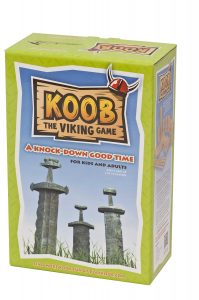 KOOB is a game that is played outdoors by delineating a playing field and placing wooden blocks called Koobs in a row along either end of the field and a King block in the field's center.
To win the game, a team must knock down  its opponent's King.  In order to be able to go after the King, a team must first knock down all of its opponent's Koobs using a wooden baton.  The team who knocks down the King after having knocked down all of the opponent's Koobs is the winner.
It sounds simple, but WOW, is it ever a workout!  I recently had the opportunity to play with my family and was shocked at how physically challenging it can actually be.  Who would have thought that aiming and throwing these wooden batons could take so much upper body strength?  I was pleasantly surprised.  What a great way for the family to get some exercise and fresh air while burning off some steam (and, in my case, calories)!
I will fully admit that I was quite skeptical about the safety of a game that involved throwing wooden sticks at wooden cubes.  That's why I made it all about the safety rules when we started.   I felt that kids waiting for their turn to throw might get whacked if they stood behind their own Koobs while waiting.  We instructed them to wait in a certain spot to the side of the field where the baton was unlikely to reach. I am happy to report that the we experienced no injuries 🙂 .
The kids loved it and we all thought it was great.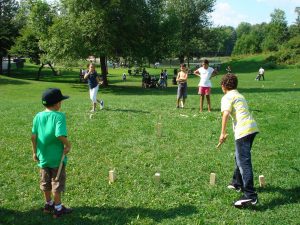 One of the things I liked most about the game was the fact that we were able to tailor it to different kids based on their age and skill level.  For example, we allowed my youngest daughter to throw from the center of the field even though the "real" rules state that you should throw from outside the field perimeter. For our family, this flexibility lessened conflict & literally evened out the playing field.
Another aspect that I just loved is that the game can be played by as few as 2 players and as many as 12.  How perfect for family get-togethers, BBQ's & picnics!
KOOB originated in Scandinavia where it is extremely popular and where legend tells us that it was played by the Vikings using firewood.
When Maja Falvo moved to Montreal from Denmark, she would invite friends over to play KOOB and they just loved it!  In fact, when she would travel back to Denmark, she'd receive several requests from her friends to bring back additional games.
That's when Maja decided to research making Koob commercially available in Canada. While the design of the game remains purely Scandinavian, the Canadian version is produced right here in Quebec out of local hardwood.  The pieces are not chemically treated in any way which makes them a 100% natural product.  The edges are beautifully rounded, as they should be, given that children will be playing with them.
Also worthy of note is that KOOB comes with a storage bag that makes it extremely easy to transport to the park, the beach or to the cottage. (Note:I'd stay away from airplane transport as it will weigh that luggage down!)
What else can I say?
Good, clean family fun
Outdoor activity and exercise
Flexibility in number of players
Accommodation for various skill levels
Can be played on grass, sand, cement or even snow!
Easily transported
Made in Canada!
You can watch a video on how to play at howto.playkoob.com. Further information and ordering information is available at www.playkoob.com.
Go ahead. Release your inner Viking!
Try KOOB with your family and let me know how it worked out!  I'd love to hear back from you.
Wishing you a playful day,
Tanya