Remember the Soap Box car races where kids would build their own cars & then race them?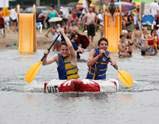 This marks the 6th annual "Small Boat Race" to benefit the Mathieu Lafond Foundation.  It will take place at the beach Club in Pointe- Calumet on Saturday, June 15th, from 10 AM to 6 PM.
17 teams will compete against each other, each with 3 hours to building their own (non-motorized) boat from start to finish (using a surprise set of materials!). Then, each team must achieve the best time possible in a race against the clock … on the water!
To ensure they have a choice spot, spectators are invited to arrive on site at 10 a.m. The boats will be built between 11 a.m. and 2 p.m. and the first boats will set out at 3 p.m. Prizes for speed, creativity, technical skills and entertaining the crowd will be presented to the participating teams. A prize is even awarded to the team whose boat sinks first!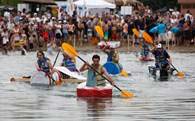 The admission fee for watching this unique race is $20 (free for ages 12 and under). It includes parking at the Beach Club and all activities: swimming, canoeing, kayaking, pedal boats, teleski, clowns, magicians, inflatables for the kids, water trampolines and, of course, enjoying the beach and watching the unusual spectacle of the Small Boat Race! All proceeds go directly to the Mathieu Lafond Foundation.
The event promises to be a whole lot of fun.  Something different for the whole family.  A nice thing for our kids to observe the building of something from nothing…So many lessons to be learned from that alone.
For more information visit http://www.lacoursedespetitsbateaux.com or call  514-875-0515
Have a wonderful weekend!
Tanya