I often start posts by saying I was 'treated' to a show or an advanced screening, but I want to be clear about last night: Not only were my husband and I treated to opening night seats to see Mythic at the Segal Centre, but the experience of seeing is was a definite TREAT.
Book your tickets TODAY – before they sell out because I strongly suspect they will.  I will add that my husband repeated several times that it was his favourite show ever at the Segal. He was the first one clapping after most of the musical numbers.  You should know…that is not his usual 'M-O' 😉
Why did we love it so much? Because Mythic gets it right on all counts:
The Story:
Tennage Persephone is rebelling against her Mom and he Mom is struggling with the fact that her daughter is growing up? Familiar says EVERY PARENT and TEENAGER…EVER. The show will definitely hit home with parents.  I think it will even hit home with teenagers.  It may even strike a chord or two with feelings you yourself experienced as a teen. Finally, I suspect that even if you are neither a teen nor a parent, you will still enjoy this show, it's a true original.  Truthfully, I'd like to see it with my teenage daughters, but then again, one never knows how the teens will react LOL!
The Music:
Simply put: It's FANTASTIC. Tunes are catchy and the lyrics range from funny and identifiable-with to deep and meaningful. I turned to my husband during the show and said 'I would buy this soundtrack'….and he agreed. I will add that Nick Burgess has yet to disappoint me…actually, let me rephrase that: Nick Burgess never fails to WOW me.  It is because of Nick Burgess that I have found a real appreciation for the importance of musical direction. Hat-tip.
The Talent:
I don't even know which actor to begin with…they were all excellent.
Heather McGuigan as Demeter was the quintessential Mother earth and we were quite 'wow'ed that her beautiful voice did not waver despite singing in some less-than-traditional positions. Julia McLellan as Persephone was defiant, confused, resentful, hopeful, inspiring, impulsive and everything else that teenagers are and manage to be as they feel their way towards adulthood. Her beautiful voice also survived singing from some awkward positions. Jessica Gallant was brilliant as Aphrodite and kept the audience in stitches while at the same time impressing us with her vocals and dance moves. Aadin Church embodied a larger-than-life Zeus and simply put, just 'brought-it'. I'll leave it there- you'll see;)  James Daly played a perfectly scorned and scarred Hades and was a perfect complement to Julia McLellan as Persephone. Their performance singing 'Beauty in the Darkness' together was magic. While I will not go through the members of the Greek Chorus, each of them shone in their own right.  They set the tone for the entire show right out of the gate with the first scene "It's a Myth'. Kudos to all those who worked on the choreography.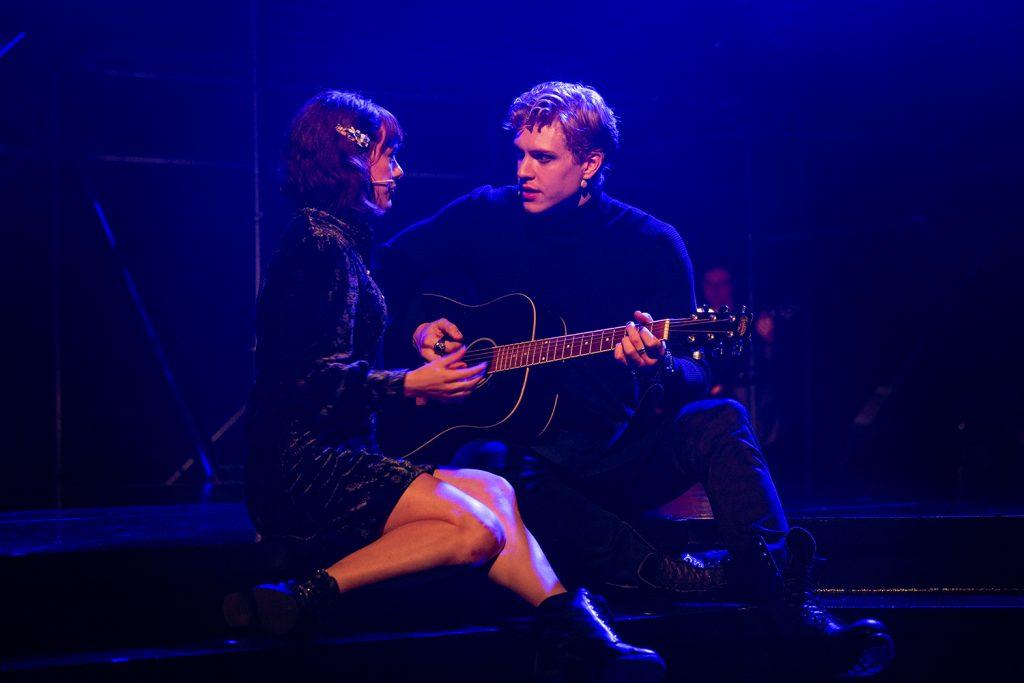 What else can I tell you? Mythic hits it on all marks: music, story, music, vocals, dance moves and humour and even some romance. We are fortunate to have the North American première right here in our own backyard at the Segal Centre. Don't miss the opportunity to see it!
It has received such a great reception that they have already extended by two nights!!!  UPDATE: Mythic has officially been extended for the full week until November 24!!!
For more information or to reserve tickets, click here: 
Enjoy the show!
Tanya