"Just 5 more minutes!"
Every parent has heard those words…MANY times, often many times in a row at 5 minute intervals 😉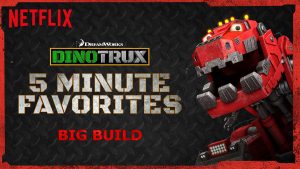 In a recent poll, Netflix found that Canadian parents spend an average of 18.1 minutes nightly putting their children to bed. Wouldn't it be great if we could bring it down to an actual 5 more minutes?
Brilliantly, Netflix & Dreamworks Animation have teamed up to create Dinotrux "Favourites" – 5 minute episodes that can be used as parents' secret weapon at bedtime!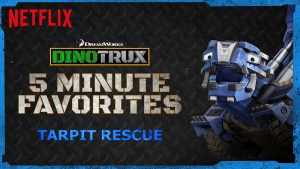 "You said just 5 more minutes?  OK – that's enough for an epdisode of Dinotrux and then it's straight to bed!"
Press play, and 300 seconds later, Dinotrux is over – signalling bedtime. PERFECT.
I was thinking that it would be great to have a series of 365 episodes, one for each night of the year…but the thing is, it's actually not necessary.
Have you ever noticed how the little stall-geniuses are so content to watch the same show/movie over and over and OVER AGAIN?
This is just perfect.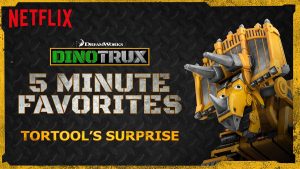 I'd offer you a sneak peek, but honestly… The whole 5 minute episode is possibly shorter than some movie trailers, LOL!
Any of you have bedtime stallers?  I'd love to hear your anectdotes!  You can leave a comment on the blog or tweet me @montreal_mom using #5moreminutes
Until then I wish you a fabulous day and a smooth bedtime …so you can & your spouse can get together for some Netflix time of your own 😉
Tanya
Disclosure: I receive free Netflix streaming as part of the Netflix #StreamTeam. As always, all opinions contained within my posts are my own. 🙂