As many of you know, I am honoured to call myself a P&G Mom (and I will be posting more about that in a dedicated post).
Well, it turns out that Jessica and Ben Mulroney are big fans of Pampers, and actually blog at mypampersjourney.ca. They were in Montreal last week to chat about Pampers and parenting and as a P&G Mom, I was offered the opportunity to sit down with them for an interview.
They are a fabulous and very "real" couple, as you'll see from the interview.  We had so much fun chatting we never got around to talking about the Pampers, LOL!
Given that you're used to reading or viewing my posts in 5 minutes or less, I should warn you that this one's a good 20 minutes long.  So – grab a coffee, curl up with your iPad or laptop & enjoy!
The interview took place Thursday, October 25th. A special thanks to the wonderful Wanda Malfara of  Wanda Malfara Photography for joining me to take pictures & moonlighting as the camera crew so that we could have this video 🙂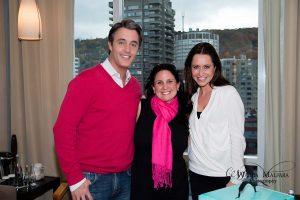 Wishing you a wonderful weekend!
Tanya