I was recently invited by Honda Canada to road-test the new CR-V.  And when I say road-test, I mean ROAD TEST.  This was not a regular test drive in any sense of the word.
Honda invited 5 other bloggers and myself to enjoy a CR-V EXPERIENCE.  
And that we did.  After an extensive presentation teaching us about why the CR-V is built the way that it is and introducing us to neat features (like the ECON mode), every 2 bloggers were assigned their very own CR-V….and a stack of "stuff".  When I say stuff, I mean STUFF: multiple suitcases, a booster seat, a dingy and an oar. We were asked to load the vehicle with all of it, as well as with our own overnight bags.
One might wonder: Can all this stuff fit into a CR-V?  The answer: YES. and here's the pic to prove it: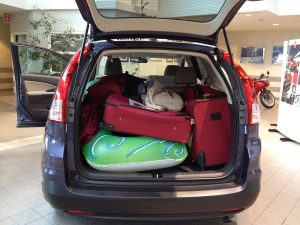 I was partnered with Marci O'Connor a.k.a. @BeingMarci who allowed me the honour of driving first.  I chose to let a Honda rep drive out of the showroom and took the wheel once out in the 'real world' (See below):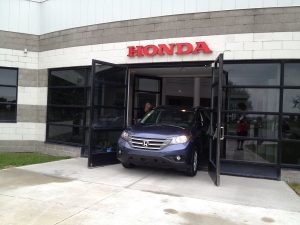 And we were off! We began our journey via highway and then through some great scenery as well as some serious hills and interesting roads.  The car handled beautifully.
We stopped for a snack, at which point Marci took the wheel.  We stopped again for lunch and then proceeded towards our final destination: The fabulous Hôtel Sacacomie.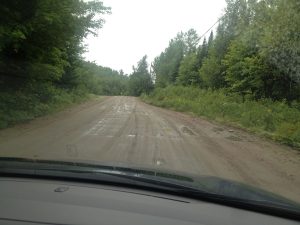 Given that Honda wanted us to have a REAL outdoorsy EXPERIENCE with our CR-V, the journey did not end there.  We were going to off-road it for a bit and paddle our way up to the hotel beach via Rabaska (a.k.a. Giant Canoe).
I guess we weren't fast enough as we arrived a little late to benefit from our full-hour spa treatments, but the half hour upper body massage was the perfect cure to my post-Rabaska shoulder 🙂
We then had a few minutes to change and followed a trapper guide into the woods to watch bears & beavers. Fascinating (but that's for another post).
Honda succeeded in providing us with a true outdoor experience and we got a real taste of a REAL road trip in a Honda CR-V.
Now…the important stuff: Did I like the car???
YES! Now you may be thinking : "Well how could she say otherwise after that fabulous experience?"  For those of you who know me and my writing, you know that I would only speak the truth, or preferring not to say anything negative, I might just choose not to post.
That said, I WANT to share why I think the CR-V is a great vehicle and more importantly, its merits as a FAMILY vehicle.  If I list everything, this post will be too long, so I am picking my favourite features, some that you will consider important and others that you may simply find 'cool'.  Should you have questions that I haven't covered, feel free to leave me a question in the comments section and I will be do my best to answer!
So here goes:
(1) The ease & speed with which the seats flip down.  Perfect for trips to IKEA, hockey practice or the bicycle repair shop. Just pull the handle et voilà!  You can see just how easy in the clip below:
(2) The way it took the corners-just beautifully.  Also the CR-V has an excellent turning radius which got me to complete a U-turn in an area where I wasn't sure I'd be able to.
(3) The ECON button:  Pushing this button puts the car into 'savings mode'- it increases the fuel efficiency, saving energy and thus, money.  While at the very moment that I pressed the button, there was a barely perceptible loss of power, once driving in ECON, I really did not notice. We were advised that in ECON the A/C may not be as powerful, but we did not feel a difference at all. That said, on a sweltering hot day it may be advisable to delay pressing the ECON button until the car has already cooled down.  The ECON mode allows the CR-V to achieve greater fuel efficiency when extra power is not needed.  Switching it off allows you extra power when you do need it (for towing, as an example.)  I love that if you're in ECON but hit the gas pedal more than 3/4 of the way to the floor, the car's system will override the ECON mode temporarily as the car perceives that you may be accelerating quickly for safety reasons.
(4) The USB charger for my iPhone in the console between the driver & front passenger seats.  Granted that other cars have this as well- but this was my first experience with it & as someone who doesn't own a car charger…I just LOVED it.
(5) The fact that it is possible to fit 3 boosters across the back.  I will note that the 3 boosters shown across the back are the older Graco models and do not have the anchoring clips.  It is also somewhat difficult to latch the seatbelt, but it can be done.  You can also fit one car seat plus 2 boosters. See photos below: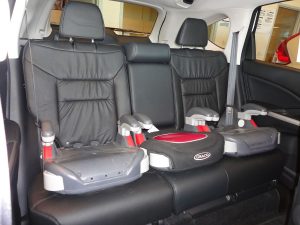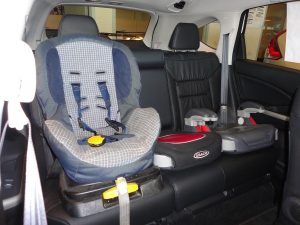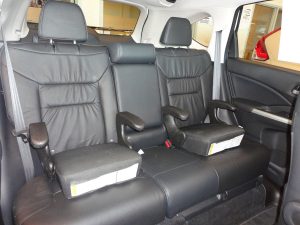 (6) The storage.  I was amazed by how much we could pack into it!  That said, as always, I advise parents with strollers to bring YOUR stroller to the dealer & test it out in the trunk before purchasing or leasing a new vehicle.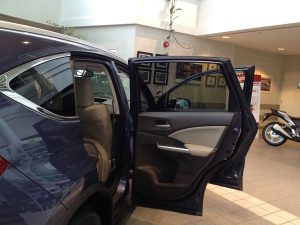 (7) The fact that the back doors open to an 85-degree angle, to make it easier to install car seats and to get little ones in & out of the car , as well as buckled-up safely.  Granted if you're parked tightly between 2 cars in a lot, it may be impossible to open the door that wide, but life in your driveway will CERTAINLY be easier 🙂
(8) The fact that the front doors don't open that far, since as the driver you need to be able to reach the handle to close the door for yourself.  If the door opens too far, you risk putting your leg out to reach out to close the door on your leg.  I SPEAK FROM EXPERIENCE.
(9) That the car is designed to minimize blind spots, including a specially designed outer edge of the mirror, which provides a wider angle.
(10) Perhaps most importantly:  The fact that Honda prioritizes safety and convenience over design.  NOT that this car has anything to be ashamed about- I think it's a fabulous looking vehicle!  That said, during his presentation to us, our presenter Yves kept justifying why certain aspects of the car are the way they are…and generally speaking it was always for reasons of safety & convenience.  It's the kind of car I would tell my husband "must have been designed by a woman".
I'm a believer in "It's all in the details" and let me tell you Honda has paid close attention to detail in designing this car.
The Honda CR-V is a great choice for a family of 5 or less, with the proviso of ensuring that you are comfortable with the way your choice of car seats & boosters fits in back 🙂
The Honda CR-V is an EXCELLENT choice for the family of four.  It is more fuel efficient than a mini-van, can transport all of your do-it-yourself furniture, your vacation & camping gear, your hockey bags, your gift bags & your loot bags all the while providing you with a fabulous drive and offering you the flexibility of fuel efficiency for everyday and a little more power when you need it.
In other words: The Honda CR-V gets the montrealmom.com "Thumbs Up" 🙂
Again, just leave any questions in the comments section and it will be my pleasure to answer to the best of my ability.
In the meantime, you may want to Like Honda Canada on Facebook or follow @HondaCanada on Twitter.  You may just catch some pics & footage of my post- #GoHondaCRV Road Trip 😉
Wishing you a wonderful day…and Drive Safe 🙂
Tanya