Like so many of you, I have seen the name LUFA FARMS popping up now & again and had some vague idea that it was an organic rooftop farm, but wasn't entirely sure of how it works.
Last week (as I procrastinated getting my act together for my accountant), I decided that it was time to research to further.
So here it is, in a nutshell:
Lufa Farms grows produce in an urban, rooftop farm (greenhouses).
They also partner with local farmers & producers of wholesome products (food & otherwise), so you can get these via LUFA FARMS as well.
You commit to a standing minimum weekly order of $30 (although you can always order more!)
Choose a pick-up point: They are ALL OVER the city.  I had several to choose from in the West Island alone!
You will receive an email each Tuesday letting yo know what is planned for your basket.  If there's anything you'd like to switch out for something else at the same value- go right ahead!  If you REALLY like tomatoes and that's all you want- No problem!
You have until Thursday night at 11:59 PM to customize your basket / switch out produce.  Otherwise – you will get the 'default' basket of the week. (Not so bad, btw – forces you to try new things sometimes- That's a good thing!
Each Friday, your basket will be delivered to your pick-up point.  You just show up during the designated time slot & find your basket (your name will be on it).  Transfer your product into a tote or grocery bag (Note that for your 1st order LUFA FARMS will provide you with a bag that you can keep re0using every week!).
Bring home.
ENJOY!
AND…if you ever have to cancel, just do so in advance (you can cancel up to 2 weeks at a time)
That's it!
And how is the produce?  BEAUTIFUL. DELICIOUS. ENERGIZING.
My LUFA FARMS basket makes me HAPPY 🙂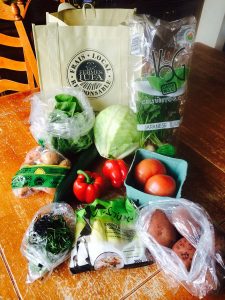 This past week I received:
a head of Boston (Bibb) lettuce
2 red peppers
1 English cucumber
Japanese turnips
some microgreens – pea shoots, I think!
Jerusalem artichokes (which I had been meaning to try for the 1st time!)
Pink Tomatoes
Red Roselya potatoes
Endives
A green cabbage
For Friday night dinner, we made a salad of the lettuce, red pepper, cucumber, a Japanese turnip (greens & all!) and the pea shoots.  Dressed with lemon juice & olive oil, salt & pepper.  Simple yet delicious.
Last night I used Chuck Hughes' recipe & cut the Jerusalem artichokes in halves, tossed in olive oil & roasted.  I added the salt & pepper after roasting but could just have easily done afterwards.  They were fabulous!
The Jerusalem artichoke is neither from Jerusalem nor related to the artichoke but the taste was reminiscent of artichoke hearts 🙂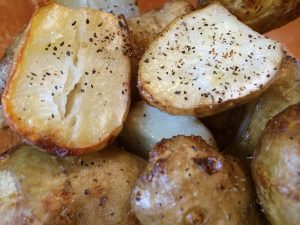 We also cut up a Pink tomato and just ate it with salt…It started to taste like summer 🙂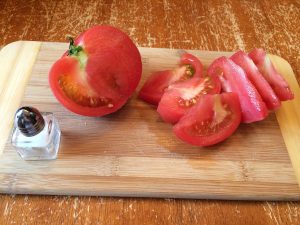 I have plans for the cabbage as my friend Mallary gave me a recipe she just tried recently and the potatoes will likely end up roasted or mashed.
The endives? A treat for my mom – she loves them 🙂
In the meantime, I should be getting my email shortly for this week's order…Can't wait to see what's in store!!!
There is some sort of magic when handling farm-fresh vegetables. If you've ever done it, then you know what I'm talking about 🙂
And now…eating local just got a whole lot easier…
Check out their website by clicking here.  Let me know what you think!
Wishing you a 'fresh' day 😉
Tanya