Our family went to the the US last weekend for a little getaway.
We have been buying school supplies in the US for the last 2-3 years, and according to my calculations, we have come out ahead. Enough ahead that even with the knowledge of the exchange rate today, we thought we'd still come out ahead.
In fact, I even spoke about it last year in a Radio interview with Tommy on CJAD. This year, because of the exchange rate, I decided to take note of a few items at Walmart Canada to be able to assess whether or not it was worth it to buy in the US, given the exchange rate.
It may seem complicated but when you're buying school supplies for 4 kids, small savings can add up quickly 🙂
I snapped a few photos as this was my best way to remember.  I didn't bother photographing notebooks or paper as I didn't think these would be areas of concern – we usually buy notebooks in the US at a GREAT price. I remembered buying our looseleaf at Target(Canada) last year for $0.10 / pkg and had this as my barometer for comparison.
When we got to the US, we loaded up on the 70-page spiral notebooks at $0.17 USD. This, IMHO is a great deal. It was a production of getting multiple notebooks in every possible colour – Our family is big on colour coding – it's an easy, visual way to keep organized and worth the up-front effort for ease throughout the year.  In total we bought 60 notebooks to be divided amongst my 3 high-schoolers.
We bought A LOT of binders (the zip-up kind) for the high-schoolers as well.  Binders are not cheap here or there, I estimated they'd net out to be about the same price, but these were in front of me, good quality and multiple colours so that they could colour-code and so our twin boys starting high school could avoid getting their stuff mixed-up.
Then I started to look for other items: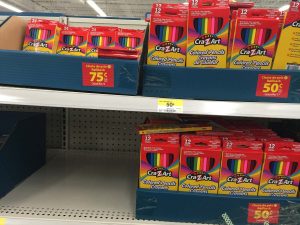 Coloured pencils: Same brand, same qty as in Canada $0.97 USD vs. $0.75 CAD – WHAAAAT????
Forget the exchange rate! The ticketed price in Canada is lower!  This surprised me.
Markers- Prices were out of bounds…we decided to purchase in Montreal.
Looseleaf – $0.89 USD for 200 sheets – even without knowing the price back home, I knew it would definitely be cheaper than that, especially after adjusting for the exchange rate.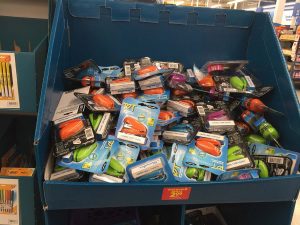 Mini- Staplers: $1.97 USD vs. $2 Canadian.  We opted to pay the GST & PST vs US Sales Tax plus a 30% exchange rate.
I heard a family approaching the coloured pencils speaking French and I felt it was my duty to share with them what I had discovered.  The Mom was just as surprised as I was- She had noticed the same thing on different items She told me that the spiral notebooks in Canada were at $0.05 CAD – and they were 80 pages, not 70! I asked at what store and she said she thought it was at Walmart.  She also found the looseleaf at $0.10 / package. ( I knew it!)
We still bought the notebooks, we'd invested a lot of time in the colour-coding and were not even sure what store we might find these $0.05 notebooks in. The savings weren't going to be worth the craziness of sifting through boxes of notebooks in the cramped aisles…
We came back to Canada and went to Walmart on Monday.
80-page spiral notebooks were indeed $0.05 and we bought looseleaf at $0.10 (limit of 8 per client)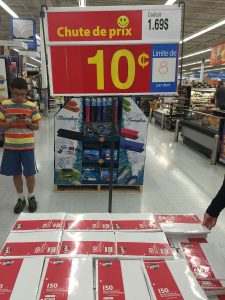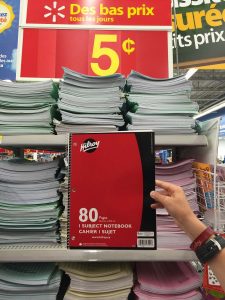 ******
The 32-page staple-bound notebooks were also at $0.05 each – We bought a bunch for good measure 🙂
Markers were cheaper in Canada, highlighters were cheaper in Canada…overall, the message is:
When it comes to school supplies this year – KEEP IT CANADIAN!
Once again, I felt it is my duty to share 😉
By the way- If you have found any awesome deals on supplies, please feel free to post them in the comments section below!
Let's try to keep the #CartRage at a minimum this year, knowing that with all of these savings we can afford to treat ourselves to a McCafé or a McFlurry on the way out!
Happy Shopping!
Tanya