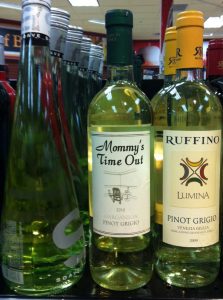 Amidst the teachers' gifts I wrap
For my children, numbered four
Stepping over stacks of paper
And art brought home galore
One more day 'til school is out
Thank goodness camp's next week
I have a funny feeling, Moms
You know from what I speak
And so today I say to you
I need to take a break
I'll slow it down a little bit
Just for my sanity's sake
Today the blog is short & sweet
A photo I had to share
It's real, I saw it in the States
Should've bought, but left it there
It's not so much about the wine
As it is about the label
Reminding us to take the time
Whenever we are able
You may have 30 minutes
Or only five to spare
Enjoy a cup of coffee
Get your nails done, get fresh air
Some time just to ourselves
Is what we need to be our best
So take that time-out Moms
So you can deal with all the rest.
And so with this I wish you all
A happy, pleasant day
Mommies you deserve time-out
So take some time today
What you do to take time out & recharge?  What about when you're pressed for time?  Please share your ideas !
Have a beautiful and slowed-down day,
Tanya