"I have no clue what I'm making for dinner"
"I'm in a dinner rut, I keep making the same 5 things"
"Ugh- I forgot about this broccoli/this pack of mushrooms/this lettuce and now I'm throwing it out. What a waste!"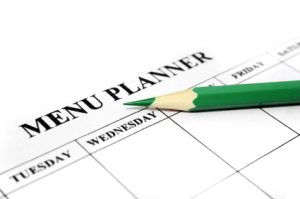 " I went to the store to pick up chicken and a loaf of bread and spent $70 on I-don't-know-what"
"I've been to the store 3 times this week and I still don't have anything for dinner tonight"
Does any of this sound familiar? If so, you're not alone and there is a solution: Menu Planning.
It takes about 5-10 minutes weekly and it's worth every minute because it will save you much more than that in both time AND money.
I will take you through one of many do-it-yourself methods and I'll also point you to the easy-way-out.
Want to know the easy way first?  Check out the montrealmom.com Menu Plan which offers 8 different weekly menu plans to choose from, complete with links to most of the recipes.  Note that the recipes are both Mom & Family-friendly, meaning easy-to-prepare, nutritious as well as kid-approved.  They are printer-friendly so you can keep on your fridge.
You can choose to follow exactly, or use a guide.  Some people prefer only to meal plan their weekdays, no problem- Just pick the days you want to follow.
The plan goes from Day 1 through Day 7 as opposed to Sunday-Saturday.  The reason is that I prefer to use fresh fish the day of purchase so I schedule a fish meal on shopping day which I call Day 1.  Of course, you can adjust your days as you see fit.
Once you have your meal plan, check all recipes and create your shopping list, keeping in mind what you already have at home. You will still have to complete your list with items you need for breakfast, lunch & snacks as well as other household items, but you will see that now you have your "supper" shopping list, you will shop with purpose.  Remember to stick to your list and you will notice that you are saving time in the store and finish your week having spent less. You may also notice you're not going back & forth to the store as frequently.
Now, for the Do-it-yourself method:
The initial set up will take some time, but after this it will be smooth sailing 🙂
Create a document with multiple pages, either digitally or on paper.
Entitle each page with a separate heading, including:
Poultry
Beef
Fish
Vegetarian
Dairy & Eggs
Salads
Soups
Veggie Sides
Starch Sides
(Feel free to add or delete to your family's taste)
For each category list  as many easy-to-make recipes as you can find or think of.
Then create a 5 or 7 day schedule (as you wish) and start inserting something from each category weekly and choose what you want  to double up on (e.g. we may have chicken twice a week and go veggie twice a week).  Soups and salads can count as meals or sides, depending on what they contain, use your judgement.
Presto- you have meal plans ready to go!
Check out how it's done on the montrealmom.com Menu Plan to give you a better idea (or even some menu item ideas!)
Next follow the advice noted above on creating a shopping list and sticking to it!
Let me know which method you prefer and how it works out for your family!
Do you menu plan?  How do you find it works for you?
Wishing you a wonderful week filled with stress-less suppers!
Tanya