Meet Atara, a 17-year old teenager with Down's syndrome who has been selected by Dolphin Aid Canada as the next participant to benefit from the amazing 2 week intensive therapy program at the Curacao Dolphin Therapy Center (CDTC).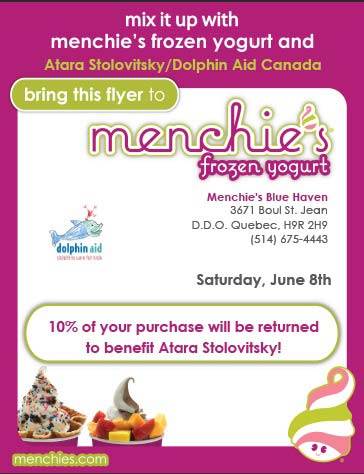 Dolphin Assisted Therapy is literally a therapeutic program for special needs individuals where dolphins are actually involved in the treatment.
Dolphin Aid is an organization whose objective is to raise money in order to fund special needs children and their families who could benefit from Dolphin Assisted Therapy at the CDTC.
You can read more about Dolphin Aid Canada and about how the program works on a post entitled: Where Dolphins Meet Kids with Special Needs
What I want to share with you is that you can help Atara get there by enjoying menchies in D.D.O. this Saturday 🙂
Just present this flyer at menchies when choosing the delectable treat of your choice & 10% of your purchase will go toward helping Atara's family afford to this very special therapeutic treatment for their daughter.
How easy is that?
Another REALLY easy way to help Atara is to share this offer with your family & friends- by email, Facebook, Twitter, phone or any other communication mode that you can think of.  The more menchies is enjoyed this Saturday in D.D.O., the greater the likelihood that Atara will be able to benefit from this life-changing therapeutic experience.
Wishing you a wonderful weekend & a meaningful Menchie's experience 🙂
Tanya