I was recently invited to witness the launch of McDonald's new menu & customer experience platform, and I have to say, I was WOWed.
Some of you may have already experienced the new "ordering screens" at one of the 3 test units in the Greater Montreal Area.
Essentially, the way it works, is that now, when you enter a "reformatted" McDonald's , you will be welcomed by a Greeter who will guide you towards one of the ordering terminals.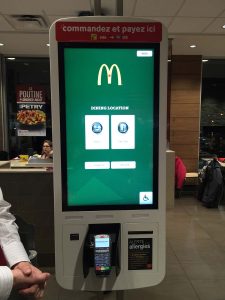 The ordering screen will 'walk you through' your order – DO you want something from the traditional menu or do you want to order a CYO –( Create-Your-Own Burger).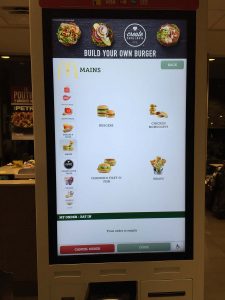 I was thoroughly impressed with the CYO options. To start with, the beef patties are 100% ANGUS Beef.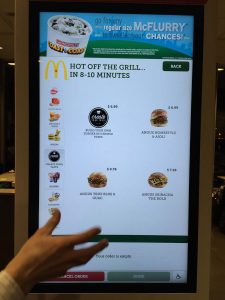 Next comes your choice of bun : Black & White Sesame Seed or Artisanal Style Bakery Roll. Prefer a gluten free option? You can choose a lettuce wrap instead! Prefer just a burger? No problem, no bun is an option as well 🙂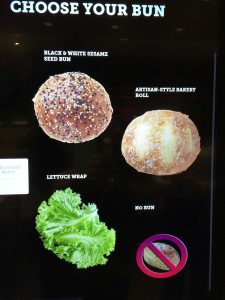 Next it's time to choose your cheese from a line-up of Natural Cheddar, Swiss, Monterey Jack Jalapeno & Blue Cheese…NOT what we usually expect at McD's, I must admit!
We continue with topping choices:
Lettuce
Tomato
Caramelized onions
Crispy Onions
Raw Onion
Guacamole
Sun Dried Tomato Pesto
Sliced Jalapeno peppers
Long sliced pickles
Grilled Mushrooms
Is your mouth watering yet?
Now it's time to sauce it up…
Ketchup
Mustard
Big Mac Sauce
Grainy Mustard
Sriracha Sauce
Garlic Aioli
Smoky BBQ Sauce
Chipotle Aioli
You had me at aioli…….
Finally – choose what type(s) of meat :
Angus Beef Patty
Bacon Pieces
Bacon Strips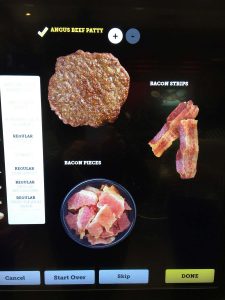 It's important to note that you can choose more than one option – you are not limited to one choice!
The ordering screen will now give you the chance to review your order. PERFECT.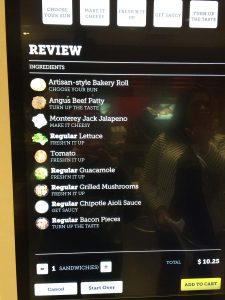 Does your hubby want the exact same thing? Double it up…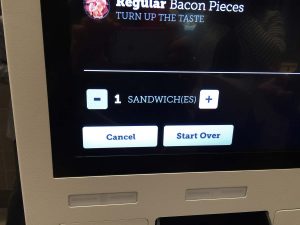 Now you get to choose whether you prefer to make a meal out of it- Check out these options!
I have to tell you – that fry basket…LOVE.LOVE.LOVE.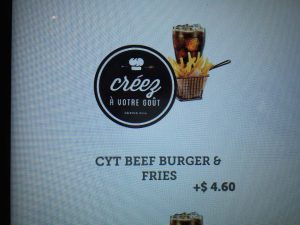 Choose your beverage – This is me, choosing mine 😉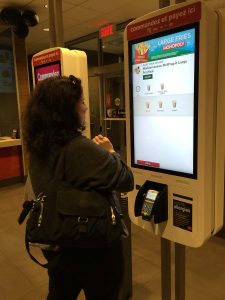 Now comes the cool part. You pay by credit, debit or gift card and a staff member hands you this beeper so that you can go wait for your food…AT YOUR TABLE.
(Note that the terminals only accept credit, debit or gift card, therefore the traditional ordering counter will still be staffed for those who prefer to pay cash)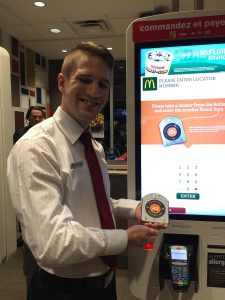 WHAAAAAAATTTTTTT? Did I just suggest that McDonald's now serves your food to you AT YOUR TABLE?
I did.
No, it wasn't a mistake.
Moms with kids rejoice! You can go get settled with the kids, get them out of their ski jackets and sit comfortably (or send them to the playground) while you wait for your food to arrive, as opposed to being overheated while waiting in line.
Yup.  McD's is taking care of us Moms just a little bit more 🙂
When the food arrives, if you ordered from the traditional menu it will look just like it always has. BUT if your ordered from the new CYO menu_ Check it out- Quelle belle presentation!!!!!
WOW.
As many of you already know, I have been very impressed with McDonald's menu development over the years as well as with how transparent they have been through social media initiatives such as their All-Access Moms program and their Our Food. Your Questions campaign.
Now McDonald's is not only taking their menu offering, but their customer experience to a whole. new. level.
And here's the kicker…
While your first reaction to the addition of ordering terminals might be that they are cutting staff, you'll be interested to know that they are ADDING 15 staff members per unit!! They need servers, greeters as well as a special chef & server dedicated solely to the CYO menu.
WOW. Again.
SO when can we expect to see these updates in a McDonald's near us? McD's is planning to roll this out by 2017. This roll-out affects 1200 units in Canada at an investment of $200,000 per unit. That's a lot of investment and a lot of job creation.
What can I say to you McDonald's Canada?
I'm Lovin' It!
Wishing you a day where get to take something you love to a whole.new.level 🙂
Tanya