Now that all four of my kids are riding, (Post on how we made that happen coming soon!), it was time for Mama to get a new bike.  My bike was pushing 25 years and it was just time.
I couldn't be happier than the moment I opened up the Canadian Tire flyer to find this BEAUTY: The Schwinn Memento, on sale for $169! (That's $100 off the regular price of $269 🙂 ).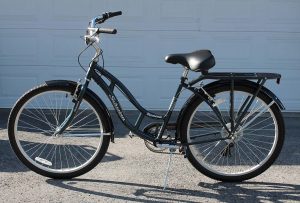 I wasn't looking for something fancy but I was looking for something that I LOVE.
Practically, I wanted something that:
I could ride sitting upright
has some sort of rear rack for storage
has a seat wide enough for my rear rack to be comfortable
I could ride recreationally with the family or on my own
Style-wise, I was hoping for a vintage-look.
Price-wise, I wanted affordable.
This bike fit the bill on all counts. In fact I even find the $269 price-point reasonable, but the $100 off is just…WOW!
The offer is available at Canadian Tire only until Thursday April 25th.
I have to share that I loved the bike SO much that I wanted to buy an extra one for montrealmom.com to DONATE to Shopping From The Heart for the SILENT AUCTION at the May 9th event!!
The problem: Canadian Tire is out of stock all over the city! I will still try to get the actual bicycle in time for May 9th, but if impossible, we will supply the winner with the rain-check & a gift card for the sale price of the bicycle.
Haven't heard about Shopping From the Heart?  It's Mommy's Night Out featuring chair massages, makeup & profile pics bundled with Mother's day shopping & more…all while the kids are sleeping!  Check out more on my post about it here.
It's the perfect gift for a Montreal Mom – A fun bicycle that will yield hours of great exercise & fun – alone, with hubby or with the kids.
So- if you're in the market for a bicycle for yourself, you may want to:
Get to Canadian Tire & get a rain-check before the end of day Thursday to benefit from the sale
Send the link to this post to Hubby with Subject line : Save $100 on my Mother's Day gift by acting now!
Show up at Shopping from the Heart and buy a lot of raffle tickets
Wait until the sale is over & still buy it at $269…when they have more in stock…Still a good deal 😉
Wishing you sunshine & wheels to enjoy it 😉
Tanya
 Disclosure: Canadian Tire totally should have paid me for my time to write this, but they didn't.  I just HAD to share it with you!