"Panzarotti" are usually fried and "calzone" are usually baked, but I seem to recall the Mama who taught me how to make this recipe many years ago referring to it as"panzarotti" and so I will continue her tradition, but to be more accurate, we'll call it a baked panzerotti 😉
You can make a large one & slice to serve family style, as shown here, or you can make smaller portion-sized so that each person gets their own.
Either way they're delicious, especially when served fresh out of the oven. That said, they work well at room temperature, too and as such can be an excellent choice for the lunchbox.
Ingredients (makes 2 full-sized baked panzarotti):
2 balls pizza dough (enough to make 2 crusts) – can be regular, whole wheat or half/half – note that the white flour based dough will retain a better texture at room temperature.
2 Tbsp olive oil
1 large onion, chopped
2-3 cloves of garlic, chopped
2 medium zucchini, chopped
2-3 medium carrots, chopped
8 oz mushrooms, chopped
1 yellow pepper, chopped
1 red pepper, chopped
1 broccoli, chopped in small florets
2 c. shredded mozzarella
Salt & Pepper, to taste
Flour, for dusting counter
Olive oil (to brush top of dough)
Directions:
Preheat oven to 375 degrees
Sauté onions over medium heat until transluscent
Add garlic, carrots, zucchini & mushrooms
Sauté approximately 2 more minutes, until mushrooms begin to soften
Add peppers & broccoli
Sauté until tender-crisp
(Above can all be prepared in advance if planning to assemble the panzerotti with kids)
Stretch or roll out 1 ball dough into a long, oval shape
Spread 1/2 of the vegetable mixture along the center of the dough (lengthwise)

Sprinkle with 1c. mozzarella

Place on a parchment-lined cookie sheet & leave to rise 15-20 minutes, covered in a warm area
Repeat with second ball of dough and remaining veggies & cheese
Brush with olive oil and bake for about 20 minutes or until golden

Note: The sides may pop open during baking and reveal the beautiful and colourful filling…it's all good 😉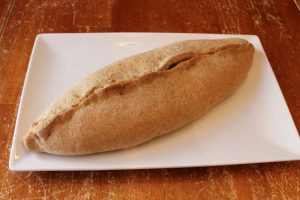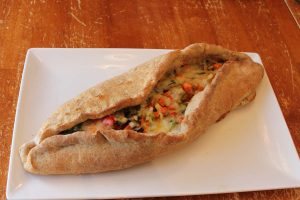 My kids like to dip it in marinara sauce which we serve on the side. I take mine with a green salad 😉
YUMM.
Buon Appetito!
T