With all the excitement that Back To School brings, as parents we also face the dreaded thought of packing lunch & snacks.  In today's post I hope to offer you some tips on planning & packing lunches & snacks for your kids to take to school as well as what to serve when they get home.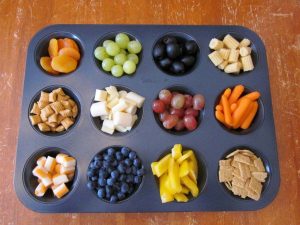 I will also share  some of the products that my family enjoys and some tips on keeping it all organized.
WHAT'S FOR LUNCH?
I'm a fan of leftovers over the traditional sandwich, but it's always good to have sandwich supplies on hand 🙂
My kids enjoy leftover salmon, soup, veggie chili and more. For sandwiches: cheese, tuna, sliced turkey & soybutter are all good options.  I recommed REAL cheese slices (as opposed to cheese product) as well as the WOWBUTTER (available at Costco)- Kid-approved Chez Toledano 😉
For further ideas, you can see the following links:
https://montrealmom.com/toddler/toddler_food_sending_lunch.html
https://montrealmom.com/the-lunch-list/
SNACKS FOR SCHOOL:
FRUIT: Calculate based on your number of kids and days to make sure you buy enough. Make sure you have enough storage either on the shelf or in the fridge to accommodate!
DAIRY: Be it cheese sticks, cubed cheese or yogurt, a little dairy can be a good thing to send.  Remember that yogurt pre-mixed with fruit generally contains a lot of sugar which actually kills off the fabulous acidophilus bacteria. It's preferable to mix in some fruit or jam on your own when you're ready to serve / eat. #HealthTip 😉
GRAINS: Rice cakes, whole grain cereal, melba toast & home-made muffins are all great choices and help to sustain the kids during their long school days.
VEGGIES: Always good to include a veggie of the day.  Not only will they offer a few extra vitamins & minerals, but this helps to instill the healthy habit of snacking on vegetables as well.
SNACKING AT HOME:
I am a FIRM believer in keeping bowls of fresh fruit out on the counter.  When kids get home, they see, they take.  It's colourful & appetizing and catches their attention BEFORE they head for the pantry.
A NIBBLE TRAY (shown above) is a fabulous option: Take a muffin tin & fill with berries, seeds, fruit, veggies, cubed cheese & more!  colourful & fun- the kids LOVE it!  I originally saw it in a video with Dr. Sears and it's been a favourite ever since!
FAMILY FAVES: GoGo Squeez: Unsweetened applesauce in a tube 🙂 Comes in a variety of flavours.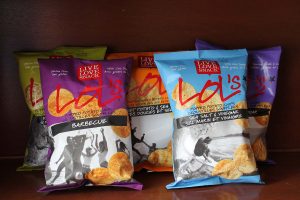 BBQ LOL's by LIVE LOVE  SNACK: Popped (not fried!), with Chia, Non-GMO, GF, Nut-Free & Kosher!  Great at home or at school! Available in 5 flavours but the BBQ is our family's favourite 🙂
IT'S ALL IN THE PACKAGING…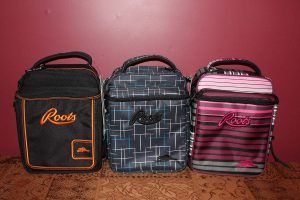 LUNCHBOX: The lunch boxes shown  are my favourite. Available in a variety of colours at Costco, each lunchbox includes a reusable stainless water bottle and features a plastic zip-out liner that is easy to clean in the event of a messy spill.  There's a neat mesh pouch where you can place your freezer pack to keep everything cold.
FREEZER PACKS: I recommend having 2 per child, just in case one gets left behind at school or in case the day prior you had 'one of those nights' and didn't have a chance to empty out the lunch boxes.  This way you'll always have a cool pack ready to go.  These are available at Dollarama, but you can find at Walmart, Canadian Tire and sometimes even at the grocery store.
THERMOS JAR: An absolute must, and I recommend spending a few extra bucks to get the one that is actually made by THERMOS.  The reason I say this is that we have one that has been in use for 10 years & is still going strong.
REUSABLE WATER BOTTLE: Stainless is best, but if you must go with plastic, please choose something that is BPA-Free.  I LOVE the Kleen Kanteen as well as the Roots version that comes with my favourite lunchbox 😉
REUSABLE CONTAINERS: Ideally you'll want:
Clip-on or twist-off lids as those that snap shut don't always seal all the way when left to tiny hands…and then there's leakage and seepage and mess…oh my!
Choose BPA-Free (certain varieties by Starfrit & Ribbermaid) or even better…
Check out these FABULOUS containers from STEELTAINER!  They contain stainless steel inserts so your food is not sitting in a plastic container, but the insert is contained in a plastic shell so that when it's dropped it won't dent.  LOVE THEM!!!
I do also like the divided dish by Tupperware, food presents well and looks appetizing to the kids.  That said, You do have to teach them to seal it properly…
REUSABLE BAMBOO FLATWARE: I love mine from ToGoWare, which I got via ecause canada (they also have a plethora of FABULOUS eco-friendly lunch packing options!)
GETTING ORGANIZED
If you can do it, making a lunch & snack plan is a great idea.  You can just jot it down on a piece of paper that you keep on your fridge or you can get a weekly planner intended for scheduling. I found one such pad of weekly planners with a double magnet to stick to the fridge! $2 at Dollarama 😉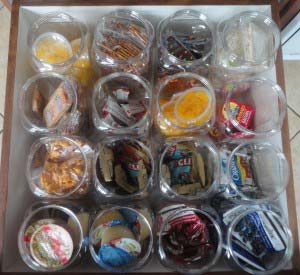 KEEP A LUNCH SHELF: For all of your containers & some of your snacks.
MAKE A SNACK DRAWER: You can see the how-to on this link.  This awesome concept allows you to grab & go and pack with ease!
I hope that this post helps to take the angst out of the lunch packing & after-school snacking!
That said, if you have any questions or would like to share a tip of your own, please leave it in the comments section below & I will do my best to get back to you!
Happy Back-To-School!
Tanya