I was recently invited to try out the spa services at Lifeforia, which is located within the Sheraton hotel at the Pierre Elliott Trudeau Airport (Montreal/Dorval).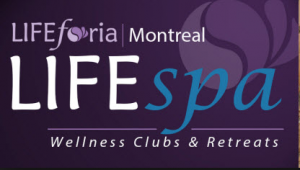 Having never been there previously, I was looking forward to some pampering but wasn't sure whether or not I would really like it there- but it was worth trying out.  I was also looking forward to spending some "Girl Time" with my dear friend & colleague, Julia of AskMamaMOE.com, as we were going to try it out together.
Not only did I like it- I loved it so much that when my sister-in-law's friend wrote to me from out of town as to where we could schedule a little spa day for the 3 of us, I readily suggested Lifeforia.
Here's why:
A warm welcome: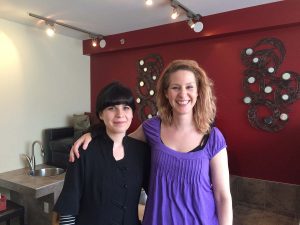 Kelly was incredibly friendly and welcomed us with a big smile, even though we were a bit late.  I used to go for mani-pedis many years ago at a "spa" where they would never smile at the front desk and if I was 5 minutes late and even called in advance to let them know that this would be the case, they would make me feel terrible, rushed and let me know that they were on a schedule.  Nothing pampering about that.  I do not take the warm welcome at a spa for granted anymore 🙂  It's worthy of note that Amanda (in photo with Kelly) was equally as gracious!
The space: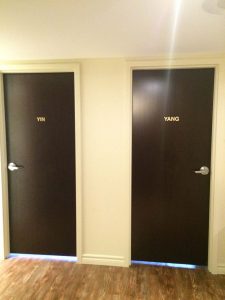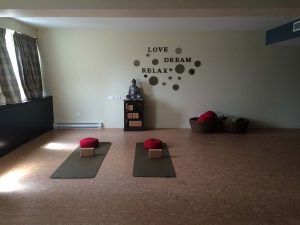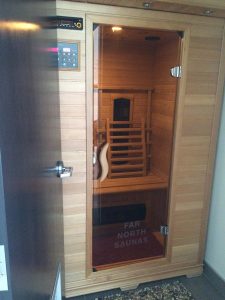 Each space, from massage room, to yoga studio to Hair Salon to the Mani Pedi Room (possibly my favourite) is put together with attention to detail and just feels 'right'.  It is an extremely welcoming environment …and it was QUIET.
I often find the term 'spa' misapplied to anywhere that does mani-pedis.  For me the word spa elicits a sense of calm & quiet, a feeling of being pampered… a spa should be  'zen-like' , I guess.  That said, it is often not the case and what passes for a spa is often noisy, with people rushing in & out, and lots of chatter & gossip (I'm guilty of chatter but I have a low tolerance for gossip).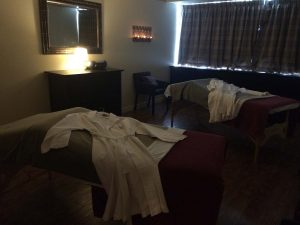 The services:
I am not a facial person.  Maybe that's because the first time I had a facial it was not at Lifeforia and if it included a massage, I have no recollection of it.  Well – this facial included a neck & head massage and I was so relaxed that not only did aI fall asleep, I woke myself up when I snored! I know, embarrassing, but still a testament to HOW relaxing that facial was! (fyi- the adjacent pic is the room where we enjoyed our facials:)  )
The mani-pedi room:
I loved this room the instant I walked in. From the warm & welcoming decor, to the comfortable chairs , to the clever mini-chairs for the staff…I just loved the room..it looked perfect for a "Mommies Night Out".
The product: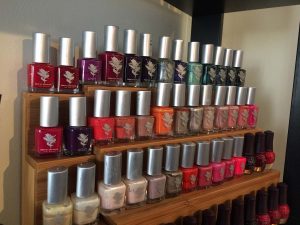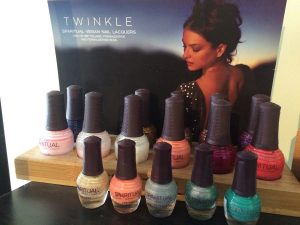 Even though I don't use 'all-natural' polish most of the time (I'm a sucker for OPI's Koala Berry & Miami Beet! I have a very real appreciation of companies who make 'more natural' cosmetic products.  Lifeforia actually carries Spa Ritual as well as Priti NYC, both polish brands that lean towards the more "natural" end of the spectrum.  I can't remember the name of the colour I chose but I got compliments!!
The results:
The price:
They have a variety of packages and they are priced reasonably.
To find out the latest promo, you can visit their website at: lifeforia.com/montreal/or Facebook page, but actually , since these pages are dedicated to Lifeforia franchises EVERYWHERE, your best bet may be to simply call Kelly and ask her over the phone!  You can call her at : 514-828-4265 🙂
If you're looking for some pampering time or a little séjour with the girls, the mani-pedi room seats 3, so call Kelly at Lifeforia, tell her Tanya from montrealmom.com sent you and & let me know how you like it!
Wishing you a day where you have some time to take care of YOU:)
Tanya