As I've said before, one of the fun parts of my job is when companies send me new & cool stuff to try out in the hopes that I will share with my readers.  The BEST part of my job? When I know that by sharing, it will bring some benefit to others.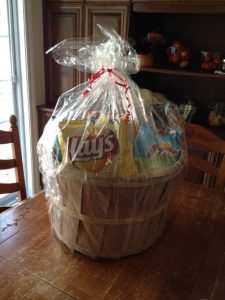 I recently received a HUGE basket filled with a variety of flavours of Lay's potato chips.  The reason?  They are now CERTIFIED GLUTEN FREE through the Canadian Celiac Association and Lay's wanted me to try them out and share how they stacked up compared to the traditional Lay's we've come to know & love.
The basket arrived just in time for a visit by my brother & sister-in-law with the kids & so we had 6 kid-testers and 4 adults to conduct our testing.
The verdict? DELICIOUS!!!!
We did find a slight difference between the Original (plain) Lay's that we are used to and the new gluten-free version…we liked these better! (And understand that we are fans of Lay's to begin with! We don't require gluten-free and so we'd recognize if we were "missing something". We weren't.
The difference is very subtle, but the GF version felt a little 'lighter', in a really GOOD way. As my husband put it: "a little less greasy".   We loved them!
In addition, we were fortunate to sample many flavours, including Dill Pickle which I had never tried previously…OMG we are SOLD!  Dill-licious!!!!!
We also loved the Lightly Salted, the Salt & Vinegar, the Lays Wavy Original, as well as Ketchup and Cheddar & Sour Cream.  We did notice that BBQ was missing from the lineup- as it's not available in a GF version.  That said, look how many flavours there are to choose from!
CONFESSION: When I got the email and mentioned to my family, my son told me not to accept the review request.  He told me that it wouldn't be helping people because potato chips aren't healthy.
You all know that I encourage healthy eating & living and that includes having treats in moderation. Lay's potato chips are a family favourite, especially at birthdays & BBQ's. I explained to my son that it will be helping families who need gluten-free products to have this wonderful treat available to them as well.  It will also be a great option for families hosting parties to serve so that they can accommodate guests with GF needs as well.
Rest assured that my son's reaction to the huge basket was "You're doing it???" followed by a consumption that was ….let's just say NOT in moderation. 😉
The other kids?  They were 'all over' this project – from the very beginning…to the the very tasty end 🙂
For more information and a list of Gluten-Free flavours, you can visit the Lay's website at www.lays.ca.
Wishing you a delicious weekend,
Tanya
NOTE: Lay's Wavy Original was initially posted as Ruffles– this was my error and the ruffles are not certified Gluten free, but the Lay's Wavy Original that we tried are.