A few weeks ago, I shared that I received an assortment of new chip flavours from Lay's Canada.
Cowboy Baked Beans (aka Fèves au Lard for those of us in Quebec)
Butter Chicken Montreal Smoked Meat
Montreal Smoked Meat
PEI Scallopped Potatoes
These are the four finalist flavours for this year's Do Us a Flavour Tastes of Canada contest. Interesting to note that there were almost 950,000 flavour submissions received by Lay's Canada!
We finally organized a family chip tasting and here were the results: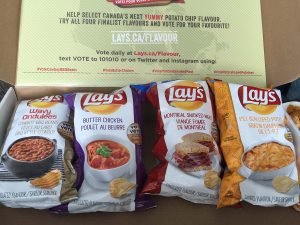 If you ask me: Montreal Smoked Meat is the clear winner.  I really like that added touch of being able to taste the mustard on my smoked meat…and it's all just a chip!
If you ask my hubby: He'd vote for the PEI Scalloped Potatoes (The kids and I would not, but he rated these as #1 although he wasn't crazy about any of the new flavours.  His feeling was that he still prefers his Old Fashioned BBQ Lay's 😉 .
If you ask the kids (We did a blind taste test and had them rate the chips on a scale of 1-5 for each flavour):
1st Place: Butter Chicken
2nd Place: Montreal Smoked Meat
3rd Place: Cowboy BBQ Beans
4th Place: PEI Scalloped Potatoes
******
My friend's family reviewed as well.  They didn't love any of them enough to buy them, but their results were:
1st Place : Scalloped Potatoes
2nd Place: Cowboy BBQ Beans
3rd Place: Butter Chicken
4th Place : Montreal Smoked Meat
So I think the answer is: It really depends on your taste buds!  Try them out for yourselves & then VOTE for your favourite!
The winner of this year's Do Us A Flavour will be determined by Canadian fans who will try all four flavours and vote for the yummiest flavour. Voting began on August 11th and will finish September 30th.
There are many ways to vote for your favourite chip:
Vote once per day on Lays.ca/Flavour,
Text VOTE to 101010; or
Tweet/Instagram using one of the flavour finalists voting hashtags.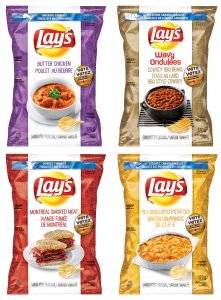 Voting hashtags for Twitter and Instagram are:
#VoteCowboyBBQBeans
#VoteButterChicken
#VoteMontrealSmokedMeat
#VotePEIScallopedPotatoes
You can also use the contest hashtag: #DoUsAFlavour 😉
The finalist who acquires the most votes will win the title of the next great Lay's potato chip and will be launched into the market this November. The winning flavour creator will receive $50,000 plus one per cent of their flavour's future sales.
So go ahead! Pick up a few bags and do a taste test of your own, then VOTE!
Have you tried them already?  If so, what did you think?  I'd love to hear 🙂
By the way, for those of you who care: All flavours are Kosher, Dairy Equipment – I know…it surprised me too 🙂
Wishing you a flavourful week!
Tanya