The folks over at BT Montreal asked me to prepare latkes 3 ways:
SIMPLE: The traditional potato latke
SPECIAL: The sweet potato latke
and…SPECTACULAR.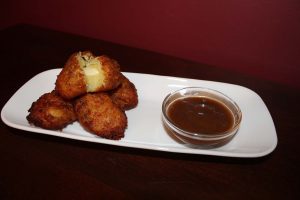 My brother's idea of LATKE POUTINE immediately came to mind.  Initially it was to be a stack of latkes layered with cheese & topped with sauce/gravy, but as I played in my kitchen, I became inspired …I was thinking about the "arrancini di riso" – The italian rice balls that are stuffed with cheese, then fried – and I envisioned a cheese-stuffed latke to be dipped in poutine sauce/gravy.
I tried it with repeated taste-testing subjects.  It worked 🙂
Crisp on the outside, tender on the inside and have a gooey, cheesy center. Paired with gravy à la poutine…YUM.
I then realized that I had developed a Deconstructed Latke Poutine.
Here's the recipe:
INGREDIENTS:
4 boiled, peeled Yukon Gold* potatoes, grated (use a box grater- not a great idea for the processor…pardon the pun!)
Salt & pepper, to taste
Cheese curds (or cheddar, cut or broken into 1-2″ x 1/2″ pieces)
Poutine Gravy  or Brown Gravy Home made or from a mix of your choosing- prepared as per package directions.  I used "Streits Brown Gravy". Home-made would be better, but I was rushing, LOL!
Oil for deep-frying
*Note: I experimented with Russet to no avail- the latkes wouldn't hold.  I highly recommend Yukon Gold, or if unavailable, Red potatoes.  Potatoes should be well-boiled so that it is easy to insert a knife right through without resistance.
DIRECTIONS:
Preheat oil in deep fryer to 180 degrees celsius
Add S&P to grated potatoes
Take a handful of shredded potato
Place a piece of cheese curd into the center
Using your two hands, "wrap" the cheese curd (or cheddar piece) in the potato and form a potato latke, in an oval shape around the curd.**
Deep fry for 1-2 minutes until dark golden brown
Serve immediately with poutine sauce on the side, for dipping.
Watch the BT segment to get a better idea of how to shape the patties!
Here's the link: http://www.btmontreal.ca/videos/2885953132001/
**Note: You can create potato balls & deep fry them as well, they are equally as delicious but are missing that "latke look"..
As for the simple & special latkes: You can find the recipes right here: https://montrealmom.com/hubbys-favourite-potato-latkes/
WARNING: The above are NOT your traditional "healthy eating" montrealmom recipes!
Enjoy!
Tanya