I was invited by Kumon to try out their program with my 9-year-old daughter to see what I thought about it.  Now that I know…I feel like you all NEED to know!
Prior to beginning the program, I had heard of Kumon but never really understood what it was. I had driven by Kumon centres in different areas of our city and have even bought Kumon-branded activity books at Costco.
That said, if you had asked me : What is Kumon?  I would have said something along the lines of- I think they have some form of learning program for kids and also make books.
While that's not entirely untrue, it doesn't give a complete and accurate picture.
The Kumon Program is designed to advance children's math & reading skills – no matter what level they happen to be at. Kids that are struggling can work to catch up to their grade level, while kids who are advanced can advance even further.
Now that I have become familiar with the program, I'm going to assume that you have some of the same questions that I did and attempt to answer them for you 🙂
Is it tutoring?
Not really. It's a program that uses the proven Kumon method to help your child develop his/her ability step-by-step, at his/her own pace and master each concept before moving onto the next.
What is the actual work?
Kumon provides your child with small workbooks of detachable worksheets.  The number of sheets to be completed per day depends on what level of the program your child is in.
Your child is taught how to separate the sheets as well as to log their start and finish time. They work on the sheets INDEPENDENTLY.
When they are done, you correct their work using a correction booklet (if needed). If you are unavailable to correct, your child has been trained to self correct, switching to pen instead of pencil for the correcting procedure. My daughter was taught that there is no use in cheating on the answers as she will not learn this way.  She understands this and when she corrects her own work, she puts her pencil away and takes out her pen.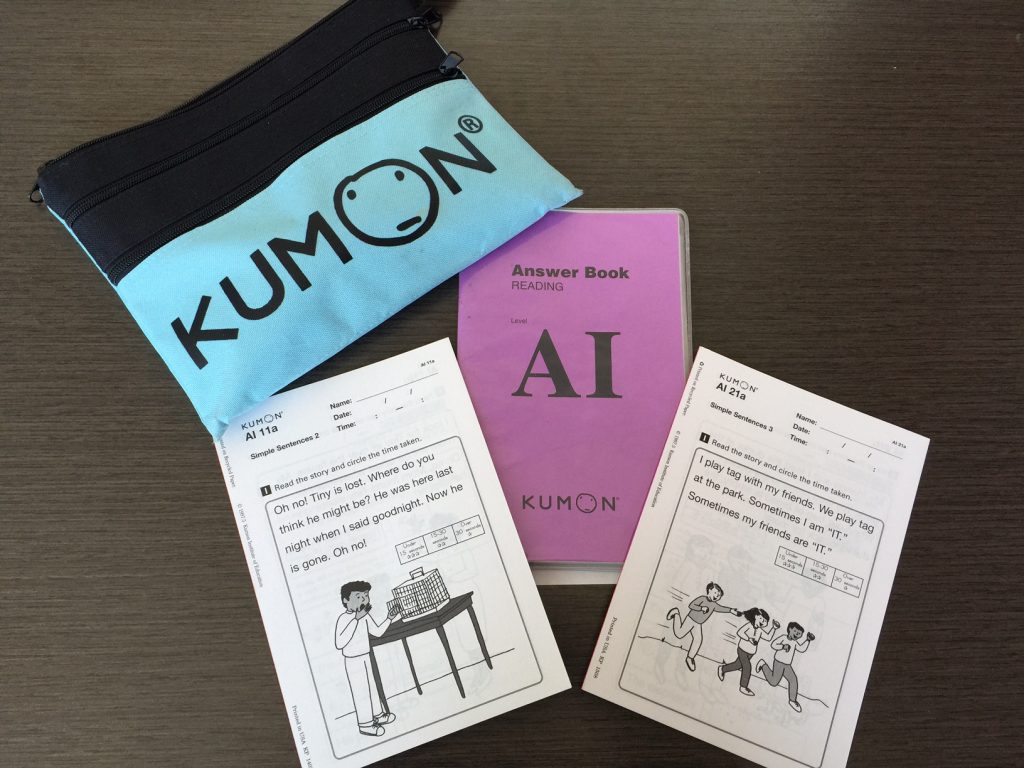 What is the time commitment for my child? …and for myself?
Your Kumon advisor will explain to you what is expected and required for the program to work.
Essentially, your child goes to the Kumon centre twice a week for 30 minutes where he/she would be doing his/ her work and getting it corrected. The 5 remaining days, your child works at home INDEPENDENTLY for 30 minutes per day.  In other words, your child is committed to 30 minutes per day, 7 days a week – 2 days at the centre, 5 days at home (or wherever you may be). Don't stop reading now!  (This threw me, too – but keep reading…)
When I say independently, I mean 100% independently. Sometimes I am in the kitchen with my daughter when she does her work, sometimes I cannot be home and one of her siblings monitors her – just for time. The work is done completely on her own, at her own pace.
Because this 'homework' requires very little involvement on the part of the parent, 'Kumon time' becomes integrated quite easily into the schedule.  Truthfully my daughter often announces "I'm going to do my Kumon now!"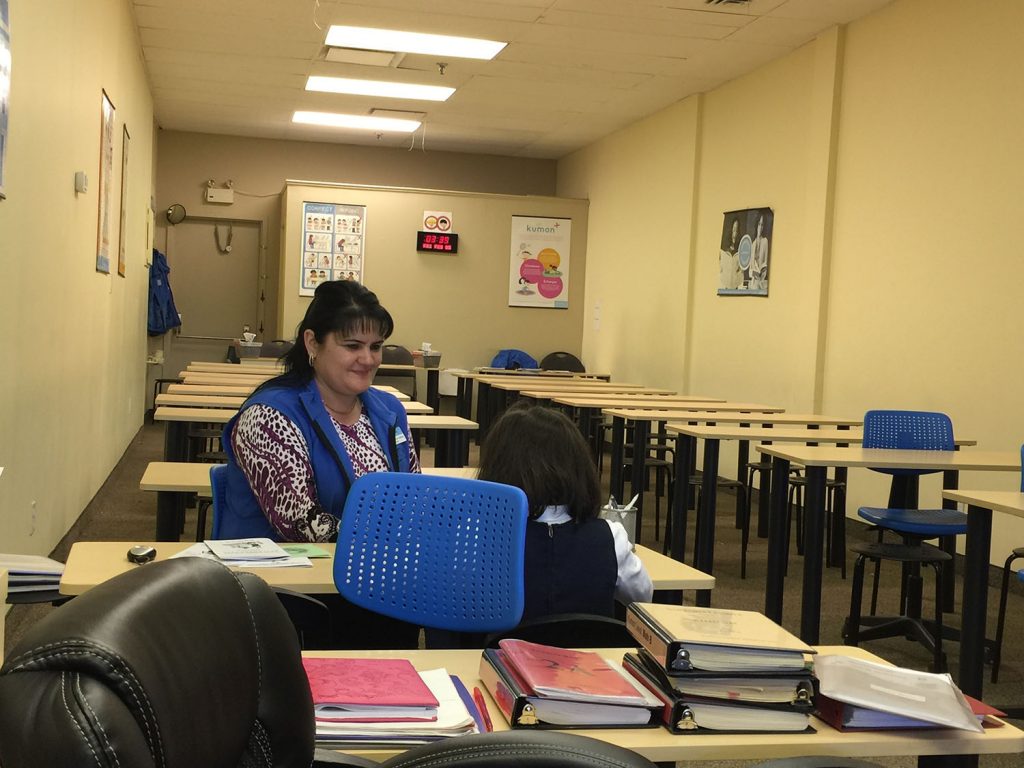 Isn't it taxing on the child's own schedule as well as the family's?
I was EXTREMELY concerned about this. My daughter's school day ends after 4PM and she still has homework to do. It's a long day. She also has an extra-curricular program once weekly, and let's not forget that we have 3 older children.  My husband and I were quite apprehensive about how Kumon would fit in for our daughter as well as for us as a family.
I trusted our advisor, Eugenia, who assured me that the time spent on Kumon would lessen the amount of time it takes our daughter to do the rest of her homework.  I'm not sure that we've passed that threshold just yet, but I can tell you with certainty that the 30 minutes per day spent on Kumon are virtually seamless.
In addition,  she sees it as fun, which both my husband and I LOVE.
For the days that she attends Kumon, either my husband or myself drop her off and take advantage of the fact that there is a grocery store as well as a Dollar store nearby…we get in a few errands and before you know it, she's done!
Is there a lot of 'stuff' to keep track of?
No.  This is one of the things that I LOVE about the program.  Everything she needs fits into her Kumon pouch. The worksheets, correction booklet, even her pencil, eraser and sharpener 🙂 The pouch is  just large enough not to lose track of, but small enough to fit into her school bag.  Completed worksheets are stored at the centre so you don't have a ton of paper floating through the house the car and various other nooks & crannies 😉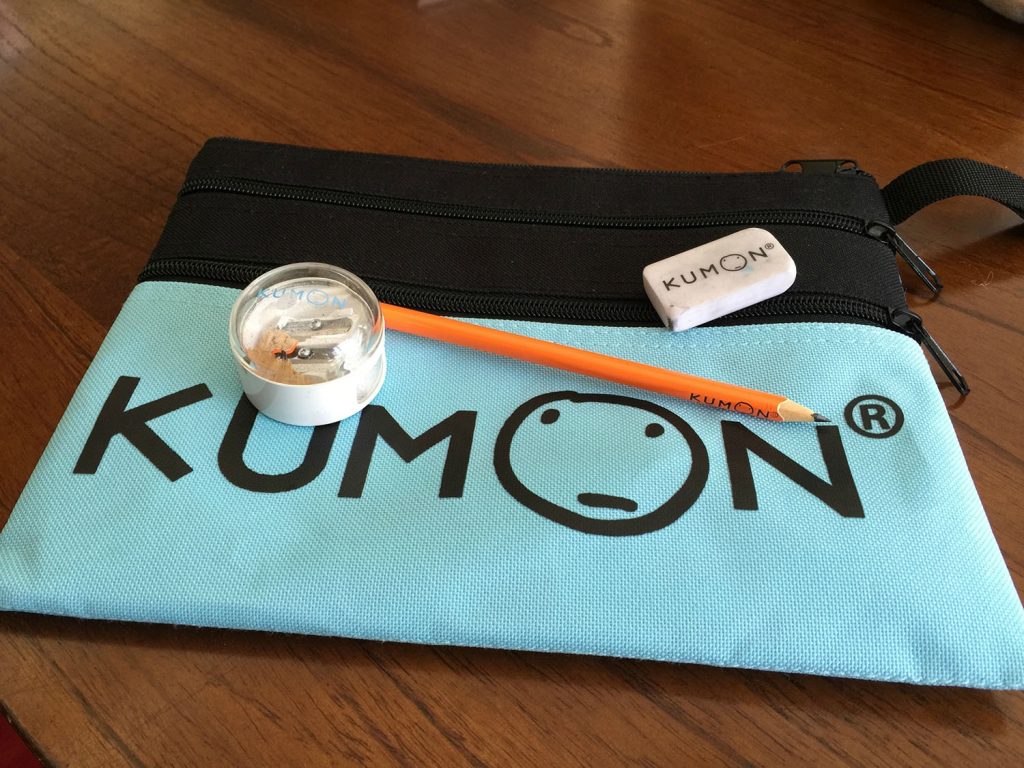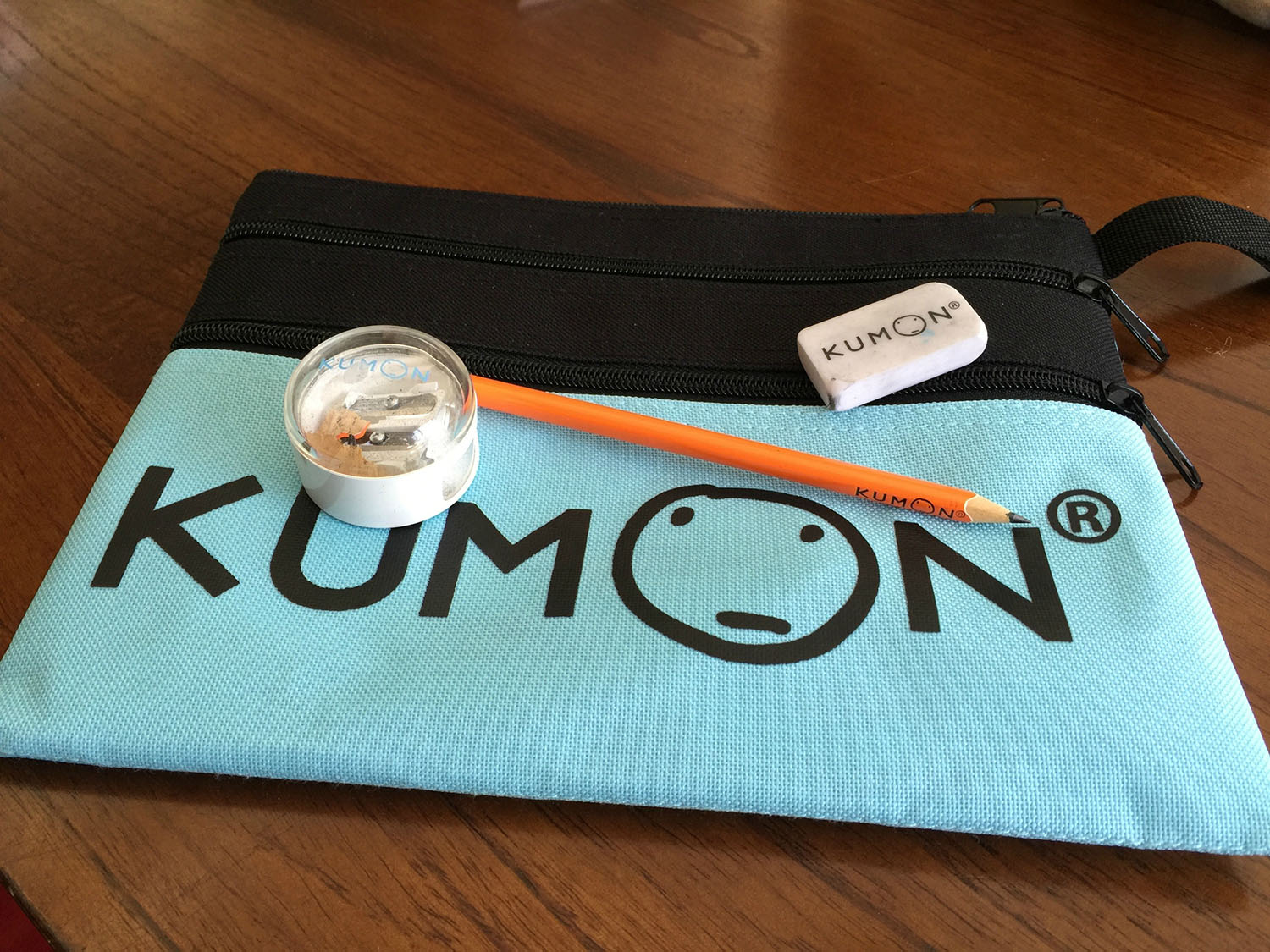 Is the work graded?
Work is corrected and a mark is given.  In addition, up to 3 Kumon 'dollars' are given out each class – One for coming to class, one for completing your homework and one if you get 100%. Kumon dollars can be saved and traded for prizes. The kids like it 🙂
How will I know how my child is progressing?
Your child will have 'tests' when they complete a certain level to see if they are ready to pass on to the next level or if they require more practice to master the current level. This is one way in which you will be able to gauge your child's progress. You will also have periodic meetings with your Kumon advisor who will go over your child's progress with you, and if you ever have any questions, you can always ask your advisor.
Does it actually make a difference?
I can only speak from my own experience. My daughter has been in the program for about a month and a half and so far both my husband and I have seen an improvement in our daughter's self-confidence.  Although it may be coincidental that it seems to have gotten better since starting Kumon, both of us think it's related.  Her reading has also become much more fluid.  It is difficult to gauge if this is due to the program or just her development, so given that she's been in the program for such a short period, we will have to wait and see.  I'll be posting about our experience a few more times, so I will let you know!
What's the 'magic' in Kumon? What makes it different that any other program?
I asked that very same question. From what I'm understanding, it's simply that the Kumon worksheets are not just random worksheets.  They are part of a carefully crafted curriculum that is designed in such a way as to help your child progress step-by-step at their own pace in such a way that makes progress feel 'easy'. Everything that is there is there for a reason.
In addition, I think that the discipline and the routine of CONSISTENTLY setting aside 30 minutes per day to do the work, is a contributing factor in making the magic happen 🙂
A personal observation: My husband and I both noticed how my daughter reads the instructions for each & every worksheet.  You need to know that many of the exercises repeat themselves over and over again (with different words), and the instructions are exactly the same. Nevertheless, she has been instructed to read them each time and she does it. We realized that in doing so she is:
practicing her reading and
learning that reading the instructions is a very important part of any task.
Both my hubby & I suspect that this 'small' type of training is a small part of what helps Kumon students achieve success.
Can't I just give my child worksheets on my own instead?
The program was actually started by a Dad (Toru Kumon) who was doing just that.  He was a gifted math teacher. He wanted his son to excel at math  and so began giving him daily exercises. You can read the full story on theKumon website, but in a nutshell: it worked and others began to take interest.  Today, over 60 years later, the program has helped millions of students in over 49 countries…
While you may be able to get different workheets on your own, I'm not sure that they will be as effective as the Kumon method, given how strategically the Kumon sheets have been crafted.  In addition, let's face it, most of us tend to be better-disciplined following a specific program that we have committed to, as opposed to just 'planning' to do something.
How does one get started or find out more information?
The best thing to do is to visit the Kumon Canada website  and to schedule a free orientation session.  You will be able to  get an in-depth understanding of what's involved in the program and ask any questions that you may have. You also have the option of bringing your child in for a free 'assessment' at that time to help determine the best starting point for them.  We did this and I recommend it.  It also allows your child to get familiar with the centre with you present the first time.
There is so much more to say about the program, but I guess I'll leave more for my next post 😉
In the meantime, should you be interested in a bit more information, you can visit the website and you can also watch their video, to get somewhat of an idea:
I'll leave it there for now…and I will keep you posted on how things progress!
Have a great day!
Tanya
Disclosure:  I am often offered to try products or services free of charge for the purpose of reviewing them, as was the case here. I will only ever share with you products and/or services that I believe in (some things I try out never make it onto the blog). All opinions contained within are my own and cannot be bought