As many of you know, we have been trying out Kumon with our youngest daughter.  For those of you who don't know what Kumon is, please have a look at last month's post : Kumon: What is it, really?
I want to also add that since I wrote that post last month, I have several people tell me that they thought that Kumon was strictly for math. Please allow me to clarify: Kumon absolutely does have a math program with an excellent track record.  That being said, Kumon also has a reading program and that is the program in which we chose to enrol our daughter.
Last month I told you that we were thinking that her confidence level going up may be related in part to the Kumon program.  This month, I have more to report.
We recently hosted a family meal with 28 people in attendance. At one point during the evening, my daughter had the opportunity to read from a text in front of the whole family. I was ready to help her out, and encourage her, as I often do when she is put on the spot.  Knowing that the text in front of her is not one that she reads over and over in school or at home, we expected it to be difficult for her.  And then she read…smoothly and almost flawlessly!  I had tears in my eyes and my husband and I looked at each other thinking the same thing.  Coincidence?  I think not.
About a week later, we were having a family 'meeting' about our upcoming trip to Disney, and going over the itinerary for the trip.  You can imagine that we had 4 very excited kids on our hands and could not get through a sentence uninterrupted.   I therefore asked my kids to write all of their questions down so that we could get through the itinerary and that we'd answer all of their questions afterwards.
Our youngest wrote down no less than 8 questions.  We were thrilled (and to be honest, extremely surprised) to see only 1 error that was not a character name ( she wrote crapes instead of crèpes). This is not what we are used to and of course, we let her know how proud of her we are 🙂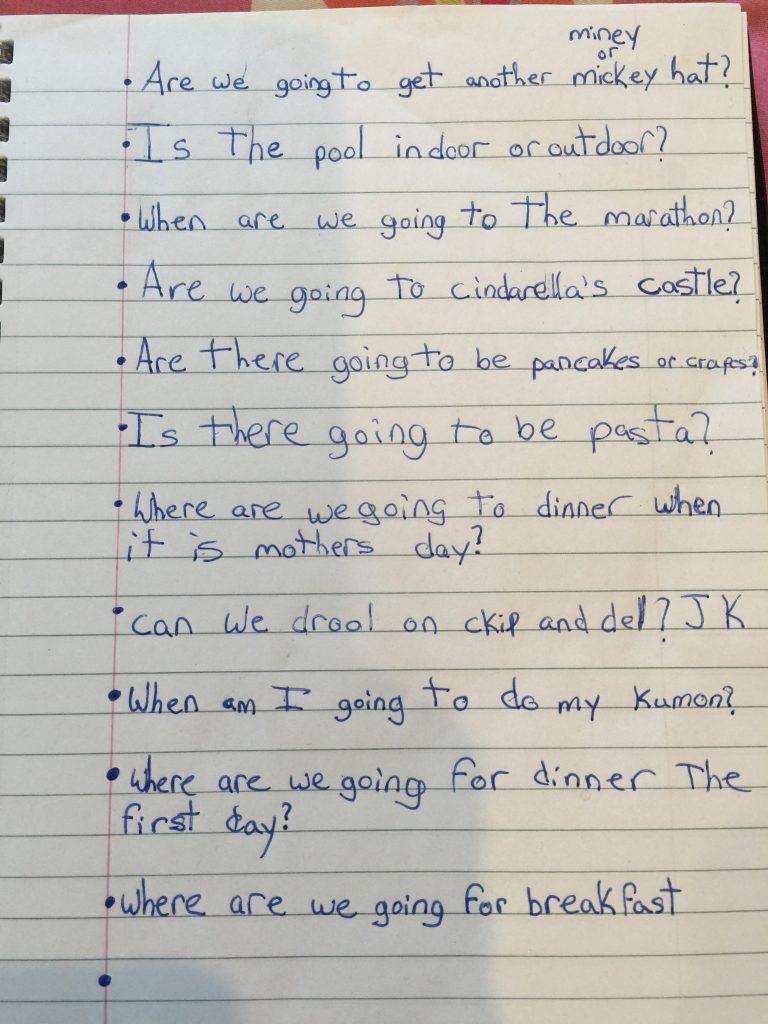 (fyi – the drool question is a reference to a very vivid picture of drooling on Chip and Dale in babyhood)
Also- note how integrated Kumon is in her daily life that this was a relevant question for her to ask when we were discussing DISNEY!!!!!
That night, she asked me if she would continue doing Kumon after school was over. I asked if she thinks it's helping her.  Her response was
"I think so Mommy…  When I do the sheets I see the same words over and over again and then I remember them. And now when my teacher writes a word on the board, I know how to remember it.  For example, I now know that 'sentence' is spelled with an 's ' but before I thought it was spelled with a 'c' "
This can't be a coincidence.  I will, of course, let you know how we feel after month #3, but so far Kumon – we are grateful, and impressed… and grateful.
Will keep you posted 🙂
Tanya