When I was invited to see Kim's Convenience, I'll admit that I had not heard about it yet, but a quick google search revealed that many people have. In fact, the play has been so successful that it launched the hit CBC sitcom of the same name 🙂
This Canadian play enters around Mr. Kim, a Korean immigrant who operates a convenience store in Toronto in order to support his family.
When you sit down in the theatre and see the set, you will feel as though you have just been transported into the local dépanneur.  This store will be the setting of many interesting (and funny) interactions as well as some more serious and intense conversations.
I can't tell you how many times we laughed in the first 5 minutes of the play…and the laughs continued.
Things do get serious, however. There are talks of the future and what that means both for Mr & Mrs Kim, for each of their Canadian-born children as well as for the changing community. I say that the play serves up life lessons because it deals with issues such as how we chooses to live our lives, the legacy we leave behind, and how we choose to show appreciation (or not). We see some 'entitlement' issues as well.  There are messages in this play that both kids and parents alike could benefit from hearing, and it's all done with a dose of 'love & laughter'.
My husband and I actually enjoyed it so much that we are thinking about going back with our kids. (Note: Please keep in mind that 3 out of our 4 kids are teens and our youngest in 10. For this of you with young children there is a touch of 'language' – It's really minimal and usually mispronounced so not a huge issue, but depending on your threshold,  I want to let you know that it exists).
There are not enough words that I can say about Paul Sun-Hyung Lee's performance in his role as Mr Kim (Appa). I guess my best way to put it is that he is somehow LIVING the role. At one point I turned to my husband and said "You'd almost think that he wrote the play and is acting as himself." 
Of course, this award-winning play was not written by him at all, but by Ins Choi, who wrote it brilliantly and did so from personal experience, which makes everything in the show seem so real & authentic.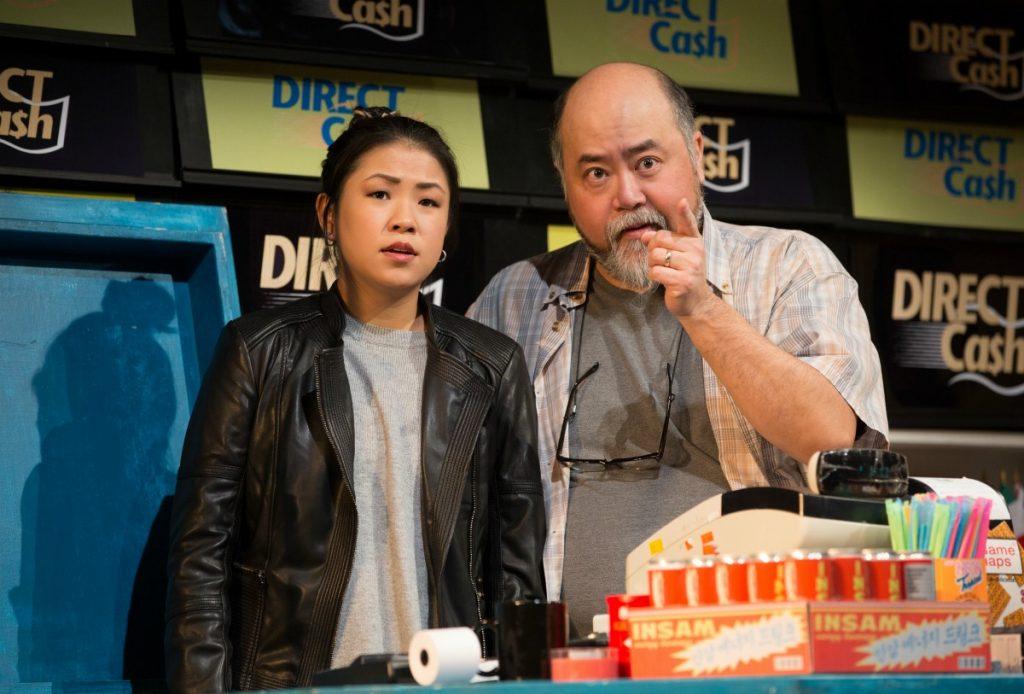 All the characters played their roles beautifully, but in addition to Paul Sun-Hyung, I want to give a special mention to Rosie Simon in her role as Janet.  She is fiery and passionate and entitled…and the chemistry between Janet and her Appa really make the play the success that it is.
Another honourable mention goes to Ronnie Rowe Jr, who plays…3 different characters…and does so incredibly well!  I don't want to spoil any of the play for you, so I will leave it at that 🙂
Kim's Convenience is only at the Segal for a very short run with the last show being this upcoming Sunday. If you have a night out available, Don't miss it!  It plays every night this week except for Friday. There are matinées on both Wednesday & Sunday. If you can find the time ( or make the time), it's worth the trip.
It's also worth mentioning that the show runs for 1hr 25min with no intermission. Because it doesn't end late, it really makes for perfect weeknight 'night-out'.
Here's the link to the Segal Centre Website if you are looking for more info or to purchase tickets.
Wishing you a day with a few good laughs…and a night with a trip to the convenience store;)
Tanya