Just last week, I was invited with some of the fellow #PGMoms to attend Katy Perry's Prismatic World Tour, sponsored by COVERGIRL.
Although I love the company of my fellow #PGMoms, I'll be completely honest and say that I would have preferred to be seated with my kids, most especially my teenage daughter, by my side.
Why?
First & Foremost: Inspiration.
Let's face it, quite a few of Katy Perry's songs can be 'adult' in nature, and are downright inappropriate for young kids if you get the double-entendre. That said, several others are incredibly inspirational and carry with them positive and encouraging messages.
I still get chills when I hear ROAR  and have you ever paid attention to the lyrics of FIREWORK? These messages are extremely powerful for kids of all ages and quite frankly, for adults as well.
As I begin the journey into parenting a teenager, I have to say that I have an even deeper appreciation for empowering our kids to make them feel their worth and their ability to achieve.
I encounter many adults in my professional life, especially women, who still struggle with their ability to do this.  I want to see all my kids strong enough that they need not struggle with this when they are grown.
It's worth noting that this is vastly different from complimenting their every move (which I do NOT believe in) – This is about  making them feel the fire within, and learn how to harness that power to achieve good & positivity in the world.
As for the less appropriate songs?  My eldest is at the point where she might begin to pick up on these things – PERFECT talking points for an after-show ice cream 🙂
Secondly: The Happy Medium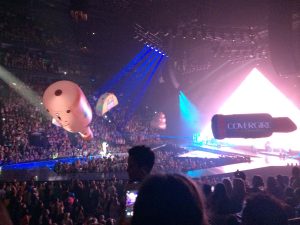 While I am all about reaching for the stars and harnessing the power within, I want to add that while the sky is the limit, the teenage years require strong parental involvement while our teens are pushing boundaries, and jumping into things a little bit too quickly.
Sometimes, taking a leap is the right thing to do, but when it comes to growing up…  I believe it's generally a better bet to ease into adulthood as opposed to jump into it…and that's where COVERGIRL comes in.
As a #PGMom, I get to try out a whole lot of PG Products.  Among those products, one of my favourites has been the "Smoochies" – both the coloured lip balm and the lip gloss tubes.  The reason? They are fun & fresh and yet not too intense and from the instant I was introduced to them, I saw them as the perfect "intro" to lipgloss / lipstick for a teen, and Smoochies remain my lipgloss of choice for my daughter (and yes, she loves them too!)
Now, I know that not all parents of 13 year olds will agree with me.  I have seen many of my daughters' peers in fully-made-up faces for parties this year. It actually  saddens me, because I've seen these girls without all the makeup…and they're gorgeous. I guess I just feel like they have time to get there.
That said, the early teen years are a coming of age, and a time to ease into growing up…so it's my feeling that it's fun to start dabbling in makeup and that COVERGIRL Smoochies are a perfect way to start. A Happy Medium 🙂
I like that COVERGIRL offers this happy medium and as such would be more than ok with my daughter taking pictures with COVERGIRL backdrops & getting COVERGIRL samples.
Thirdly: Entertainment Value
I figured (correctly) that it would be a great show, and always better to share that with the kids!
I am grateful to have attended the #PrismaticWorldTour and although I wasn't there with any of my kids, being there has given me the 'talking points' for great discussions with each of them as they grow up….not TOO quickly, I hope.
Wishing you an inspiring day where you & your kids "Ignite the light, and let it shine…." 🙂
Tanya