Are you a #CostcoMom?
You already know that I am…BIG TIME.
Some of you may remember that Costco Canada recently opened its 90th location in Vaudreuil.
Also, most of you already know that in addition to being a self-declared #CostcoMom, I am also officially a #PGMom.
As such I had the incredible opportunity to get a private tour of Costco Canada's 90th location (#CostcoVaudreuil) prior to its Grand Opening on October 16th. I was also invited to participate in all of the Grand-Opening festivities:)
Needless to say, I tweeted my heart out because I was really.that.excited.
You can check out all the cool stuff I saw in the #Storify I included at the end of the post:)
You may have noticed that I brought my good friend and blogger extraordinaire @AskMamaMOE along with me to the VIP event…She and I have been planning for some time now to announce that in honour of the recent Grand Opening, it's time for a #CostcoMom Twitter Party!!!: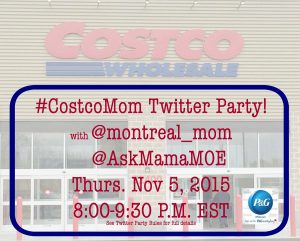 NOTE: You don't need to be a #CostcoMom (or #CostcoDad!) to participate…You may simply be CURIOUS why so many people rave about Costco….
Either way, I hope that you'll join the fabulous @AskMamaMOE & I as we chat about fab finds at Costco, must-haves from Costco, tips & tricks on navigating Costco and so much more!
PRIZES:
6 'regular' prizes, each including:
One ONE-YEAR membership to Costco (any location in Canada), and
One P&G Prize Pack with great travel essentials (just in time for any upcoming travels or to offer to your house guests who stay with you over the holidays!)
We will also be giving away 1 GRAND PRIZE which will include:
Two ONE-YEAR memberships to Costco (any location in Canada), and
Two P&G Prize Packs with great travel essentials
(One for you & one to share!)
NOW: Check out the RULES and
Please Remember to RSVP in the linky below using:
Your Twitter Handle (e.g. @montreal_mom) as "Link Title / Blog Title"
Your Twitter URL (e.g. https://twitter.com/montreal_mom) as "Link" 
TWITTER PARTY RULES
1) You must be a resident of Canada age 18 or older in order to participate in the contest.
2) In order to enter into the contest, you must correctly answer (on Twitter) at least one question posed during the Twitter Party using the hashtag #CostcoMom
3) In order to enter the contest you must follow @montreal_mom  and @AskMamaMoe so that you can receive direct messages in the event that you win.
4) Winners will be chosen during the Twitter Party based on participation, engagement and /or awesome tweets! #CostcoMom
5) Winners will be announced via Twitter
6) Only 1 prize per participant
7) Winners will have to answer a skill-testing question to claim their prize
8) Employees, representatives or mandatarys of montrealmom.com inc. and persons with whom they are domiciled may not enter the contest.
9) Any litigation respecting the conduct or organization of a publicity contest may be submitted to the Régie des alcools, des courses et des jeux for a ruling. Any litigation respecting the awarding of a prize may be submitted to the Régie only for the purpose of helping the parties reach a settlement
Care to join us?  RSVP right here:

Still want to see that #Storify and all the fabulousness at #CostcoVaudreuil? Here you go:
Don't forget to RSVP! Looking forward to Twitter-Partying with you!!!
Wishing you a share-worthy weekend 🙂
Tanya