Do you remember Jesse?
In case you don't, he's the fabulously inspiring kid I wrote about last year who found himself post-concussive and facing the possibility, despite a stellar academic & athletic record, of being unable to apply to university due to his condition.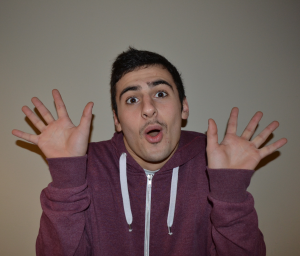 Jesse found himslef in a situation where he could not do what he wanted and needed to be doing:
He could not focus on reading well enough to study. He could definitely not play sports and he could not know if applying to university would be a reality.
And while most teenage boys would not do well handling such restrictions, Jesse found the silver lining:
There was one thing that he absolutely, definitely, and most positively was capable of doing…
Jesse COULD grow a Moustache.
And so MOVEMBER became his cause.
Jesse set out to raise $1000 for MOVEMBER. He raised $5,300.
In a world full of COULD NOT. Jesse proved that he COULD.
And then, despite the Post-Concussive Syndrome (PCS), Jesse went on to apply to university and began his studies at Wesleyan (Connecticut) this past August.
He did it.
He's still suffering from PCS.
And it's MOVEMBER, so guess what else he's up to?
You got it. Growing what he hopes will be a $6,000 "stache", and while he's at it, he figured he'd raise funds in 2 countries.
As a student in the US, Jesse is raising money for the US initiative. That said, since his original donors were mainly from Canada, Jesse joined Team McGill who just tweeted that he's the lead fundraiser, so far 🙂
Jesse has reached the halfway mark at $3,000. Let's help him get all the way to his goal of $6,000!
Please donate at Jesse's MO SPACE:
CANADIAN donors: http://mobro.co/jessegalganov2
US donors: http://mobro.co/jessegalganov
Jesse: One year later, you continue to inspire us all. May you go from strength to strength.
Wishing us all the inspiration, resulting in a MOVEMBER donation;)
Tanya
P.S. For those of you who didn't read the original post about Jesse last year, you can find it by clicking here.