The Montreal Children's Hospital: Doctors, Nurses, Volunteers, Caregivers, Comforters & Miracle Workers…
We've all benefitted from their services at some point or another, and some, unfortunately, have had to rely on them far more than others.
We sometimes hear of initiatives created by families of kids who have received care at the Children's.  Sometimes that child is still undergoing treatment.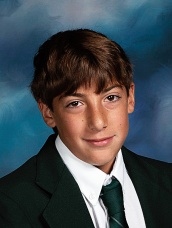 Meet Jacob. At 12 years old, he is a quiet, well-liked, superstar hockey player with a great sense of humour.
Earlier this year, Jacob was diagnosed with Leukemia and is currently undergoing treatment at the Children's.
When a teammate's dad found out, he wanted to do something meaningful to support Jacob all the while teaching the kids of the community about coming together to support a cause – in this case the Montreal Children's Hospital Foundation.
And so that's just what happened. The North Shore Football League and the Dollard-des-Ormeaux Hockey Association teamed up to raise money for the Montreal Children's Hospital Foundation (MCHF), through Jacob's Journey.
They have been selling orange bracelets that say "Noone Fights Alone" for $3 and are currently holding a raffle for a whole bunch of fabulous prizes, including an iPad mini, jewelry, restaurant vouchers, sports memorabilia & so much more. You can see the entire list here. Tickets are beyond affordable at $5 or 3/$10.
All proceeds go to straight to the MCHF.
All the feelings of being surrounded by a caring community go straight to Jacob.
All of the positive reinforcement for stepping up in the community to give back goes straight to the kids who are trying to raise funds for an important cause while rallying around their friend to offer their moral support.
Should raffle tickets & bracelets not be your 'thing' you can simply show your support by making a donation to the Montreal Children's Hospital Foundation by clicking on the link.
To purchase raffle tickets, click here.
'Tis the season…Whether by raffle ticket, bracelet or simply the donation of your choice, every dollar helps the MCHF and gives a little boost to Jacob as he continues on his Journey.
More ways to show support:
Wishing you health & happiness and a wonderful weekend with your loved ones,
Tanya