Three years ago today, I had butterflies in my stomach as I awaited to finally see my website LIVE.  I had spent just about 1 year writing over 400 pages of content and the site was going to launch that very same day.
I launched the site via Facebook & an email to friends & family.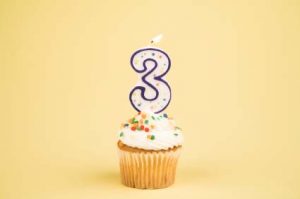 I had dreamed about building the site roughly 6 months into motherhood, but the years went by quickly and 4 kids later, in a new home that had just gotten flooded by an overflowing laundry machine, here I was, hitting refresh until I could see the site live.
The site went live.  My husband was in the kitchen with me as 1, 2, 3 minutes passed quietly.
Me: "Noone's looking at it."
Him: "Give them a minute."
Me: "Or they're looking at it but they don't like it."
Him:"It hasn't been five minutes!"
Me: "It's too quiet."
And then it started, the Facebook messages, the emails, the cell phone, the house line. All at once. I was like a switchboard operator on steroids. They liked it!
And just like that, I had realized a dream.  It took hard work, determination and a supportive spouse, but I did it! Little did I know that this was just the beginning…
Little did I know that within the next 3 years montrealmom.com would be voted into the Top 25 Canadian Mom Blogs 2 years in a row, finishing in 1st & 2nd place!  Little did I know that tens of thousands of visitors would come to benefit from the site in that time.  Little did I know that I would be getting letters of thanks, appreciation and inspiration from those readers.
Little did I know that what I was about to experience would be just like when I'm asleep & the dream shifts into another dream and then into a mini-nightmare & then into yet another dream, but somehow everything still flows and seems to make sense.
It hasn't all been easy. I've worked harder than I ever have in my life. I've had to explain & re-explain exactly what it is that I do. (I can keep going, but this is for another post). I have sacrificed time with my family & friends to make this work. I have neglected myself in the process. BUT…
I dreamt it & I did it. And THAT is something to be celebrated!
But I didn't do it alone. YOU, my readers, are what truly makes this site the success that it is and I can't thank you enough. THANK YOU.
And that's why to celebrate montrealmom.com's 3-year Launchiversary, I want to hear about YOUR Mompreneurial dreams.  What are you doing to realize them? What stumbling blocks are you facing? Have you already realized your dream?  Are you in the process?
Please send your entries to us by emailing us at info (at) montrealmom.com with the Subject line "Mompreneurial Dreams" & we will be choosing one story to feature on montrealmom.com this spring. In addition, the selected mompreneur will win a 3-month advertising package on montrealmom.com! (subject to availability).
The contest ends at 11:59 PM on February28, 2013. Winner will be contacted via email. Winner must answer a skill-testing question before claiming prize. Open only to Moms residing in Montreal.
Wishing you a weekend of relaxation, inspiration & celebration!
Tanya