When I was invited to volunteer an hour of my time at a McDonald's location for #McHappyDay, I couldn't say no. I am very fond of McDonald's community involvement and everything that they do with the Ronald McDonald House, so of course, I said yes 🙂
I chose to visit the McDonald's at the Faubourg Boisbriand.  Albert Levy (franchisee) told me that if I really wanted to experience "something" I should come & see what goes on with the autism community at lunchtime or dinnertime. I picked lunch.
I arrive at about 11:45 and OMG the place was BUZZING!  Cars lined up around the corner for the drive through, kids everywhere in the restaurant and everywhere I looked I saw SMILES and felt positive energy.
On McHappy Day, $1 from every Big Mac, Happy Meal & Hot Beverage sold are collected to support McHappy Day 'charities'. In the case of the Faubourg Boisbriand location the funds collected will be go towards both Ronald McDonald House as well the Fondation de l'autisme des Laurentides.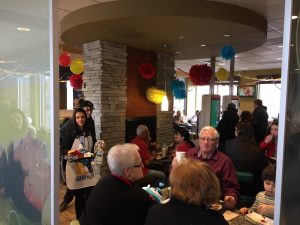 The place was filled with autistic children and their families who come out every year for McHappy Day…If you could only see their happy faces and feel the vibe.
The craziest part is that Albert told me that as busy as it was at lunchtime is actually mild compared to what goes on at dinner.
I actually shot a really fun video (trying not to show kids faces) where you could feel the energy and the music ( yes there was music playing!) …but it got lost in cyberspace 🙁
WOW.
Best I can do is share some of the pics I took & ask that you PLEASE VISIT YOUR LOCAL McDonald's THIS EVENING OR TONIGHT to support a phenomenal cause.
If you already have dinner plans- stop by for a coffee or other hot beverage! You can find locations with a 24 hour drive thru window…You've still got a few hours…Go on now…Go!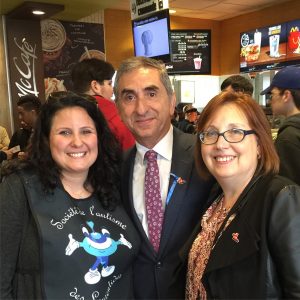 Wishing everyone a Happy #McHappyDay…and thank you to all of you who are supporting this fantastic initiative!
Tanya