Winter Break is quickly approaching and it's looking like we're not going to have a White Christmas here in Montreal 🙁
That means that our usual go-to activity ideas of building snowmen and forts, skating and tobogganing, skiing and snowshoeing are not likely to be options this holiday season.
That being the case, I thought it would be helpful to suggest some different activities that the kids might enjoy despite the lack of fluffy white.
Click here or on the photo to watch my segment on BT but be sure to scroll down as well  – the Outings/Activity Centers/Museums section at the bottom of the list are additional ideas that we did not have time to cover on air!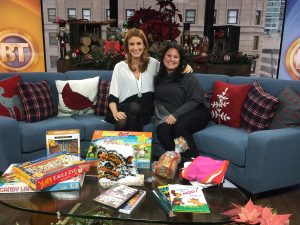 I will start by stating the obvious:
Age-appropriate board games are a fun & engaging way to spend some family time together indoors.  Our family's recent craze is Bananagrams (also very transportable if going up to the chalet or on a trip), but we also love to play card games, Rummikub and the boys love Monopoly & Risk as well.
Movie nights are a classic…but if everyone's home during the day, it's still a great time to fire up the Netflix, make a Popcorn Bar & you're all set!
Baking may seem obvious- but turn it into a real activity 🙂
A little less-obvious 😉 :
Chopped at home: Thanks to my friend Marlene for suggesting: Fill up two baskets with strange ingredients and have the kids compete as to what they can come up with (Keeping in mind, obviously, age  & ability of the kids)
Iron Chef at home : similar idea to above- assign a secret ingredient and see what they come up with!
Rent a hotel room at a hotel with an indoor pool and enjoy the facilities! Order pizza to the room for a low cost lunch and after swimming let the kids chill out and watch a movie in the room – if they have a microwave bring popcorn (or bring pre-popped ). Sleepover optional 🙂 (TIP: Great way to use about to expire hotel points!)
Visit the local library
Family Bowling 🙂
If your family received a lot of gift cards for the holidays- Go on a Gift Card Shopping Trip where you go to the mall and only buy things with your gift cards (if at all possible). That means if you have Second Cup gift cards, the snacks come from Second Cup…It's fun and feels great leaving the mall with a while bunch of stuff without worrying about when the credit card comes due 😉
Give back : Find out where you can take the kids to volunteer for the day (or part thereof). You can teach them about giving back and gratitude.  Good chance that the day will end with positive feelings and holiday spirit 🙂 Remember to call in advance- not every organization accepts drop in volunteers, and not everyone has positions for kids, either.  A good bet to volunteer with kids is the MADA community center and they actually have holiday volunteering programs scheduled! Even so, it is still recommended to call in advance : Volunteer Coordinator: Shterna at 514-342-4969 ext 246 or even better – Sign up through their website! madacenter.com. Here's a look at the schedule:Monday, December 21,
Tuesday, December 22nd,
Tuesday, December 29th,
Wednesday, December 30thAll from 10 AM – 12 PM.They will be having crafts, baking, food repackaging and food preparation. Children as young as 6 years old can join, teens included. (Great way and time to get community service hours.)
About MADA:
MADA is Montreal's central address for fighting poverty in our community. Every day, 365 days a year, this volunteer-based organization provides people in need – who they call "patrons" – with the basic necessities of life while respecting their dignity and helping them to become self-sufficient.
They offer a wide range of services, including:-Soup kitchens with a uplifting, cafeteria-like atmosphere.
-Food bank
-Take-out and home delivery for patrons with limited mobility
-Community holiday celebrations to combat loneliness and isolation
-Depots for gently-used clothing and home furnishings
-A clothing store where patrons receive vouchers for new clothing
Outings/Activity Centers/Museums:
I am sharing a whole bunch of links to places that can make great outings with the kids.  Feel free to click on the links to learn more about that particular event/activity.
Montreal's Grand Christmas Market located at the Place des Arts esplanade. Activities suitable for every age, from kids, to adults, day, evening, and night. From a walk through an enchanted forest to a peek into the elves' workshop, Santa's home and a ride on his sleigh – there's truly something for everyone. Everyone should let themselves be carried away by the festive atmosphere of the holiday season and marvel at the magic of Christmas.
If you go, make sure to take advantage of TELUS' invitation for visitors to switch to #HolidayMode by putting their technology away and inviting them to focus on spending quality time with those that matter most to them. A charging station is also on hand to encourage visitors to leave their device behind and help raise funds for the Old Brewery Mission in the process (each charge equals a donation).
Glow in the Dark Mini-Putt at The Putting Edge is always a hit (and the music is good, too!)
Chateau Ramezay offers great activities
See the Nutcracker!
Loads of activities at the Ecomuseum
If you're a Cirque du Soleil fan – TORUK is on 🙂
Story Hour & Sunday Workshops at McCord Museum
See TOHU's Carnival of the Animals!
Visit the Exporail Train Museum
Swim & Play LaSalle Aquadome
A classic: Biodome
Another classic: Planetarium
More space 😉 Cosmodome
Learn about Dinosaurs and so much more at the Montreal Science Center
TELUS IMAX at the Science Center 🙂
There are also great movies for families playing 🙂
Do you have an ideas to add to the list?  Please leave them in the comments section below 🙂
Wishing everyone a safe & fun winter break!
Tanya