This morning on Breakfast Television I had the pleasure of sharing some ideas for planning a Baby Shower with soon-to-be-Mom AGAIN Joanne Vrakas 🙂
You can watch the segment by clicking here or on the image below.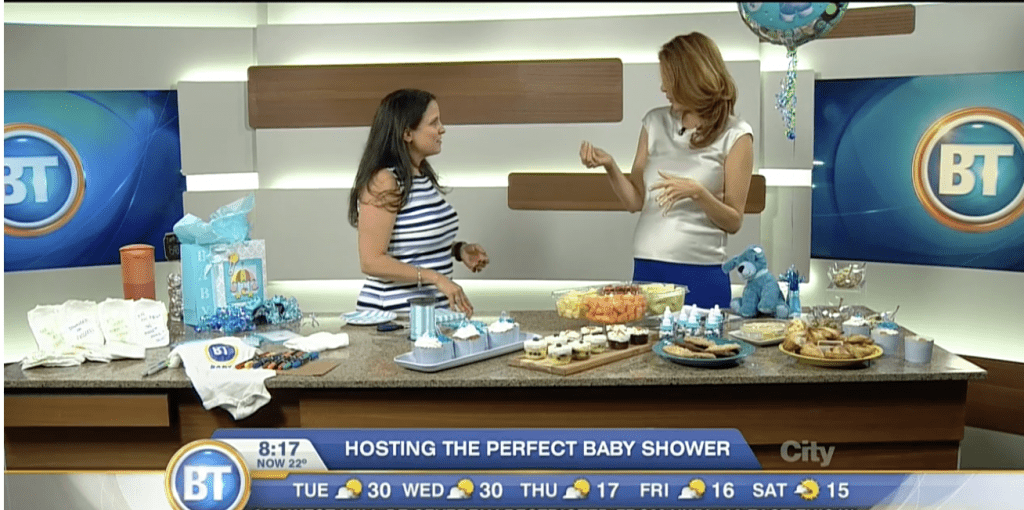 For this particular segment, I featured a variety of ready-made foods that can make life easier for the person hosting.  That said, some of my treats were home-made:
The mini-trifles are easy to assemble:
Choose a cookie cutter with the same diameter as the cup/jar within which you will assemble the trifle
Cut out circles of cake.
Set the cake round on edge and slice into rounds (approximately 1/2″ thick)
Place 1 round in the bttom of serving cup/jar
Top with approx 1  – 1.5 tsp. pudding
Sprinkle with Topping
Top with another layer of cake
Top with whipped cream
Place or sprinkle topping for an attractive finish
Note: The flavours featured in this segment were:
Lemon-Blueberry ( white cake, lemon instant pudding, frozen blueberries inside and one fresh blueberry over top)
Chocolate-SKOR ( chocolate cake, chocolate instant pudding & SKOR bits)
The cupcakes were made with my favourite mixes, topped with icing and cute decorations we picked up at the party store.
You can get more ideas by clicking here to see one of older posts on Planning a Baby Shower.
Before I leave you…I HAVE to share that while I rarely get star-struck, I was THRILLED to see Chef Ricardo while in Studio today- it absolutely made my day ( as well as my daughter's who was along with me for the morning!) . I absolutely love the way he cooks as well as his genuinely kind personality and amazing energy – it was an absolute pleasure to meet him!!! Apparently he has a new line of cast iron cookware…I may just have to check it out 😉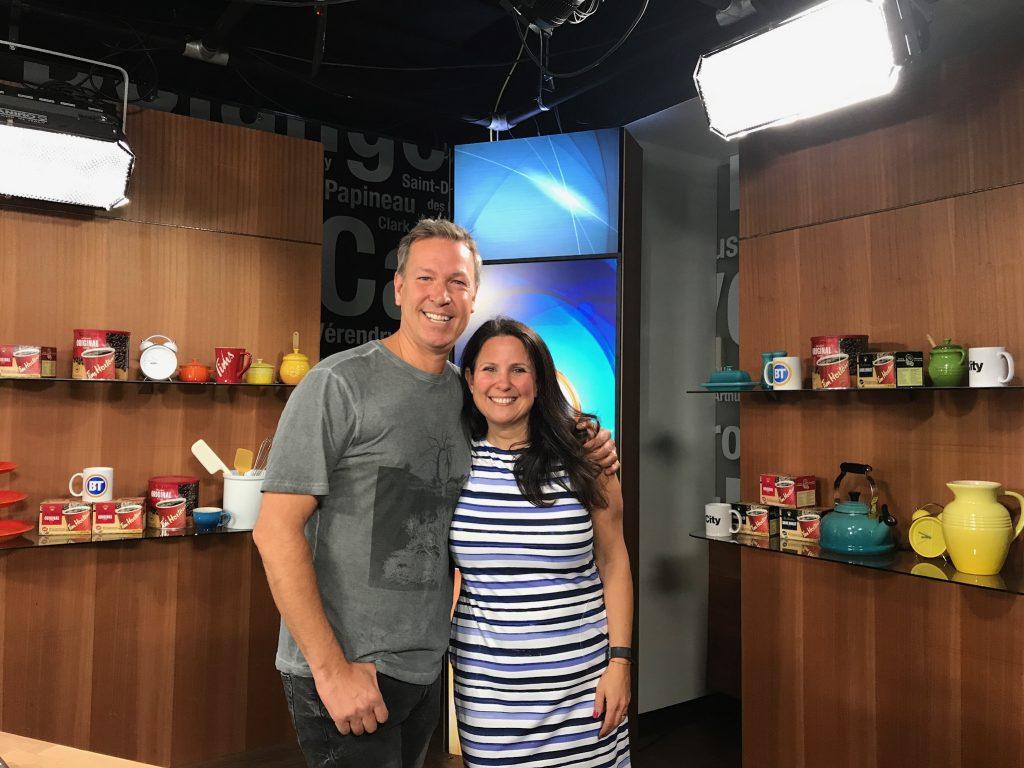 Wishing everyone a phenomenal day – Be sure to keep cool and stay hydrated!
Tanya