March is Fraud Prevention Month (#FPM2016) and once again, this year I was invited to learn more about fraud prevention from the fabulous team at Interac. I learned a few TIPS that I just have to share:
Pay attention to how deep your chip card is inserted.  The chip is very close to the edge of your card, which means it doesn't need to go into the machine very much to be read.  If your chip card is going in very deep, as in almost all the way, It's likely because the machine has been rigged to read your magnetic strip and also somehow recognize the numbers you are pressing for your PIN.  Note that card readers can be tampered with even WITHOUT the knowledge of the merchant. If your chip card goes in very deep, ask the merchant to please use another card reader BEFORE punching in your PIN.
TAP, TAP, TAP! Most people I know think that tapping to pay is somehow less secure…I even did!  I mean, you don't need to sign, put it a PIN, anything …it seems too unrestricted, don;t you find? And yet, I learned that the less frequently you use that PIN, the better. Apparently it's the capturing of PIN data that is a big risk. That means using Interac Flash, (Interac's version of tapping to pay) is safer than another form of payment where PIN is required. That said, there are limits that will require you to enter a PIN for transactions over $100 or if your daily transactions have exceeded $200.  This prevents a card-finder or thief from tapping away with a card that doesn't belong to them
Making Great $$$ from the comfort of home…If it's too good to be true…it's no good at all. We've all seen those pop-up ads that tell us we can make serious cash in from home in our PJ's. Some of these jobs involve transferring money and keeping a percentage. Those who do this are moving money, making it less traceable or untraceable. This usually needs to happen because the money either does not belong to the end recipient or because it has been obtained by fraudulent means (e.g. counterfeit cheque). The person who does this is referred to as a money mule….Don't be a mule.
Interac Flash is even safer: Unlike credit cards, Interac Flash cards transmit identifiers NOT account info, so you don't have to worry about someone passing by & swiping your account data.
For those of you who don't know, Interac is very active in working towards fraud prevention.  The reduction in fraud in Canada is tremendous.  Take a look at the infographic for a few facts & figures – They speak for themselves.
Interested to know a bit more?  Interac's Manager of Fraud Programs Rachel Jolicoeur was interviewed on BT Montreal early this month about why Debit Card Fraud is at an all-time low in Canada…you can watch her interview here: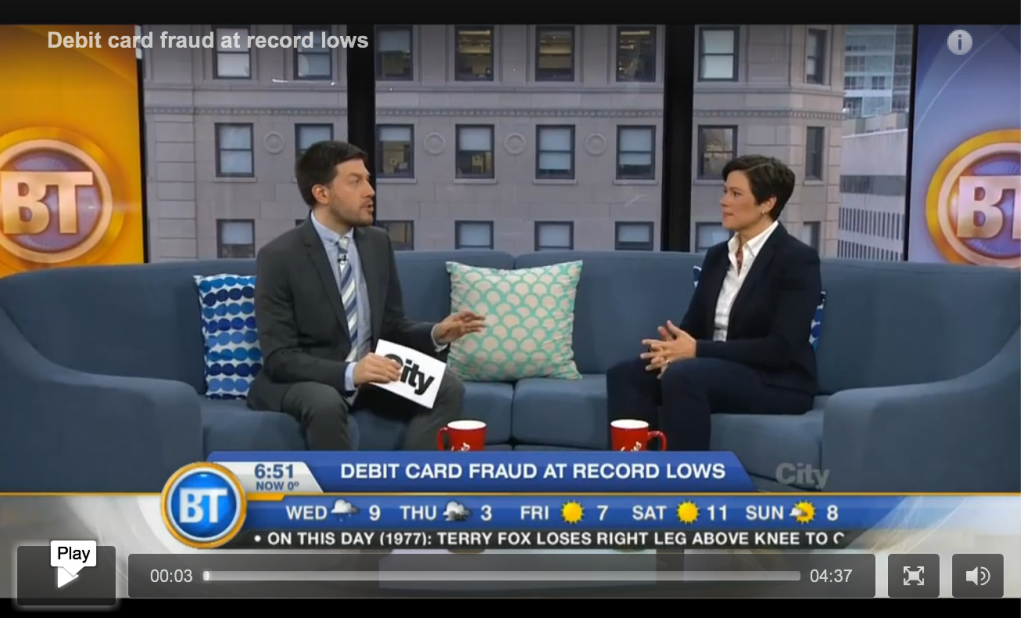 Interac has developed fabulous technology that is clearly helping to keep fraud at a minimum. They also help to educate consumers about fraud prevention.
Although #FPM2016 is now ending, I hope that we're all leaving it a little wiser for all of the facts & tips that have been shared with us during this month.
Disclosure:  As with all sponsored posts, I will only ever share with you products and/or services I believe in. All opinions contained within are my own and cannot be bought 

Wishing you a #FraudlessFriday 😉
Tanya