I love scarves.  Snug around my neck in winter, loose around my shoulders in summer, they're not only practical but add a touch of colour & elegance in almost every instance.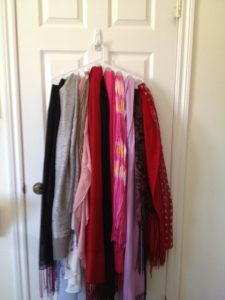 The only problem is that they take up SPACE.  For a while I had them on a shelf which actually made it easy to select the colour that I wanted,  but with shelf space at a premium, I had to switch them over into a drawer.
The result of that move was a loss of time whenever I would choose one, because it was harder to dig through to find as well as to fold everything back neatly to fit when I would put one back.
This winter, while in the US, I had the opportunity to visit The Container Store… OMG HEAVEN… and while I didn't have nearly enough time to get to everything (a whole week wouldn't be enough time!)…I did grab a little something that has solved the problem:
It's a Scarf Organizer that holds up to 28 scarves and it cost me all of $5.99 USD.
As you can see from the photo, there's not that much to it.  Just place your scarves through the holes et voilà! Done. You can easily find the scarf you're looking for as well as replace the one you're done with in a matter of seconds.
In the photo you see the Organizer hanging from a hook on the door, I don't keep it here generally, but it was the best way to photograph it.  If you do this, please ensure that you have a hook that can handle the weight of the scarves and organizer together.  It can get a bit heavy and I am pretty sure if my Organizer were permanently on this particular hook, it would have broken by now.
I keep the Organizer with scarves hanging at the end of my closet rod where I hang my "long" clothing and it's just the perfect spot to grab & go.
I thus cleared up a whole drawer to do with what I please and made my life a whole lot simpler.  For $5.99.
Do you have any tricks that have helped you cut through the clutter?  Please share!
Have a fabulous day!
Tanya