Allow me to begin that I am thoroughly embarrassed to admit that I had no clue that ETHAN ALLEN had actually arrived here in Montreal.  When I received an invitation from them to attend a special event with great holiday decor tips from Quebec's own Vanessa Sicotte, I was definitely intrigued.
T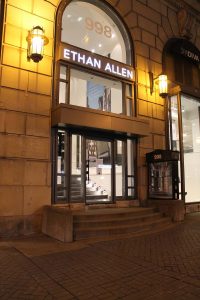 he evening of the event, I was late & rushing.  Traffic didn't work in my favour and I arrived at the mall entrance of the store.  But the mall was closed.
Of course the fabulous folks of Ethan Allen came in and unlocked the door for me, I was "Tornado Tanya", all in a huff…until I stepped in.
CALM.
That's what came over me.  An immediate sense of calm.
I caught my breath. I somehow wasn't as late as I thought I was and things were just about to get underway.
We were guided through 4 various 'stations' with fantastic ideas on setting the tone of your home or your table table for the holidays.
After I visited them all I tried to pick a favourite, but I couldn't.  There were some ideas that really resonated with me & I'll be sure to point them out.
Station #1: À Table!
Check out this fantastic table setting!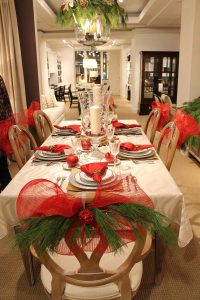 When you get a little closer in, you can appreciate
TIP #1: Use pomegranates as place card holders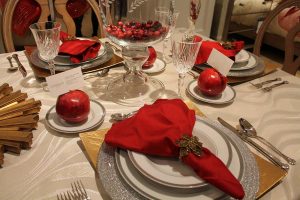 I LOVED TIP #2:Repurpose a mirror as a centrepiece. Check out how they've repurposed it as a tray to hold the candle!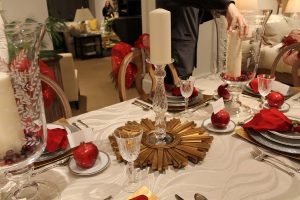 Station #2: Natural Elements set the tone…
Check out the fab effect of this buffet table decor: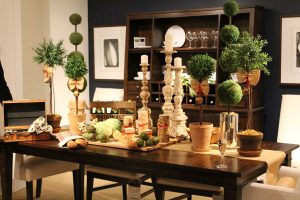 TIP #1: Three is the magic number.  Grouping in 3's gives a wonderful result.
TIP #2: Repurpose veggies, plants (natural or artificial) as decorative accents (as shown above & below):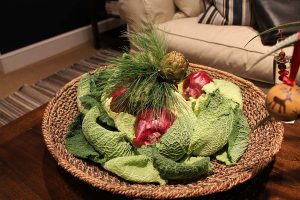 TIP #3: Repurpose traditional holiday items to present holiday treats & food. Stocking stuffer takes on a whole new meaning when the the lovely Vanessa Sicotte uses it to present a baguette or two to be included on the buffet table: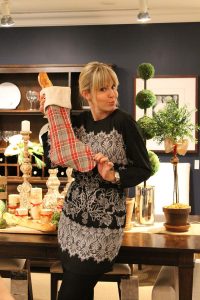 Tip #4: Give height to fill the space:
Tip #5: Use OTTOMANS everywhere. They allow for additional seating & topped with trays can hold snacks & beverages as well.  So versatile!
We finally visited Station #3: simplicity & elegance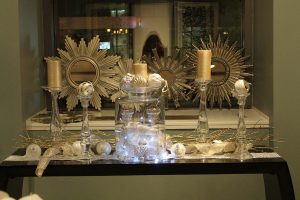 TIP #1: The HURRICANE VASE. Period.
Fill it with gold ornaments or dot lights for a touch of glam.
Fill it with fruit, veggies or pine cones for a more rustic feel.
Display it right side up or upside down>
Displayed upside down, you can even top it with with a candle, or a bowl of ornaments, or both!
Available in a variety of sizes at affordable prices, it's simplicity lends itself to any type of decor at all.  It is your one holiday decor MUST-HAVE.
TIP #2: MIRRORS
On the wall or repurposed as a tray or a centrepiece, they are elegant beautiful and available in various shapes & sizes at Ethan Allen- Check out this wonderful array, giving a fantastic snowflake-effect: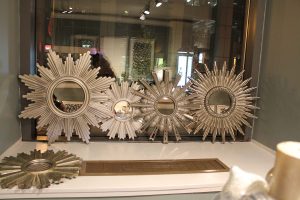 BEST OVERALL TIP: Don't be afraid to get ECLECTIC!
Mix up styles & elements from various collections
Formal & funky can co-exist beautifully
Don't worry about mixing your pricier pieces with less expensive accents- it all works!
If YOU love it. It works.
Oddly enough, I spent an entire evening at Ethan Allen and we didn't really get around to talking about the furniture (which is stunning).  That's because they're about so much more than that.  They are actually designers, who will guide you depending on YOUR tastes an inspiration, and they have an amazing knack of pulling it all together beautifully.
Visiting Ethan Allen Montreal was a wonderful experience and from the moment I arrived, I really did feel welcomed and at home, just as you would wish your own family and friends to feel when they visit your home for the holidays.
When you visit the store, you'll see what I mean.  It's located in les Cours Mont Royal at 998, De Maisonneuve West.  You can reach them at (514) 281-4422
You can also read more at ethanallen.ca
Wishing you loads of fun as you decorate your tables and mantles and all in between 🙂
Tanya