As most of you who read the blog know, I do not follow a vegan lifestyle (at least not yet..), but our family tends to eat a lot of vegetarian and plant-based meals simply because we love our veggies 🙂 .  In addition, because we only eat Kosher meat, when we eat in mainstream restaurants, we choose to eat fish or vegetarian dishes. A vegan restaurant is a great choice for someone who only eats kosher (or Halal) meat, because there is zero chance of any of the food having come into contact with non-Kosher (or non-Halal) meat.
My brother-in-law recently told my hubby that he and my sister in law thoroughly enjoyed their visit to Hello 123 on Monkland.  My hubby and I really wanted to try it out, so last night it was Hello 123 for date night 🙂
The restaurant is tastefully decorated in natural wood, earth tones and lots of green for a fresh and healthy feeling. It is not a large restaurant and many tables had already been filled, but we did not have to wait and were seated immediately.  The back of the restaurant features a nice-looking bar and while our drink of choice was sparkling water, there was an extensive drinks menu, should you be interested. It is a vegan 'brasserie' after all 🙂
First and foremost, looking at the menu and knowing that everything was fair game was a very different (and slightly overwhelming) experience. Not needing to worry about non-Kosher chicken broth in the rice, cross-contamination on the grill or gelatin in any of the dishes, was a refreshing change because we could order almost anything. I say 'almost' because we still have some other dietary restriction.  For example: Tofu does not always agree with my hubby, but that ended up being no problem at all as they were more than willing to sub in a different protein. I call that a #CustServWin 🙂
We settled on the Spicy Veggie Samosas with Tamarind Dip for a starter and for our meal decided that we would share a Cauliflower Tahini Bowl and Jacob's Signature Red Thai Curry, subbing out the Tofu for hemp & sunflower balls, which our server Dominique suggested taking on the side as they could be enjoyed with or without the sauce in the curry.
By the time we had ordered, the restaurant was almost full. As 'West Islanders', we don't get out to the Monkland Village very often, but are quite aware that it is a 'happening' strip. That being said, it still seemed pretty impressive for the restaurant to be almost full on a Wednesday night in January, which I believe is not traditionally a busy month for restaurants as people are recovering from their holiday spending.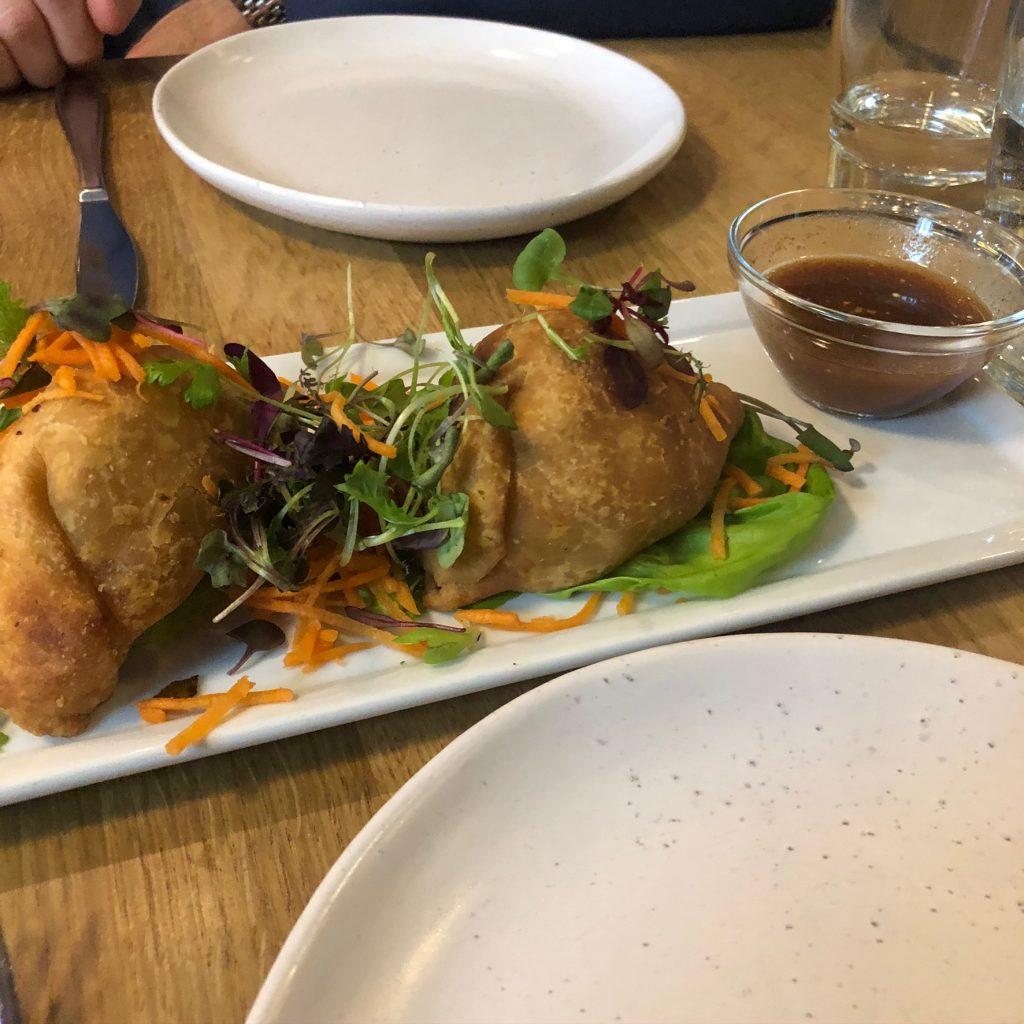 Our samosas arrived, and for us, samosas are usually a finger food. These however, while not huge, were large enough that we were both reaching for our forks and knives. We cut them into smaller pieces and then dipped and enjoyed those pieces with our fingers.  The samosas as well as the sauce were excellent.  I even helped myself to the microgreens on the plate with a drizzle of the sauce as well!
When we were done, our server offered to change our plates, which was appreciated.  In retrospect, next time I might say no…reusing our same stuff would likely be a more environmentally conscious choice.  That being said, we found it lovely that they offered to do whatever we prefer.  Another #CustServWin 🙂
Next came our main dishes. Given that we had mentioned sharing, we were offered additional plates to split up our dishes, without having to ask.
The Cauliflower Tahini Bowl is made up of sunflower hummus, quinoa, roasted cauliflower, mint, greens, za'atar salsa, carrots, cabbage, beets, pomegranate, sesame, pickled onions, seed-oat crackers, lemon tahini and chimichurri. Can you say YUM???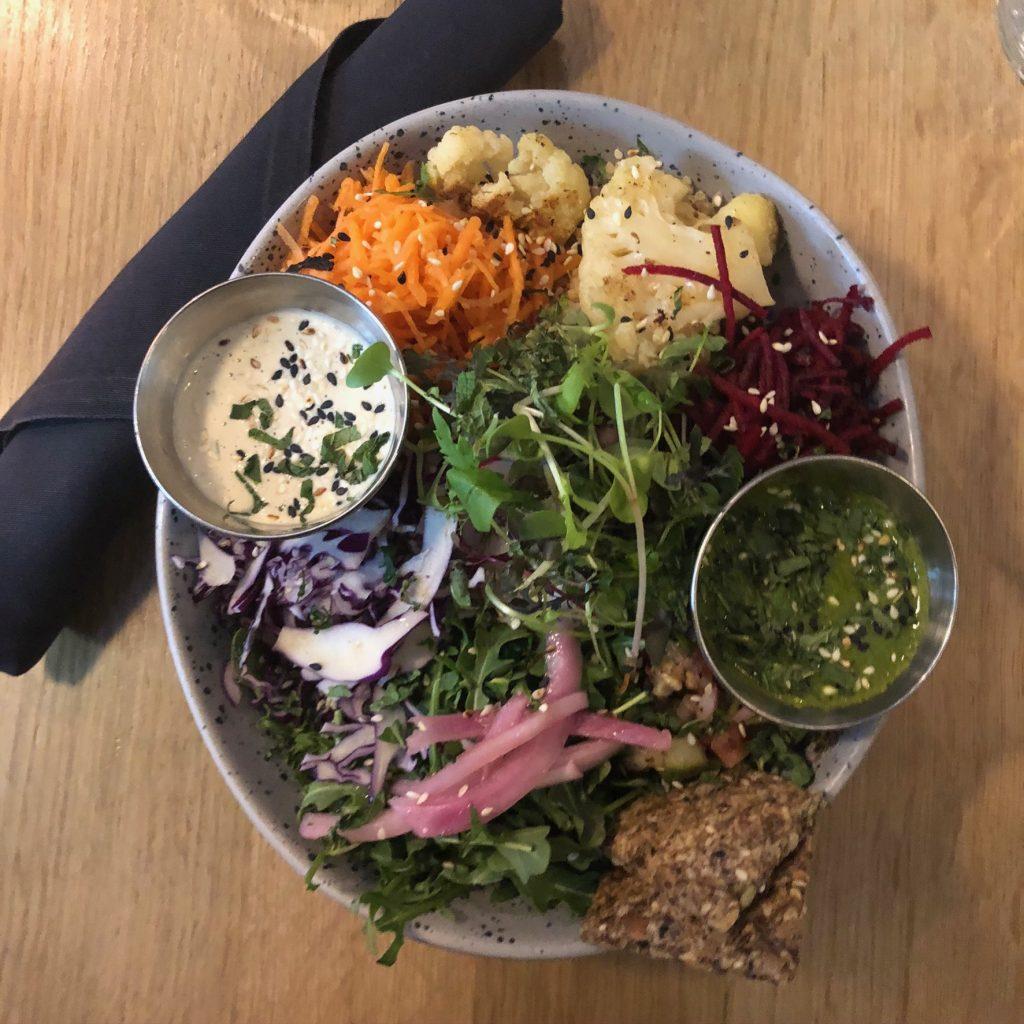 The presentation was beautiful. After my requisite food photos, I dressed the bowl with both the chimichurri and the tahini dressing and gave it a little toss. It was not only yummy, but the the balance of textures was perfect.  To be truthful, I would have liked to have had a little bit more cauliflower in the bowl, as there were only two larger pieces, but that did not detract from our enjoyment of the dish. I will admit that there was an herb or seasoning of some sort in there that I wasn't loving and I suspect it was in the chimichurri. Next time I may just choose the tahini, or I may even ask what is in the chimichurri to identify what it was that I wasn't loving. To clarify: The dish was still still delicious, I would have just preferred it without that seasoning.
Now…Jacob's Signature Red Thai Curry…There are NO WORDS. WOW WOW WOW.  The curry was absolute perfection. The dish is composed of eggplant, broccoli, bell peppers, brown rice, coriander, lime, marinated tofu(usually), coconut milk and potatoes. In our case, since we subbed out the tofu, the rice was served on the side alongside the two sunflower hemp balls. The latter looked like little falafel balls and I happened to love the flavour. My hubby liked them but they didn't excite him. The curry itself however had us 'ooh-ing' and 'aah-ing' until we finished it. The side of rice was good but basic until we spooned some of the sauce over it, which definitely kicked it up a notch or five 😉 Note: I am not certain if the rice is always served on the side or if this was done because we had subbed out the tofu.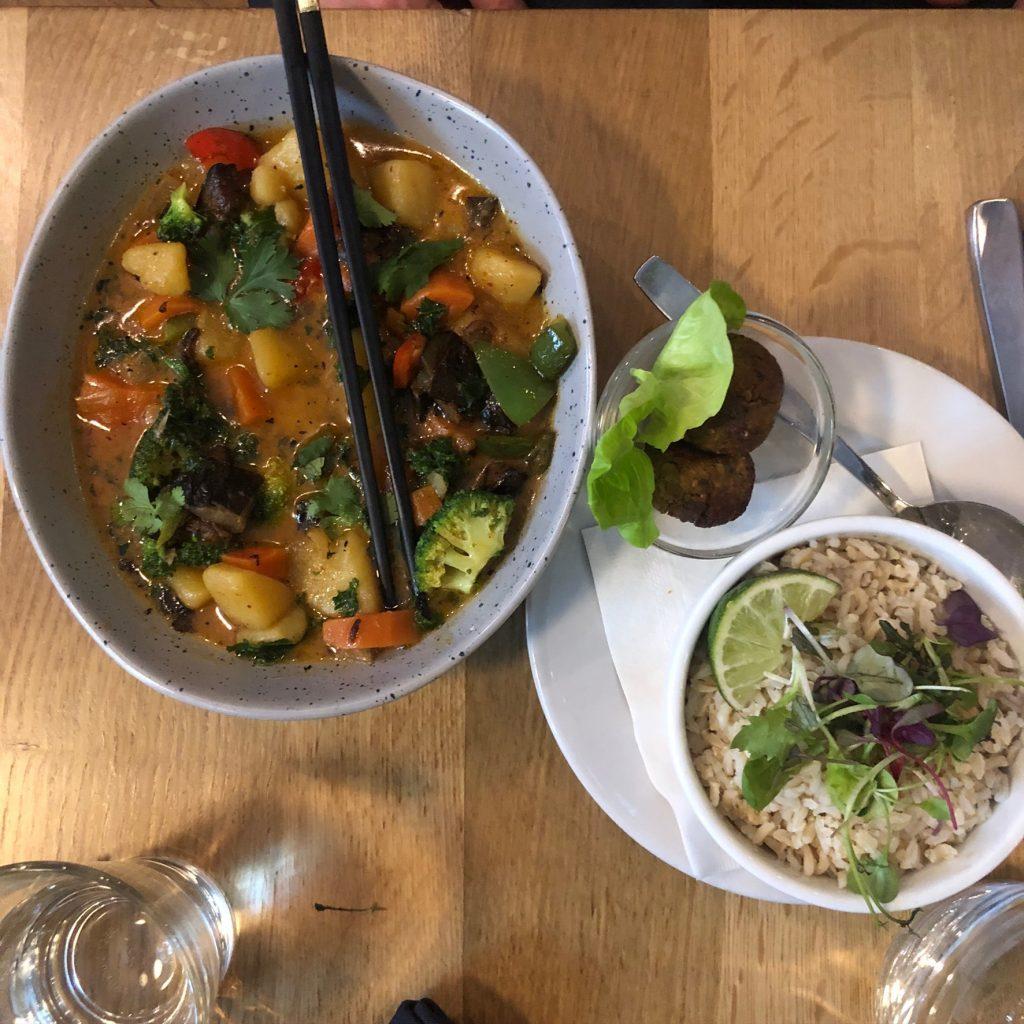 Our server shared with us that this curry is actually the recipe of one of the servers at Hello 123 by the name of Jacob. I believe that you have to love a company that highlights the creativity and initiatives of its staff…and I'd also like to thank Jacob for sharing it, as this dish was absolutely incredible!
No-one rushed us out and we lingered for a while before asking for the dessert menu.  We had seen dessert float by to an adjacent table and it looked outstanding.  That said, we weren't really hungry for dessert so we opted for a simple coffee instead. ( Let's not forget that I am still on WW!!!) When Dominique served us our coffee, she told us it was on the house. Wait…What??? We were really appreciative but couldn't figure out why.  We thought maybe it was because we had to ask for the dessert menu, but it was not as though we were anxiously awaiting it at all, we were simply enjoying chatting and truthfully, loving that we weren't being rushed along. In case you are wondering, I am just going to mention the following: It was definitely NOT a 'give the blogger a freebie' moment.  I know this because we had actually not mentioned the blogger thing until later, when I had decided that it was such a great experience that I would have to share it with my readers. We did not go into the restaurant with a plan for me to write a review, we just enjoyed it so much that it was one of those things that I just wanted to share with you 🙂
Back to the coffee:
We asked if they happened to have cashew milk for the coffee…Of course they did, along with soy, coconut, oat and possibly almond as well, but she was rattling off so many choices that I did not commit them all to memory!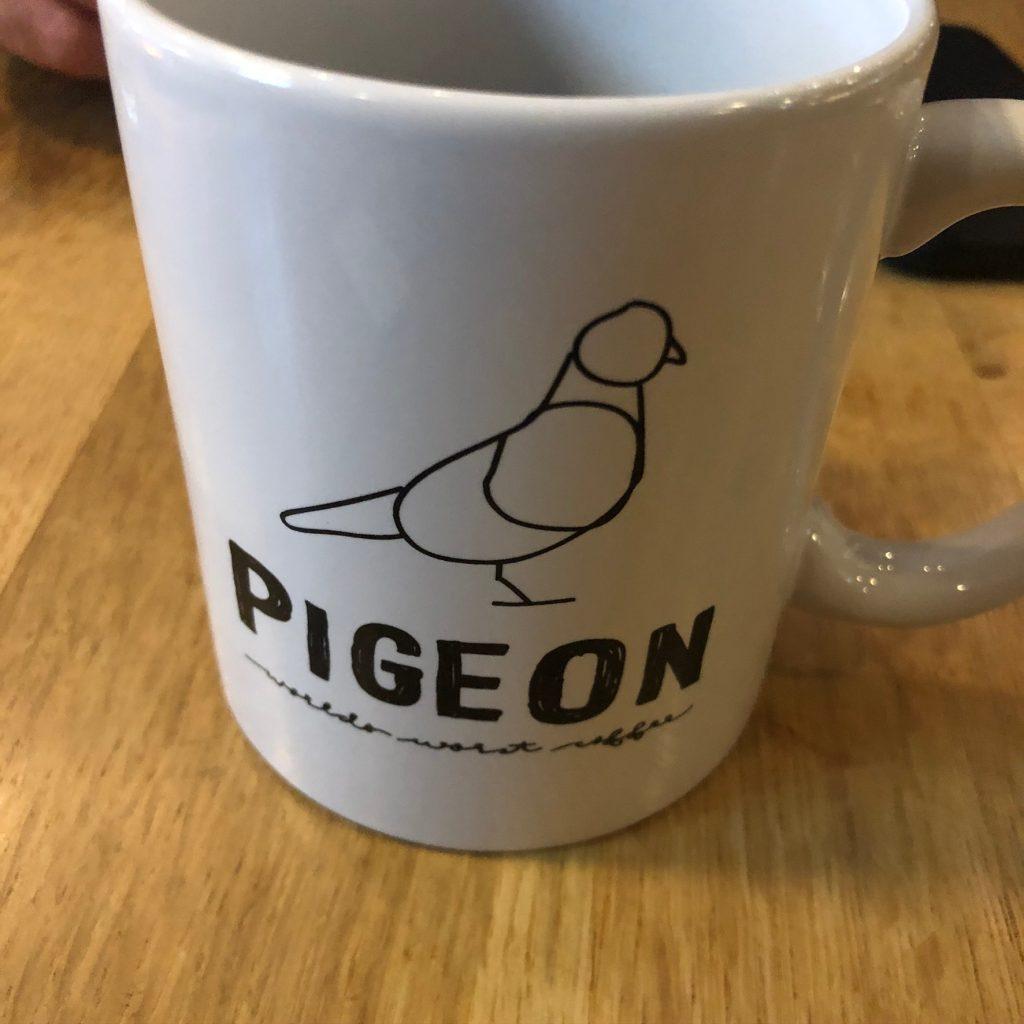 The coffee was by a brand named 'PIGEON' with a tagline of 'world's worst coffee'.  We found it odd and kind of funny, but the coffee was actually quite good, so it did not live up to its tagline, LOL.
After we were done, we had a nice conversation with our fabulous server Dominique and when we expressed how much we had enjoyed it, she shared about how everything is really made fresh. That was no surprise- we could tell 🙂 She also shared that they are also open for brunch. Although we don't get out for brunch much, I think it may be a good choice for a lunch meeting!  Speaking of which, my husband inquired about their catering services for his office: Everything can be arranged.  In case you're wondering, the answer is 'Yes you can order through Uber eats' (and a few other food delivery services) 🙂
We loved it so much that I actually texted my vegan friend a food pic while we were still at the restaurant with a note that we will definitely be going there together.  Funnily enough, she responded later in the evening that she and her husband had been there the same day that we were, only for brunch! When I asked how it was, she replied 'Awesome'.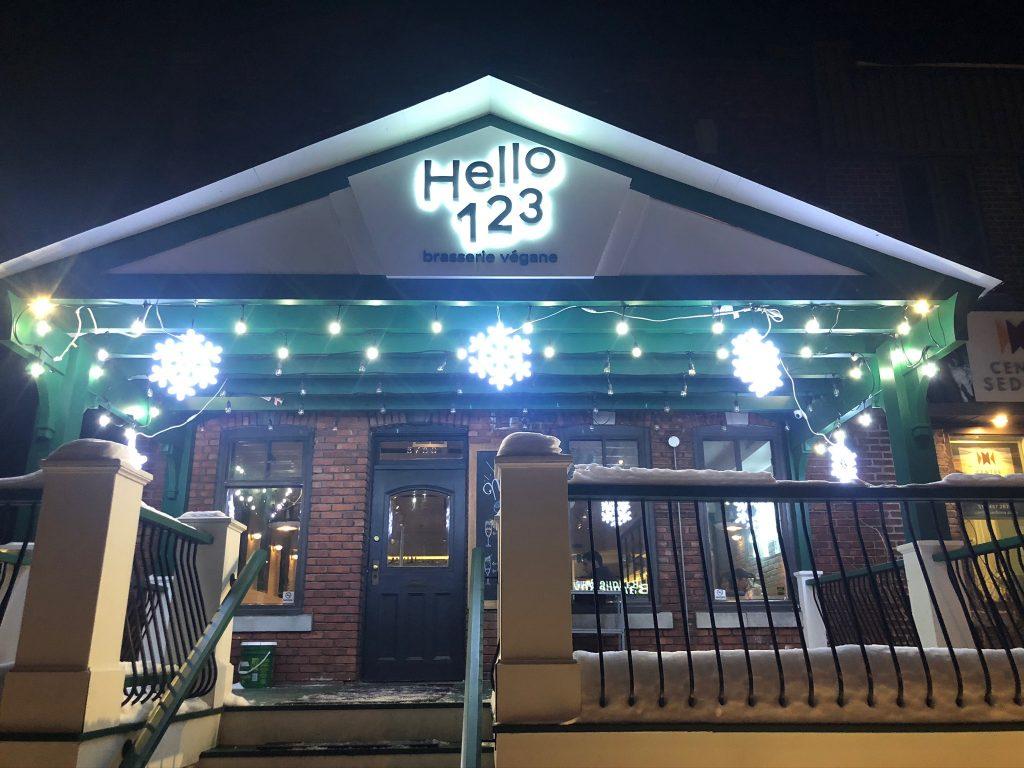 Hello 123 on Monkland was a fantastic experience, at a reasonable price, to boot. Vegan or not, my hubby and I will DEFINITELY be going back.
Wishing you a delicious day,
Tanya